Looking for the perfect gift for the CB Radio Lover in your life? Look no further! This blog post will provide a comprehensive guide to buying gifts for the CB Radio Lover in your life.
Whether they are a beginner or an experienced user, we have something for everyone! So sit back, relax, and let us help you find the perfect gift for the CB Radio Lover in your life!
What is a CB Radio?
A CB Radio is a radio that uses the Citizens Band radio frequency range. It's a two-way radio used for personal or business communication.
CB radios are popular among truckers, RV enthusiasts, and people who enjoy outdoor activities like camping and fishing. Emergency responders and law enforcement officials also use them.
Types Of CB Radios
There are different types of CB radios available. Here are some of the most popular types:
Traditional mobile styles: These CB radios can be mounted in a vehicle on the dashboard or under the seat.
Ergonomic all-in-handsets: These CB radios combine traditional mobile styles and walkie-talkies. They look like regular cell phones, but they have all the functions of a CB radio.
Walkie-talkie handhelds: These are the most compact and easy to carry around. They come in various designs, so you can find one that best suits your needs.
Base stations: These are stationary CB radios used at home or in an office. They offer more power and a greater range than portable and mobile styles.
Our Top 9 Gift Suggestions
Let's look at some of the best gifts for the holiday season.
The PRESIDENT MCKINLEY SSB CB Radio is the perfect device for any CB enthusiast. Featuring a multi-function LCD and manual squelch, this handheld radio offers several functions so you can find great reception on all 40 Channels and Memories.
You'll have crystal-clear audio with an ANL filter, NB, and HI-CUT. Plus, with 3 Memories and an F key function, there's something to suit your communication needs. Operating over dual watch and preset 9/19 access channels makes it easy for you to keep up with important conversations.
And remember features like the Talkback option and weather channel. A front microphone plug and an external loudspeaker jack top it off to provide extra convenience. It can be a thoughtful gift!
Pros
Multi-function LCD
Manual squelch
Crystal clear audio with ANL filter, NB and HI-CUT
3 Memories and F key function
Dual watch and preset 9/19 access channels
Cons
It can be difficult to set up for beginners.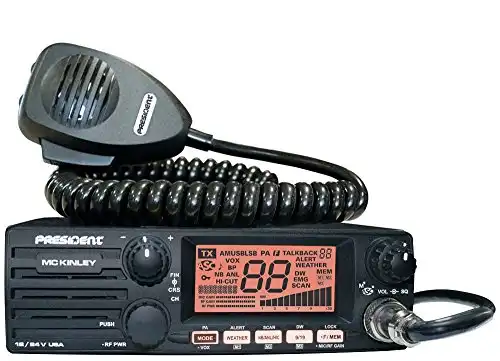 The PRESIDENT RANDY II AM/FM FCC Radio is a versatile scanning and communication device. This device is perfect for CB radio enthusiasts, police officers, emergency responders, truck drivers, or amateur radio operators.
It features an impressive 7 color display and easy-to-use controls. An Automatic Noise Limiter (ANL) is also built-in to ensure professional sound quality in noisy environments. With the scan/skip functionality included, you can quickly search for different frequencies with ease.
Other features include a noise blanker which removes unwanted background noise. This noise gate monitors audio levels, and compander technology allows cleaner signals to pass the speaker, key beep, and roger beep to better communicate with other radios on the channel.
Pros
Easy-to-use controls
7 color display
Noise blanker included
ANL feature for sound quality in noisy environments
Scan/skip functionality
Compander technology for better communication
Cons
No weather alert capabilities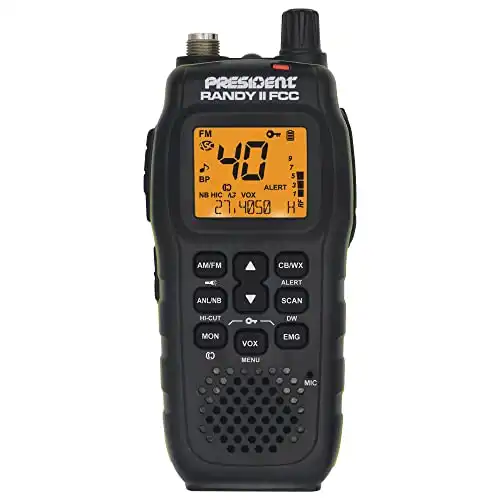 The Cobra 25 LTD CB Radio is the ultimate emergency radio for on-the-go needs. Quickly and easily access 40 different channels with Instant Channel 9.
With a 9-foot microphone cord and 4-pin Connector, you can be assured of reliable communication no matter the situation. The Cobra 25 LTD CB Radio is designed for long-distance communication, providing clear audio during urgent situations. Make sure to consider it in your holiday shopping list!
Pros
40 Channels
9-foot Microphone Cord
4-pin Connector
Long Distance Communication
Cons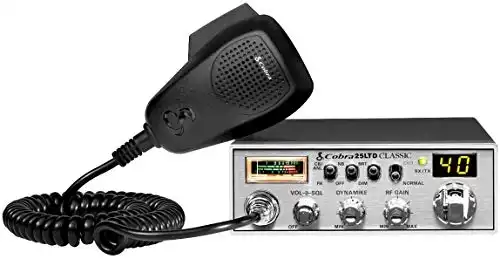 The President Bill II AM/FM has it all—AM and FM Modes, weather band channels, a front USB port, channel scan, auto squelch, NB and ANL technology, and HandsFree VOX so you can talk hands-free. This radio is designed to make your life easier in any environment, indoors or outdoors. 
Take this amazing breakthrough in technology wherever you go. The President Bill II AM/FM is lightweight and miniaturized so that you can take it anywhere. Plus, its contemporary design gives it an elegant look, unlike other radios in the market. 
Pros
Dual-mode capability: AM/FM
Weather band channels
Front USB port
Channel scan
Auto squelch
NB and ANL technology
HandsFree VOX for hands-free talking
Cons
Limited range compared to other CB radios in the market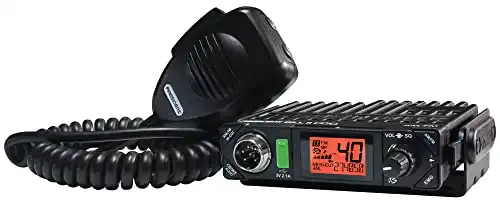 The Firestik FS CB Antenna Kit is perfect for anyone looking to upgrade their mobile CB radio experience. Compact yet powerful, each kit includes an antenna, antenna mount, and coax cable, so you get everything you need to install in one package.
This 3-foot CB radio antenna boasts stability and durability—you can count on it during adventures near or far! It's a must-have upgrade for travelers who enjoy a reliable communication system. So equip your vehicle with the Firestik FS CB Antenna Kit today and start exploring in style!
Pros
Compact yet powerful
Includes all components for an easy installation
Durable and reliable performance
Cons
Must be installed by a professional for optimal performance

This two-way radio is all you need for short or long-distance communication. With an impressive 50-mile range and 142 CTCSS/DCS privacy codes, you can be sure that your conversations are secure.
Need to stay up to date with the weather? The NOAA Weather Scan with Alert feature provides real-time weather information, so you're always prepared. Plus, everything is included in the box – no need to worry about additional purchases.
Pros
50-mile range
142 privacy codes
NOAA weather scan with an alert
Cons
Not compatible with CB frequencies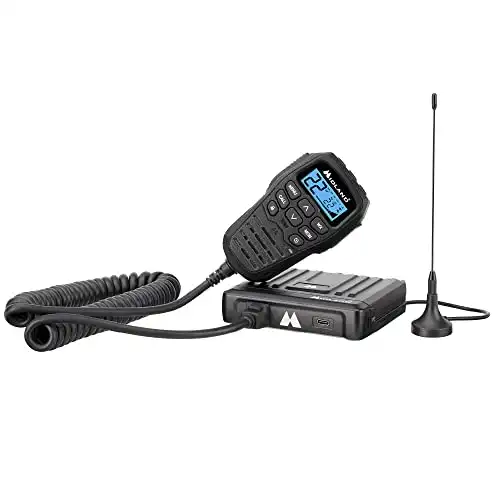 Introducing the MXT500 MicroMobile Two-Way GMRS Radio, your ultimate solution for two-way communication across extended ranges. With secure, private, and safe connections, you can always stay in touch with your friends, family, and others.
The NOAA Weather Scan with Alert will update you on the latest conditions. And don't forget — everything you need comes in the box! Get connected and stay informed quickly and easily with the MXT500!
Pros
Can be used as stocking stuffers
Extended range communication
Private and secure connection
NOAA Weather Scan with Alert
Everything is included in the box!
Cons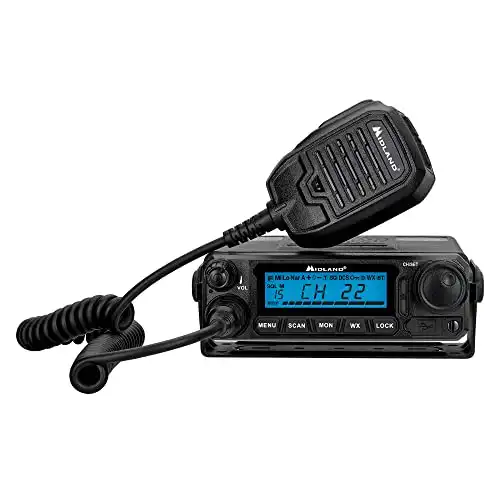 The K40 CB Antenna is a premium 18 feet RG-58A/U antenna with 95 percent shielding to ensure superior signal strength and clarity. The custom-built coax cable is made from stranded wire, preventing breakage and making it more durable.
Its unique Meti-Plas construction provides ultimate shielding, while its 17-7 stainless steel whip antenna gives you 57.25 inches of coverage area reach with exceptional performance. A built-in capacitor means you'll get consistent SWR across all 40 channels for maximum clarity, no matter where you are.
Pros
Durable and reliable construction
Superior signal strength and clarity
95% shielding for optimum performance
57.25 inches long
Cons
Expensive compared to other CB antennas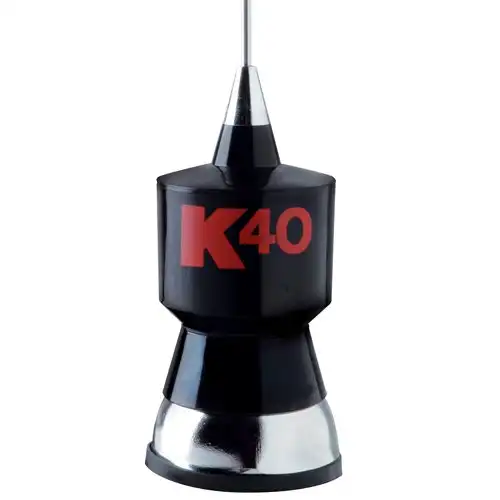 The Uniden Pro 510 XL is the perfect tool for monitoring your radio signals input and output. With the ability to operate on any of the 40 AM frequencies authorized by the FCC, you can ensure secure communications when it matters most.
In an emergency, instantly tune to CB channel 9 with a single switch – no fumbling around with knobs or buttons. Best of all, each unit is backed by a 1-year limited manufacturer's warranty for extra peace of mind. Consider them when you're in a shop to buy a gift for your loved ones.
Pros
Easy to operate
It can be used on any of the 40 AM frequencies authorized by the FCC
Comes with a one-year limited manufacturer warranty
Cons
May need more power for long-distance communications.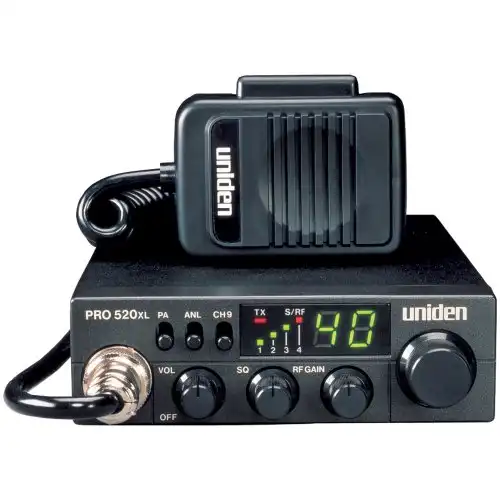 How to Choose the Right CB Radio for You
Deciding which CB radio is best for you can be a daunting task. It's important to consider factors including:
Range
It is the most important feature to consider when choosing a CB radio. The range of the radio determines how far your signal can get, so you have to make sure that it is powerful enough for your needs.
The average range of CB radios is between 5 and 20 miles, but certain models can range up to 50 miles. If you are a long-distance traveler, you will want to get a CB radio with a range of at least 25 miles.
And if you're looking for a CB radio to use in your home, you can typically get away with one that has a range of 5-10 miles.
Channels
The number of channels available on the CB radio will determine how many conversations you can have at once. Most radios come with 40 channels, but some may have up to 80, depending on their technology.
They also have 142 privacy codes to ensure your conversations remain private and secure. If you plan on making many group conversations or having multiple conversations at once, consider getting a CB radio with more channels.
Features
The features available on your CB radio will determine the overall usability and performance. Here are the most important features to look for:
Noise Cancelling Microphone: Eliminates background noise and ensures clear communication.
Weather Scan: Scans for weather conditions in your area so you can stay informed and safe.
Squelch Control: Reduces static on the line for better sound quality.
Alert Mode: Automatically notifies you of incoming calls, so you get all messages.
Digital Display: Allows you to easily read the signal strength, channel numbers, and more.
Durability
The durability of your CB radio is very important since it will be exposed to many elements when you're out on the road. Look for models made from durable materials such as aluminum or stainless steel with rubberized components for added protection.
Price
The price of your CB radio will depend on the features and performance you need. Basic entry-level models can cost around $50, while more advanced models may cost up to $300 or more. Consider your budget and what features are important before making a purchase.
Following these guidelines, you can make an informed decision and find the right CB radio for your needs!
CB Accessories
Once you've chosen the right type of radio for your needs, there are several accessories that you can get to customize your experience even further. Here are some of the most popular CB accessories:
Antennas: Improve the signal strength and range of your radio
Headsets: Increase comfort and enable hands-free operation
Amplifiers: Boost the power of your radio for longer-range communications.
Cases & Covers: Protect your CB radio from dust, dirt, and water damage.
Benefits Of Using CB Accessories
Now that you know what accessories to get for your CB radio, let's consider why they are important. Here are some of the benefits you'll get from using CB accessories:
Increased Range: Antennas and amplifiers will help increase your radio's range for more reliable communications.
Improved Comfort: Headsets provide a comfortable way to keep your hands free while operating your CB radio.
Enhanced Safety: A case and cover can help to protect your CB radio from the elements so it lasts longer and stays in better condition.
Frequently Asked Questions (FAQs)
Many people have questions about CB radios and accessories, so here are some of the most commonly asked questions.
Q: How much range do I need for my CB radio?
A: This will depend on your particular needs, but the average range is between 5 and 20 miles. If you plan to travel long distances, consider getting a model with a larger range.
Q: How many channels can I have on my CB radio?
A: Most models come with 40 channels, but you may find some with up to 80 or more, depending on the model and technology.
Q: What are the best accessories to get for my CB radio?
A: Antennas, headsets, amplifiers, cases, and covers are all popular accessories that can help improve your CB radio experience.
Conclusion
CB radios are a great way to stay connected while on the road and provide many benefits. By following our CB Radio Lovers Holiday Buying Guide, you can find the perfect model for your needs and get the most out of your CB experience.
With the right accessories, you can extend the range and improve your comfort while using your radio. We hope you found this holiday gift guide helpful and wish you all the best on your CB radio journey. If you want even more gift ideas for your holidays check out our blog for more gift guides!