As with any product, affordability, or rather the value for money factor plays a very important role in our purchase decisions, and that certainly applies to finding the best cheap shortwave radio which still delivers high performance. Why should you buy stuff that offers the same features or maybe slightly better features than others at a higher price?
The same principle holds true when you plan to purchase a shortwave radio. With so many options available in the market today at highly aggressive price points, confusion is only natural.
In this article, our focus is not just to help you buy the best cheap shortwave radio but also one that is modern, has the basic features at a minimum, and is still durable enough to last many years. In other words, we'll help you strike the right balance between price and features.
In this article, we'll discuss the top 3 most competitive cheap shortwave radios, price-wise, and also recommend what we think is our top pick of the three.
Best Cheap Shortwave Radios
Cheap Shortwave Radio Reviews
In this section, we'll review the best three cheap shortwave radio options that are available in the market today. They are priced very well but at the same time do not skimp on essential features and functionality of a shortwave radio.
Kaito KA500GRN
Once in a while, a radio hits the market that amazes the radio enthusiasts in a way like never before; design, segment-first features, perfect ergonomics, and a competitive price. Kaito has a reputation for bringing out some amazing offerings and the Kaito KA500GRN is one such shortwave radio.
The Kaito KA500GRN matches its rugged and colorful looks with an array of features. It has a great build quality that is sure to last a long time even when used under rough conditions. It can be used both as a regular radio as well as an emergency unit.
The radio features a 180-degree solar panel, telescopic antenna, LED reading lamp and flashlight, and impact and water resistance. It can also be powered with a hand crank.
The Kaito KA500GRN has great value as an emergency device when you are stuck in a difficult situation. It will help you connect to emergency services, allow you to use the LED lamp or flashlight in the dark and since it has its own solar powered charging panel, you will not be dependent on batteries for the extra charge.
You get all this for a highly competitive price that is absolutely worth it for the plethora of features and convenience that the radio offers.
Things we liked:
Several unique features like 5-way powered emergency radio, solar powered battery, hand crank generation, LED reading lamp and flashlight
AM/FM/Shortwave radio and 7 pre-set NOAA weather channels with alert
180-degree adjustable solar panel and a hand crank
Things we didn't like:
The Crank Power device is a little weak
The solar panel charges the battery at a very slow rate.
Tecsun PL-380
The Tecsun PL-380 is a very small compact shortwave radio. Its size makes it a very convenient go-anywhere unit. It is so small that you can fit it in the pockets of your shirt or trouser. It is also very reasonably priced. So does this mean that it skimps on the features that regular size radios have? The answer is no.
The Tecsun PL-380 is a very durable radio withgood tactical buttons, a relatively nice display for its price and size with yellow backlight and a lock button to activate/deactivate the controls. There is also a three way extendable antenna that works very well in receiving most signals. The sound quality of the unit isn't very loud but adequate for regular listeners.
The biggest advantage of the Tecsun PL-380 is it's size and a matching reasonable price. For listeners who travel frequently and do not wish to spend a lot on a shortwave radio, the Tecsun PL-380 is a great bargain that is priced right and offers a great deal of features for it.
Things we liked:
Outstanding value for money
Great reception of signals
550 memory presets
Things we didn't like:
The sound from the 2-inch speakers is average
The features of the radio are described in Mandarin Chinese and the owner's manual is in German.
Eton Executive Traveler
The Eton Executive Traveler is a very pocket-friendly radio that provides all the necessary features at an affordable price. It receives longwave, AM, FM and shortwave bands. The radio also supports RDS data display in its FM band.
The display is bright, big, and crisp. The brightness can be adjusted to off, low, or high and no matter which angle, the display doesn't disappoint.
At this price point, Eton Executive Traveler offers travel-friendly features such as ability to set up local as well as world time, temperature, alarm clock, sleep timer and a snooze light. While the tuning knob is placed awkwardly, it is still usable.
The Eton Executive Traveler comes with 500 memory presets and is a good buy for the traveler-friendly features it offers. It is priced a little higher than the other two products in our lineup but makes up for it by providing a few features not found in regular radios.
Things we liked:
Radio reception and sensitivity is very good.
Travel friendly features and size
Good Battery Life
Audio Quality is excellent
Good looks
Things we didn't like:
Needs to be tuned manually
Slightly difficult to add stations to memory
The tuning knob is poorly placed, ergonomically
Best Cheap Shortwave Radio Buying Guide
When you are looking for a shortwave radio, irrespective of whether you are a beginner or an experienced listener, there are a certain factors that you should consider. These help you zero-in on a product that fits your requirements mostly if not completely.
Size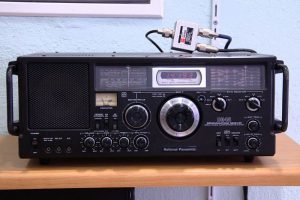 Smaller radios are convenient to carry whereas the opposite is true for the bigger ones. If portability is important to you because you travel a lot, choose a compact radio. If you are going to listen to the radio at home and not carry it, opt for bigger table-top radios.
Table top radios have far greater ability to catch signals due to better hardware and also have special power requirements. These are mostly preferred by hardcore professional listeners.
Smaller portable shortwave radios are compact in size and are very good at catching shortwave broadcasts. Most amateur listeners prefer this as they usually strike the right balance between size and functionality.
There are some ultra portable radios as well that fit in your pockets and bring a great deal of handling convenience with them. But as expected, they are generally low on features and do not have a robust signal receiving capabilities.
Different Range of Frequency
Radios have different capabilities to pick up bands and frequencies. Always consult the user manual for a model to understand which bands the radio is capable of receiving so that you don't feel disheartened later. As a general rule, the minimum shortwave frequencies a shortwave radio receiver should pick up ranges from 540 kHz to 30 MHz.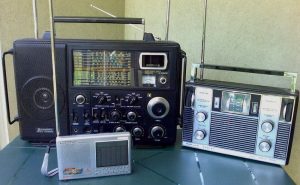 Digital Display
Display plays a very important role in tuning and finding a radio station. A dull and lackluster   display with poor viewing angles can spoil the experience and also frustrate you if you can't tune the channels properly due to poor display.
External Antenna
We always recommend buying a radio that has the option for an external antenna in addition to the internal antenna. An external antenna significantly increases the reception capabilities of a radio and you will specifically appreciate their use in a remote area or a high-rise building where radios with external antennas almost always receive uninterrupted signals whereas the built-in antennas fare poorly.
Conclusion
When you are looking for the best cheap shortwave radio it doesn't mean that you willing to compromise on features. While its true that the higher the number of features the higher will be the price, there are certain shortwave radios that combine the best of both the worlds; great price and tons of features.
The Kaito KA500GRN is exactly such a shortwave radio and a clear winner in our roundup of best cheap shortwave radios. It has the looks, an awesome build quality, emergency features and functions, LED light, and a unique solar powered charging unit. And yet for everything it offers, it is still cheaper than most shortwave radio units in the market today.