The best FM Transmitters are affordable, work perfectly, and help you convert audio into a FM signal so you can enjoy it! Who doesn't like listening to music when traveling in a car on those long solitary rides? All modern day vehicles cater to this passion for travel and music by providing USB ports, Bluetooth, auxiliary ports in your car to help you enjoy music from your smartphone, tablet or any other gadget.
But what if your vehicle is old and doesn't have the modern gadgetry to satiate your love for music? Enter FM Transmitter, a low cost, sleek device that uses the blank FM frequencies on your radio to play music.
An FM Transmitter achieves this by converting the audio input from a gadget like a smartphone or an MP3 player into an FM radio signal. These signals can then be played over a radio on a car or other portable radios as well.
Most FM Transmitters come loaded with features like digital display, noise cancellation, USB and auxiliary ports, and more. Hence, buying one that works for you is not an easy task.
The Best FM Transmitters
FM Transmitter Reviews
In this section, we'll review what we consider to be the top 5 FM Transmitters in the market today owing to their size, looks, features, and respective shortcomings. All of the following transmitters are very good on their own but score over one another in different areas. Let's review them.
Nulaxy Wireless In-Car Bluetooth FM Transmitter
The Nulaxy Wireless In-Car Bluetooth FM Transmitter is a great looking device that leaves a lasting impression not just by its looks but also form and features. With an impressive feature list and a very competitive price, Nulaxy is way ahead of the competition as far as FM transmitters are concerned.
The most striking feature of the device is its ability to plug directly into a 12v socket. There are no wires required from the transmitter to the outlet. This offers great versatility
There is a flexible connector connecting the transmitter to the plug and so you can move the transmitter to your desired location just by flexing/bending the connector just like a phone mount.
There's an SD card that allows you to directly play music from the transmitter. The tactical buttons allow you to navigate through songs as well as frequencies.
The range of the transmitter is also might impressive going as low as 87.5 and as high as 108.0 Mhz. On the display screen, you can see the numbers for the incoming calls, song names, and the level of the car voltage.
Things we liked:
Best in class LCD display that displays useful information
Crystal clear sound
Built-in Voltmeter
Things we didn't like:
No power button. So it can drain the car battery if left turned on in the parked car.
It is a little hard to pull it out from the socket. Takes some getting used to.
With such features, design, and portability, the Nulaxy Wireless In-Car Bluetooth FM Transmitter makes for an excellent buy at the price it is being offered at.
Bovon Bluetooth 5.0 FM Transmitter
If you are looking to enhance your car's radio quality, the Bovon Bluetooth 5.0 FM Transmitter is ideal. Its sleek and stylish design easily connects to the majority of vehicles to improve radio transmissions. Each of the dual microphones works to collect sound effortlessly while using CVC noise cancellation to reduce echoing.
It uses a Bluetooth 5.0 chip, which helps maintain a stable connection to your radio for faster transmissions. When connected, you'll have access to significantly improved calls as well as Hi-Fi music streaming while on the road.
As an added benefit, you'll find three integrated charging ports for all of your essential devices. It features 18W USB-C PD charging ports at 5V/3A, 9V/2A, and 12V/1.5A.
This device is far more efficient than other portable chargers, getting your devices up to 50% in 30 minutes. It's also a fantastic addition for road trips, as you and your friends can all charge your devices simultaneously.
The built-in LCD screen displays your FM frequency as well as the voltage of your car battery. While driving, you can keep an eye on your battery power and opt to turn the device on or off with a single button.
Changing between frequencies is equally as simple because all you have to do is use the scanning buttons. You'll also be able to take hands-free calls with the help of the voice assistant.
You can either use the device with the help of Siri or Google Assistant or take advantage of the easy-access buttons. You'll be able to redial, hang up, answer, and reject calls with two functions, ideal for hands-free use.
Things we liked:
Built-in LED backlighting

Significantly improves sound quality

Multifunctional buttons

Offers many charging ports
Things we didn't like:
Can disconnect often

Might make humming noises
JETech Wireless FM Transmitter
The JETech Wireless FM Transmitter is an economical device that has the reputation for simply getting the job done without any extra set of features or design elements. While the design is a bit dated and simple, the build quality is quite sturdy and the display sharp and crisp.
The buttons feel tactical and ergonomically placed and can be used to tune in to FM frequencies ranging from 88.1 to 107.9. The device comes with an auxiliary cable and a very useful extra USB port that charges the device at an impressive speed.
If you are looking for a simple device doesn't cost a lot and gets the job done, the JETech Wireless FM Transmitter is a great choice.
Things we liked:
Good build quality
Convenience of extra USB port to charge devices while driving
Very good display supported by feel-good buttons
Things we didn't like:
Old looking design
The adapter does not stay put in the socket
Tecboss Bluetooth FM Transmitter
The Tecboss Bluetooth FM Transmitter is another stylish device to improve your car's audio. With Bluetooth 5.0 connectivity, you'll have a stable connection for listening to clearer streamed audio. Also, it features integrated noise cancellation, ideal for reducing static and echoing.
Hands-free calling is effortless with this device, as you can attach it to your dashboard easily or use vent clips. You can quickly answer calls, redial missed calls, or hang up with the use of a single button. There are also other easily accessible functions on the front of the device, such as skipping songs or pausing music.
There are multiple ways to stream content through your car's speakers using this unique device. You can choose to connect via Bluetooth or use your car's standard radio. Additionally, it offers micro-SD card compatibility as well as an aux-in port.
There's no doubt this device makes your car look cooler with the seven LED backlight options. You'll also have a QC3.0 charging port to keep your devices at full battery while driving. As an added benefit, you'll find a 5V/2.5A charging port so that you can manage two devices simultaneously.
If you're a fan of wireless technology, you'll appreciate the versatility of the Tecboss Bluetooth FM Transmitter. For hands-free use, you can either manually switch functions or connect Google Assistant and Siri to the device.
Things we liked:
Sleek and low-profile

Not too bright at night

Easy to set up

Additional USB charging outputs
Things we didn't like:
Connects to all in-range devices

Not for all air vent shapes
Sumind Bluetooth FM Transmitter
The Sumind Bluetooth FM Transmitter boasts recent upgrades for more functionality. The hands-free car kit is ideal for mastering everything you need while driving, from phone calls to music. It also boasts intelligent, fast charging with two additional USB ports and a 2.4A charging port.
You'll love this device's large keypad, making it easier to handle while on the road. Also, its 1.7-inch LCD screen with backlighting displays essential information like song name, caller ID, and your car's battery level.
The best part? With the help of the gooseneck style, you can twist the screen up to 270-degrees in either direction for viewability.
The broad compatibility of this device makes it remarkable for smartphones, your car's stereo, and even tablets. As long as they have Bluetooth compatibility, you can quickly connect them in seconds. Alternatively, there's a built-in 3.5mm audio cable as well as micro-SD card support.
Improving the sound quality of your audio is simple with this device's advanced interface. It features CVC technology paired with noise cancellation for added noise suppression. The built-in microphone also allows you to take advantage of clear hands-free talk.
Things we liked:
Impressive audio quality

Multiple volume adjustments

Quick Bluetooth connectivity

Perfect button layout
Things we didn't like:
Poor built-in speaker

Slight background static at times
Buying Guide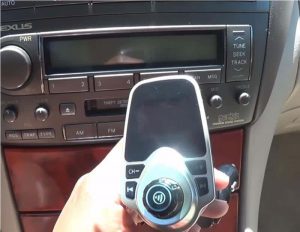 While the market is flooded with all kinds of FM transmitters, not all transmitters are created equal. Some are basic in features, others advanced, some are lookers while others plain and bland, some are low-cost while others are expensive. So how do you choose?
We recommend considering your requirements above everything else. And then there are certain other factors that you must consider:
What Are The Basic Features Of An FM Transmitter?
Access to channels: Your FM transmitter should be able to scan through any empty frequency that can be utilized for playing music. It should be able to do it on its own without your input.
Preset Stations: It should have adequate memory to store the stations. When you have stations stored, there is no need to search for them over and over again.
Charging: The transmitter should offer the ability to charge a device besides playing music through the radio.
Wireless: To the extent possible, the device should plug directly into the adapter or cigarette lighter port of your car. There should not be any wires for the purpose.
Power On/Off buttons: Most transmitters do not come with these buttons. However, availability of these buttons leads to a very significant convenience; you don't need to take out the device from the socket when you are not listening to the radio.
If the buttons are not there, then you must take them out else they will keep consuming the power and battery without any use. In worst cases, they can even damage your cigarette lighter or the transmitter itself. Hence, we always recommend buying a device that has these buttons.
Do I Need To Be An Expert To Install The Transmitter?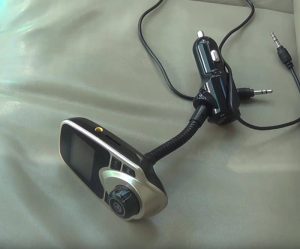 No. Most FM transmitters are extremely easy easy to set-up and use. They only need a power source or a cigarette lighter connection in a car. On the other hand, you only need an auxiliary cable to connect them to the audio source. The only things that remains to be done is to simply tune in to the frequency and enjoy the music.
If you're interested in learning more about installing, using, and getting the most out of your FM Transmitter, you can read our full guide on How An FM Transmitter Works.
Does The Range Of The Transmitter Determine The Transmission Quality?
Yes, it does. This is why you must carefully evaluate the range capability of an FM transmitter. Generally if the transmitter supports a range of 10 to 30 feet, it is adequate for the reception of good quality signals.
Different Types Of FM Transmitters
While most transmitters do the basic job well, there are certain FM transmitters that are a class apart due to better technology, ergonomics, and design. If you are specifically looking for the best FM transmitter for car or the best Bluetooth FM transmitter, we've listed the top choices for both the categories below.
The Best FM Transmitter For Car
As we've been discussing, an FM transmitter can breathe a new life into your car or any vehicle's audio system if it is not equipped with modern day technologies like Bluetooth. We are pretty certain that most of us carry a smartphone with a built-in MP3 player or even a standalone music player.
While there are several other ways to connect a vehicle's audio system with a phone, an FM transmitter is the best and easiest way to achieve the same. They are easy to carry, connect, and are cheap. If you want to learn how an FM Transmitter works in a car, and what app you can you use to play your music easily, you can read our full guide on the best iPhone FM Transmitter apps here.
From our roundup of the FM transmitters above, we strongly recommend the Nulaxy Wireless In-Car Bluetooth FM Transmitter. It is loaded with features; both Bluetooth and auxiliary cable for pairing the devices, slot for a micro SD card and a display that shows the names of the songs and incoming phone calls, among other things.
With so many features at a price that is extremely competitive, you just cannot go wrong with purchasing the Nulaxy Wireless In-Car Bluetooth FM Transmitter.
The Best Bluetooth FM Transmitter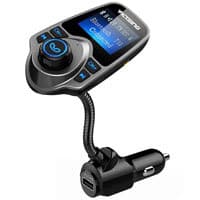 A Bluetooth FM transmitter is a very handy device for someone who wishes to connect to their audio device or smartphone through Bluetooth. This is particularly useful as it eliminates the need for an auxiliary cable.
To connect an FM transmitter, simply pair it to your audio device through Bluetooth and then select a vacant radio frequency on the transmitter. After that, all you need to do is tune your radio to the same frequency and enjoy the music.
From our roundup of the FM transmitters, We strongly recommend the VicTsing Bluetooth FM Transmitter. It has a nice range, robust hardware, and a flexible range of motion that allows you to position it in whatever direction you want. In addition, it has very nice display and dual USB chargers make it a perfect Bluetooth FM Transmitter.
Conclusion
FM transmitters have a huge market and understandably so. There are a lot of users out there who do not have the facility of Bluetooth in their cars and hence the transmitters are a blessing for them. However, considering there are so many of them in the market, buying one can be a very exhaustive and frustrating experience.
All the transmitters in our lineup are excellent for one reason or the other and provide a good range for different budgets. But there are two devices that make for an excellent value-for-money proposition and they are the Nulaxy Wireless In-Car Bluetooth FM Transmitter and the VicTsing Bluetooth FM Transmitter.
Both are extremely capable devices with identical features and performance and you can't go wrong with either. However, Nulaxy narrowly surpasses VicTsing with its wireless capability as well as the best LCD display across the segment. There are very few devices in the market that provide good value for your money and the Nulaxy Wireless In-Car Bluetooth FM Transmitter is certainly one among them.