Finding the best weather radio will allow you to ensure your safety by staying up to date on rapidly changing weather situations. Unexpected weather phenomena can occur at any time without warning. No matter how accurate a weather forecast prediction may be, you never know what may happen. Those not alerted can fall victim to the devastating consequences of earth's natural weather disasters. Therefore, an efficient weather radio is essential in ensuring that you are alerted long before a catastrophe strikes, and that you have enough time to take the necessary safety precautions.
A weather alert radiois a specially-designed radio capable of receiving frequencies forewarning bad or dangerous weather. Some radios are also equipped with a standby alerting function. This innovative and valuable feature enables the radio to automatically switch to a pre-tuned weather station or sound an alarm if it happens to be switched off or on another frequency.
This cutting-edge device can prove to be the difference between life and death. Thus, nothing less than the most superior radios will suffice. This article will provide you will all the information you need on the best weather radios out on the market today. With that said, let's get started.
Best Weather Radio Reviews
In this section we review the top 5 products listed in the comparison table of the previous section. With the help of these weather radio reviews you should be able to find the best weather radio for your own needs.
Midland WR120 Weather Radio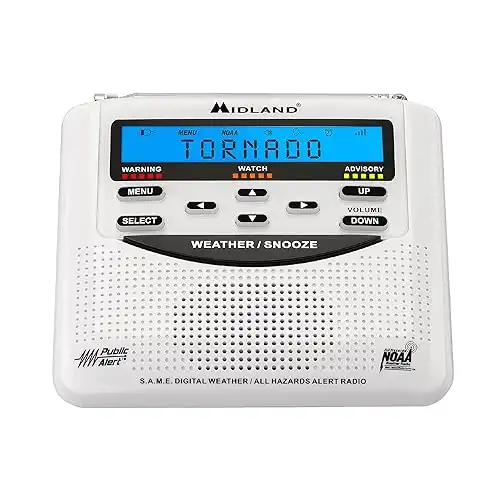 The Midland WR120 is a revolutionary weather alert radio with an array of valuable features. It receives 7 NOAA channels with flood, thunderstorm, tornado, and all other warnings. Thesechannels offer coverage for about 93 percent of the U.S., so you are well covered regardless of your location.
As well as that, it is equipped with an external antenna and alert jacks. A notable, innovative feature is its memory system which accepts up to 25 countries, allowing you to monitor a broad range of countries simultaneously. Complementing this is its multi-language capability, serving English, Spanish and French. You can jointly restrict it to one specific country, making it a must for anyone residing in weather prone areas, such as the Southeast or Midwest. Its high-tech, continuous back-lighting option keeps the LCD constantly lit up, and also has an alarm clock with snooze.
If that wasn't enough, the Midland WR120 eliminates all alerts from other areas, so you won't be jumping up in a panic or woken up for nothing. Fully stocked with all the extras you will ever need, this Midland weather radio is most certainly the way to go.
iRonsnow IS-088 Weather Radio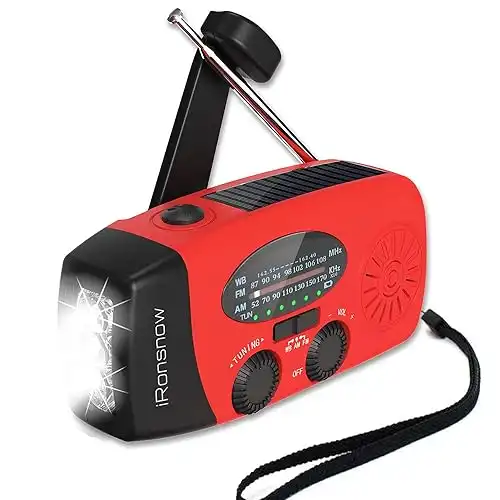 If you are looking for the most dynamic emergency weather radio around, there is no better choice than the iRonsnow IS-088. This gem of a warning device has a range of 38 miles for FM and a colossal 62 miles for AM, ensuring that you can cover every weather hazard, even those with no immediate threat.
The amount of ways to keep its power going would make a Transformer robot proud. You can charge it from a hand crank, the solar panel and a DC recharge, which lets you connect the mini USB cable to a computer. It is lightweight, at only 0.5 pounds, with a power bank capacity of 300mAh. To add to that, is a powerful 3 LED flashlight that can even charge your smartphones.
Also included is a retractable antenna, wrist lanyard, USB converter, DC Cable and User Manual. Being a registered brand on USPTO and the only official brand authorized to sell, makes the iRonsnow weather radio a self-powered emergency radio unparalleled by any other.
Kaito KA500 Weather Radio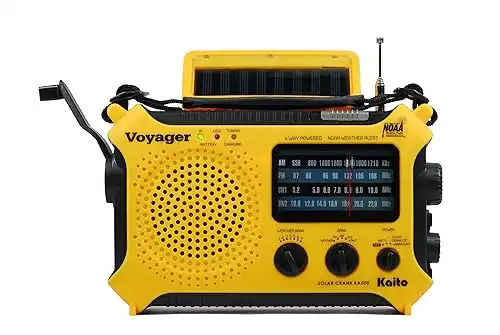 The Kaito KA500 is a flawless, advanced weather radio that makes full use of up-to-date technology. It is designed to charge an array of small electronic devices with its USB jack that connects to almost all standard USB enabled gadgets, such as your iPod or cellphone.
Thanks to its enhanced brightness, the LED can be used as a flashlight or a red flashing emergency signal. Also included, are 5 LED reading lamp for camping and emergency use.
The Kaito KA500 also comes with a High quality AC type brushless generator and a solar panel designed to tilt with the suns position to receive the energy during the day time. Additionally, the solar panel charges the built-in batteries, making charging a breeze and promising an endless power source. The KA500 contains a PLL crystal-control circuit for stable reception, and its dynamo cranking power utilizes strong currents and voltage, in order to power the built in Ni-MH battery pack.
The weather alert feature effectively receives alert signals when a disaster is approaching, thus confirming that you are well aware of what dangers lie ahead. The Kaito KA500 weather radio has been designed with a focus on safety and convenience, and has successfully secured its place in a class of its own.
Sangean CL-100 Weather Radio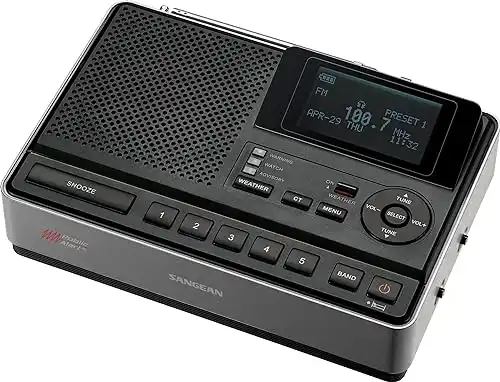 The Sangean CL-100 is a certified Public Alert Radio loaded with all the vital key features required to effectively inform people about severe weather warning conditions, civil emergencies, hazards, and evacuation details, so you can have more time to react before dangerous storms hit your area. It can function with embedded antennas which allows for excellent AM/FM reception from every direction.
In addition, the handy auto-station search function makes it possible to scan all available radio frequencies. The S.A.M.E regional codes can be easily programmed into the Sangean CL-100 directly from the NOAA website, and also has the capacity to store up to 25 country codes for surrounding countries together with your area's forecast. On its rear is a 3.5mm stereo Auxiliary Input socket to allow connection of an external audio device, such as an MP3 or CD player.
Another beneficial feature is the Dual Alarm and Auto Shutoff for setting dual alarm times with sleep timer settings from 15 to 120 minutes. The Sangean CL-100 is a jam-packed, flawless weather alert radio, with indispensable extras, that instills confidence in all that use it.
Sangean MMR-88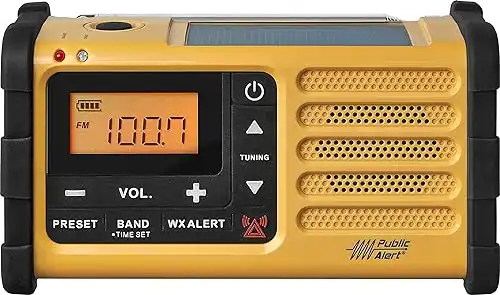 Venturing out with this beauty of a radio will enable you to outsmart any bad weather looking to ruin your day. The Sangean MMR-88 has a top-of-the-range, built-in high-power 8508mAh Lithium-ion rechargeable battery, as well as a hand crank and state-of-the-art solar panel. You can be rest assured that wherever you are, this radio will always be powered up.
Apart from the essential requirements, the MMR-88 is most probably the most user-friendly emergency weather radio ever designed. Firstly, you can charge your USB compatible devices with the included USB A to Micro B Cable. Secondly, the MMR-88 allows you to listen to your favorite music, news, and radio programs, while keeping you safe with recent weather forecast and alerts.
When it comes to ensuring your safety, this Sangean weather radio has no shortcomings. It is equipped with a built-in loud emergency buzzer and siren, and can be carried anywhere. Its resourceful and adjustable LED flashlight has emergency signaling modes of low, high, blinking and S.O.S Morse code. The backlit LCD Display can easily be read from a distance, and its DSP Digital tuner has 19 pre-sets of mixed AM/FM.
It's all about safety and user-friendliness with the Sangean MMR-88, and it is certainly reassuring to have it on the market.
Best Weather Radio Buyer's Guide
Finding the best weather radio for yourself requires some research. Some of the most important considerations for anyone looking to purchase a quality weather radio are covered here. This guide will help you decide what features you need in your weather alert radio.
Go With The Basic And Simple
The fundamental aim of emergency weather radios is to ensure that you have a connection with the outside world in the case of an emergency. That said, ensure that this feature is of the utmost efficiency, and in top-notch working order, before you start scrapping your wallet for your last penny. Opt for a standalone AM/FM receiver, since NOAA alerts are sent via AM radio. While being able to tune into FM stations is important, the AM feature provides a significantly longer range. In the event of a severe disaster, this is vital.
Look For Radios With "Public Alert" and/or "NOAA NWR All Hazards" Logos

As with any product, making sure that it sports an official logo is crucial. This seal of approval, so to speak, confirms that products are of certified, top-quality.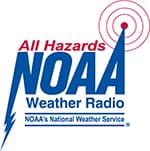 When you pick your weather alert radio, look for "Public Alert" and/or "NOAA NWR All Hazards" logos. This guarantees that the radios were developed with the input and evaluation of NOAA and the National Weather Service. Either one of these logos is necessary and will do.
Double Check The Range
Your weather radio will not be of any use if it isn't able to receive an appropriate signal. The range can vary significantly between models, and is something that should definitely be considered. If you are in remote locations it might be problematic to receive strong signals if the radio does not have a long enough range, thus reducing the chance of clear alerts coming in. Thoroughly check how far the range is before purchase. This will give you added assurance that your emergency weather radio will work effectively when you need it the most.
Search For Weather Radios That Offer SAME Technology
Specific Alert Message Encoding (SAME) allows you to zero in on dangerous weather warnings within your specific city, as opposed to a multi-county area or state. This results in far more precise and accurate alerts and warnings, as it reduces the radius of threats to within fractions of your specific position.
Choose Weather Radios That Support Multiple Power Sources
A weather radio with numerous power sources is the key for avoiding unnecessary consequences. Pick a radio that that accepts power from an external source. A good example would be an AC adapter which has a hand-crank or alternate manual charger, just in case you don't have power.
Additionally, having a hand crank besides a solar power panel is a good idea, as it will allow you to continue to use your weather alert radio even when rain and thick clouds cover the skies. A simple solar panel does not offer this advantage, and can result in power running out when you most depend on it.
Check out the start of the following video demonstrating the hand crank of the Eton FRX3:
Pick Only Highly Durable Weather Radios
Choose only highly-resilient emergency weather radios, specifically designed for heavy-duty use. The radio should also be tough enough to protect the internal electronics of the device from any damage caused by dropping or bumping it. Jointly, it is essential that is shockproof and waterproof.
Always Read The Instructions
Even if you own the most proficient emergency weather radio, or are a seasoned user of one, always take the time to read the included instructions fully. Having the knowledge of the basic functions of your radio will assist you in times when problems which you are not familiar with arise. Remember, being over careful is a good thing, especially when the threat of potential weather disasters is always present.
Best Weather Radio Brands
While there are various companies that produce great weather radios, some brands have established their reputation for producing the best weather radios. If you are looking to buy the best weather radio then you should definitely check out the following brands.
Midland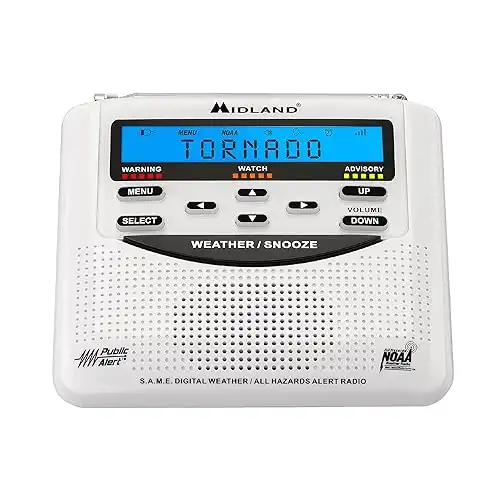 Midland is renowned for developing top-notch electronic devices, and feedback has shown that users find their products both reliable and affordable.
This includes its weather alert radios which provide excellent reception and remarkable sound quality. They are installed with an array of hi-tech features, like cellphone chargers, extra-bright flashlights, high-resolution LCD's and solar panels. Its multiple emergency power sources eliminate the worry of running out of power. Users of Midland weather radios have also noted their durability and long-long-lasting quality as the primary reasons for purchasing.
The Midland brand is synonymous with high standards and top-rate efficiency, and their certified products such as the excellent Midland WR120 secure its reputation as a leader in electronic gadgets.
Sangean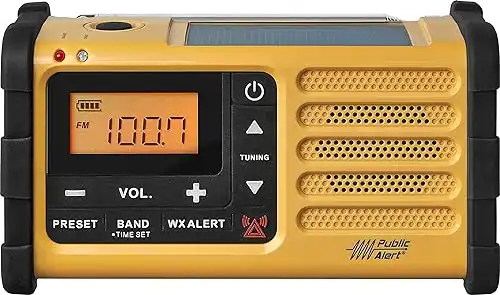 For over 40 years, Sangean has been manufacturing electronic equipment of the highest standards and levels of performance. Known as a world-class OEM supplier, Sangean produces electronic gear for a wide range of major manufacturers and customers around the world.
When it comes to emergency weather radios, Sangean brings a unbeaten mix of ground breaking features and technology to the table. Sangean weather radios are both user-friendly and innovative, allowing users to listen to music, radio and the news while keeping informed about upcoming dangers.
With Hi-tech solar panels and the capability to send out almost every emergency signal in the book, you always feel safe and sound with a Sangean weather radio, such as the MMR-888.
iRonsnow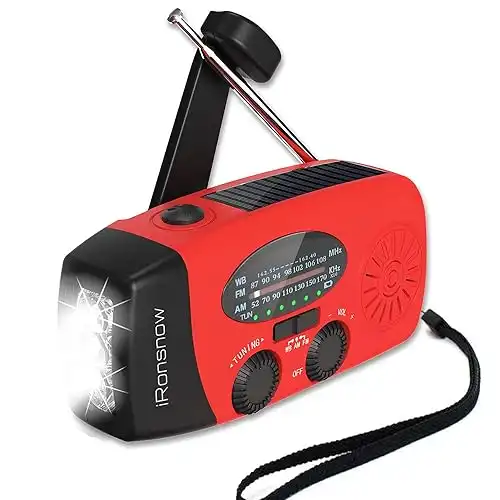 iRonsnow is another recommended brand when it comes to supreme weather radios, and continues to be a top-seller online due to its affordable prices and remarkable features.
iRonsnow weather radios are extra sturdy, yet very lightweight and compact, making them easy to carry whenever or wherever you are. Currently the iRonsnow IS-088 is Amazon's best seller confirming it as an excellent choice if you are still contemplating which radio to purchase.
Combined with its phenomenal charging capability that offers multiple ways to charge, are the NOAA weather channels and powerful LED flashlight. It can be set to AM, FM, or WB for weather reports with sound quality that is crisp and clear.
iRonsnow delivers products designed for customer satisfaction, but that also make our lives a whole lot easier, and never settles for less than premium-quality.
Eton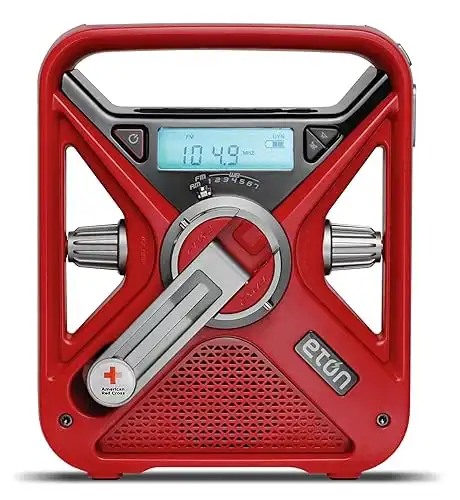 Whether it is a weather alert radio or a solar-powered sound system, Eton keeps you safe and connected no matter where you are. Their products are both fun to use and highly efficient during times of disaster. In 2012 Eton received the Good Design Award for the FRX Field Radio Line.
Eton weather radios are praised, as they act as a source of renewable power. They offer various ways to extend power and battery-life by way of solar panels, hand crank, built-in rechargeable batteries and traditional batteries. Additional useful features, such as glow-in-the-dark locators, auxiliary input for additional audio devices and alert functions, assure your safety during the harshest of weather conditions.
Eton products keep you and your family informed and prepared, always. Its commitment to their consumers has made it the award-winning brand it is today. With Eton you can never go wrong.
Best Weather Radio Conclusion
After reading this article, you now have all the information on the best weather radios out there today. In addition, you hopefully have an understanding of their importance.
Weather is a marvelous characteristic of the world we live in, but is also an uncontrollable force that poses a deadly threat for those unprepared. It is therefore your responsibility to keep yourself and others safe when these disasters occur.
Thankfully, all the grueling, time-consuming research that you would have had to endure before purchase has been done for you. All that's left for you to do is go out and get one. Keep safe, stay alert and take care!