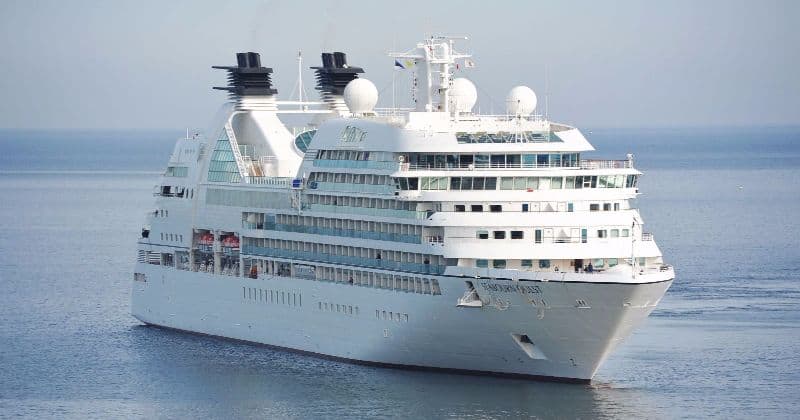 Families, seniors, and even couples will want to know what the best walkie talkie for cruise ships are to ensure they can safely, securely, and easily communicate with those in their party. Aboard a massive cruise ship, it easy for anyone, particularly children, to get lost. With water slides, game rooms, restaurants, pools, and many other areas on the ship, a day of fun can quickly turn to worry if you cannot locate your kids, friends, or family. And even if there is not an emergency, it is definitely easier to quickly make or change plans over a walkie talkie than it is to coordinate the full day ahead of time or rely on shaky cell service.
Walkie talkies provide convenient communication aboard cruise ships. Your party might separate into groups, and those without cell phones may find communication difficult without walkie talkies, especially if far out at sea or without solid internet access. Ships are unique structures, and some walkie talkie brands or models will work better than others when you're at sea. Consider some of the following products and tips for choosing the best walkie talkie for a cruise.
Walkie Talkie For Cruise Ships Reviews
Midland LXT630VP3 Walkie Talkie
Midland LXT630VP3 FRS Long Range Two-Way Radio w/NOAA Weather Scan + Alert (2-Pack)
36 Channels with 121 Privacy Codes - 2,662 channels.
Up to 30-Mile Range.
NOAA Weather scan & alert.
Powered by rechargeable battery or 3 "AAA" batteries.
Things we liked:
Great coverage for a beginner device

Hands-free operation

Small, lightweight, and compact

36 built-in channels
Things we did not like:
The radio has no memory to store your settings. They must be reprogrammed every time the radio is turned on.
Check the price on Amazon
We earn a commission if you make a purchase, at no additional cost to you.
The Midland LXT630VP3 is a solid product that will not disappoint when it comes to battery life and quality of sound. This is a great product for the price and is perfect for use on a cruise ship. It comes with 36 channels and 121 privacy codes, which will give you 2,662 channel combinations. We like its easy to use design and great range which ensures you can communicate well even on a large cruise ship.
For more information read our Midland LXT630VP3 review.
Uniden SX167-2C Walkie Talkie
Uniden SX167-2 Long Range FRS Two-Way Radio (2-Pack)
Uniden FRS radios keep you in touch whether you are out camping, shopping, biking, or caravanning on the highway. With 22-channels, there's always an open line for uninterrupted communications. And since the SX507-2CKHS operates on standard frequencies, you can easily communication with people using other models or brands.
Check the price on Amazon
We earn a commission if you make a purchase, at no additional cost to you.
The Uniden SX167 is a great device with virtually no static and a battery life that is impressive. These walkie talkies are a quality and reliable product for an affordable price. They are one of our favorite walkie talkies overall, and they are a great option for use on a cruise ship as they have good range and battery life, especially at their very affordable price point. The Uniden SX167 is very simple and easy to use, which means you can give them to your kids and easily show them how to stay in touch with you as they explore the cruise ship!
Topsung M880 FRS
The Topsung M880 FRS is an excellent set of walkies with automatic functions. You'll find that their design is ideal for beginners but can also be helpful for experienced users. With 22 main channels with 121 privacy codes, you can get up to 2,662 channel combinations for communication. The intelligent system of these devices is their most impressive feature. You'll have access to auto scanning, auto memory functions, auto-monitoring, as well as an auto squelch system. When preserving battery life, you'll appreciate the auto power saving, which shuts the unit down when not in use.
The palm-friendly design makes these walkies lightweight at 2.9 ounces. What's more, they offer hands-free operation.
When using the hands-free mode, we recommend having an earpiece available for clarity. Fortunately, these walkies feature a 2.5mm earpiece jack with dust proofing for connectivity.
When packed away, you'll appreciate the keypad lock, which keeps your settings in place until it's unlocked. The added LCD screen with backlight is perfect for communicating in complete darkness with ease.
Wishouse 2 Rechargeable Walkie Talkies for Kids
Kids love walkie-talkies; there's no doubt about it. Even better, these are a fantastic option for your upcoming cruise. Also, it's one of the better kid-friendly options with ABS housing to prevent damage from accidental drops. These walkies feature USB recharging and three 1000mAh batteries for all-day use. Your kids will have several hours of entertainment before needing to recharge the devices. With the help of HD sound, you can quickly communicate across the ship with reduced interference
.Also, the sound quality is significantly better than you'd expect with the added benefit of adjustable volume levels.
We recommend using the channel scanning and monitoring function to find the best available channels. These family-friendly radios allow you to access up to 22 channels and get signal clarity up to three miles away. When in open water, communication length extends to six miles, more than enough for any cruise.
Parents will love the call tone, allowing you to page your children when you want to call them back to the room. The keypad lock feature is also ideal for younger users. You can quickly choose the perfect settings and lock the walkie so that your kids can't change them.
Retevis RB18 Walkie Talkies
If you need a modern and stylish set of walkies to use on a cruise, these are ideal. The Retevis RB18 Walkie Talkies looks fantastic but also offers upgraded features. One of the most impressive components is the NOAA weather forecast module. Within the walkies are 10 separate NOAA alert channels to tell you about abnormal weather conditions. Thanks to this, you can always stay up to date with potential inclement weather in the area, regardless if you're on a cruise or hiking.
The streamlined user interface makes these walkies significantly easier to use. The layout is straightforward, featuring minimal buttons that all come labeled.
You'll have a built-in screen that allows you to check your battery life, volume, channel, and more. Plus, there's hands-free communication with nine sensitivity levels that automatically adjust to your input volume.
As an added safety feature, be sure to take advantage of the integrated flashlight. You'll find a small button on the side of the radio that turns the flashlight on and off as needed. Thankfully, these walkies are rechargeable. So, as the flashlight consumes power, you can easily have it recharged.
Things to consider for a good walkie talkie on a cruise ship
The remainder of this article will discuss some aspects you should consider when you are looking for a walkie talkie to use when you are on a cruise ship.
Noise level
You will want to use the walkie talkies to communicate with family and friends aboard the ship. But some walkie talkie devices are way too loud. They might make static noises after you talk on them, and the voices on the other end might sound loud and crackly.
Try to find a walkie talkie that will produce crisp, clear sound so that you don't have to crank up the volume. The other passengers on the cruise ship will appreciate your commitment to keeping the noise level down a few notches. Look for devices that have a quality microphone. Better microphones allow for clearer and quieter communication between walkie talkies.
Number of channels
Other people may get the same idea you have. They might bring their own walkie talkies to the ship to stay in touch with their friends and family in other areas of the ship.
If your radio only supports a few channels there is a good chance you cannot find a clear channel to use with your party, so be sure to look for a walkie talkie with a lot of channels.
Reception quality
Since cruise ships are unique structures, they may require special brands of walkie talkies. You can ask the crew members on the ship what kind of device gets the best signals and reception. You may be told that walkie talkies aren't allowed on your particular cruise ship, but it's always better to know this information in advance.
If you are allowed to bring the devices, the crew should be able to tell you which brands they use for their own communication. You might even be able to cheaply rent or buy walkie talkies from the crew of the cruise ship so that you can use them for the duration of the cruise to stay in touch.
Can you bring a walkie talkie on a cruise ship?
Yes, you can bring a walkie talkie on a cruise ship! Also, many cruise line companies sell cheap walkie talkies on-board, which means if you forget yours or want to buy more, you may have that option. The only devices you may need to leave at home are high-powered CB scanners or ham radios which may interfere with the ship's communication. Also not allowed are super high-powered walkie talkies with external antennas or over 5 watts of power. That said, these are not likely to be on your packing list for you next cruise vacation!
Do walkie talkies work on cruise ships? What is the best way to communicate on a cruise ship?
Yes, walkie talkies work on cruise ships and offer a great communication option for families and friends alike. Your walkie talkies will operate well in most areas of the cruise ship, but if you buy very cheap or kids walkie talkies, then they may not be able to penetrate through the many walls of the cruise ship. That's why we recommend the solid but affordable options above to ensure that you can communicate at all times safely and clearly.