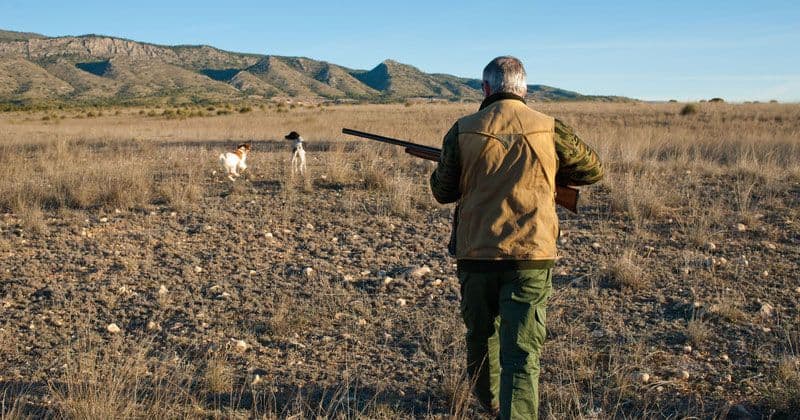 The one thing you don't want happening when you're hunting with your buddies is getting lost. There are always trails, forks in the road, and complicated paths which can split you up.
With little to no cell phone coverage out there in the wild, it's always good to have the best walkie talkie with you to re-establish contact.
Using radio waves, you can contact your hunting party again and find your way back to basecamp. Either that, or you can describe where your prey is heading so your partners can get their sights on it before it escapes.
However, hunting walkie talkies are more than just tools to advance the hunt. They're genuinely useful for safety out there in the big bad wild.
The atmosphere, the visceral nature, and the raw wilderness of it all can overwhelm even the strongest wills.
Having a pair of the best walkie talkies you can find to connect to a friendly voice can tip the scales in your favor.
So, we've done a little research of our own for your benefit, to find you the best walkie talkies you can carry on your belt clip.
There are several versions out there that claim to be the best, but these walkie talkies get everything right on paper and in real life.
Top Choice: Midland GXT1050VP4
This is the hunting walkie talkie for the everyman. The Midland GXT1050VP4 has everything from great battery life, to an impressive range, alerts, hands-free capabilities, etc.
However, the two things which truly make it worth buy are its weather-proofing, and it's affordable price.
Our Top Pick
Go with this one if you want something that checks all the boxes.
Now, let's get down to specifics.
What are the Best Features for Hunting Walkie Talkies?
Basically, a hunting walkie talkie should have everything you need to communicate and stay safe out in the wild. This doesn't just include a decent radio signal and great battery life. Let's count 'em down.
Your walkie talkie should have NOAA weather alerts, to keep you informed of any approaching storms. Remember; animals aren't the only things that can kill you out there.
You should also be carrying rugged walkie talkies in the wild. Mud, rocks, trees, thorny bushes, etc. are all going to deal out punishment to you and your gear. If your walkie talkie can't survive a fall, you'd better just leave it behind.
You also want a walkie talkie with decent range. You can get separated from your hunting partners by more than a few miles out there. It's better to get the greatest range possible for crystal clear reception so you don't lose contact.
Family Radio Service is a must, of course. It's usually included in many walkie talkies as a standard feature. You'll find it easier to communicate with your hunting buddies during an emergency with this feature.
Assuming you're going hunting for more than a day, the best walkie talkie for your money should include very large batteries, or rechargeable batteries. Rechargeable AA or AAA batteries will do you fine, but it's common sense to take a few extra pairs with you for safety's sake.
Now that you have a general idea of what features to look for, let's discuss some of our top walkie talkie picks.
Midland GXT1050VP4—Our Recommendation
As we've outlined above, the Midland GXT1050VP4 is the walkie talkie for the everyman. It's got great battery life, the capacity to receive radio signals from ways away, and great weather-proofing.
Top Features of the Midland GXT1050VP4
There are great pluses too like its hands-free capability and the exterior Oak Camo finish. It's not just rugged on the inside; it looks like it on the outside. It also comes with a vehicle charging adapter and two hands-free (VOX) capable headsets.
If you want to dive deep, you can check out our full Midland GXT 1050VP4 review.

Motorola Talkabout T265 – Best Motorola Walkie Talkie for Hunting
The Motorola Talkabout T265 is a great walkie talkie built with security and safety in mind. The first thing we noticed was the keypad lock. It's a great feature which prevents misuse and renders it virtually unusable after theft.
Top Features of the Motorola Talkabout T265
You can expect up to 25 miles of radio signal range with this bad boy. On top of that, you can get 12-29 hours of battery life after a single charge.
The device also has hands-free Vox capability, weather alerts and 2 high-quality earpieces.
Motorola also colored the T265 orange, so it could be easily found if lost – they included this feature after talking to several hunters who had lost their own talkies in the wilderness.
We recommend that you go with the rechargeable NiMH batteries option rather than the AA batteries option. That'll give you peace of mind when you're out in the forest for hours.
You can check out our full Motorola Talkabout T265 Review for more details if you'd like!
Midland X-Talker T755VP3
If we were giving out the title for the most reliable walkie talkie on this list, it would be the Midland X-Talker T75VP3. It has an absolutely bonkers 38 miles of range! According to our tests, it far outperforms expectations, and can really come in handy in rough terrain.
Top Features of the Midland X-Talker T755VP3
The T75VP3 has lots of bells and whistles for the more ambitious hunting trip. It has 5 unique Animal Call Alerts. These come in handy when you're trying to alert your hunting party to the prey you've just sighted.
And of course, we can't say enough about the reported range of this beast. If you've got a lot of ground to cover, or if you're splitting up into teams, this is the best walkie talkie for hunting.
The catch is the price. The T755VP3 is a bit more expensive than some of the other options on this list.
Yet, if you're looking for top-notch radio features and more importantly, long-range walkie talkies, it's worth every penny.
Topsung M880
At this point in the list, we've basically given you a few options for long-range communication. However, a silent operation is a whole other ball game. If you're looking to keep a low profile, the best walkie talking for hunting is undoubtedly the Topsung M880 FRS.
Top Features of the Topsung M880
If you're hunting cunning prey which can sense the slightest movement, it's useful to have equipment on autopilot. The intelligent system on the Topsung M880 FRS handles the majority of communication for you.
This includes squelch and monitoring, auto scanning, and an auto memory function to save your favorite settings. There's also an auto power-saving mode for those long hunting days. Also included is a low battery alert.
The battery can actually last for 3-4 days on standby mode. You just have to engage the VOX mode for hands-free operation. Then you can use voice prompts to still send and receive communications.
You can hook the walkie up with the included earpiece using the 2.5 mm earpiece jack. It's even fitted with a dust plug for the rugged outdoors. It's even rigged for security, with a privacy code feature that can hold up to 121 codes.
While the range of 16 miles may be shorter than the other offerings on this list, the Topsung M880 FRS is no slouch.
Cobra CXT1045R-FLT
The Cobra CXT1045R-FLT two-way radios are excellent for the rugged outdoors. If you want a walkie talkie for hunting that will survive the mud, the swamp, and the shrubbery, this is it.
Top Features of the Cobra CXT1045R-FLT
The Cobra CXT1045R-FLT is IPX7 waterproof. In fact, it actually floats if it ever falls into a body of water.
It has built-in GMRS channels and NOAA weather channels to warn you against the elements. Suffice it to say, you'll get a weather alert long before a storm is on your tail.
While most walkie talkies will have various bells and whistles to help you hunt, few will have an auto-recording function. The Cobra CXT1045R-FLT's "Rewind Say Again" function plays back the last 20 seconds of the last transmission. This comes in handy when you're struggling to keep up with your hunting buddies.
This radio's range is also pretty impressive. Your messages can travel up to 37 miles depending on weather and terrain.
Also included is a dual-port charger to quickly charge both walkie talkies at once.
Best Walkie Talkie for Hunting Buyer's Guide
The remainder of this article will discuss some aspects you should consider when looking for a walkie talkie for hunting.
Range
Thick trees, large shrubbery, and high altitudes can put any two-way radio to the test. Range is therefore an extremely important feature in a good walkie talkie.
All of the models on our list offer direct calling mode for 16-38 miles. Even at the low end of that range, you'll feel pretty comfortable wandering a few steps behind your hunting party.
Quality Headset Support
Quality earpieces or headsets are a must for any good walkie talkie purchase.
Remember that you need to hear your partners when they're shouting as well as when they're whispering near the prey.
Buy a headset that cancels out ultra high frequency sounds and leaves you with crystal clear reception.
Finally, your headset should also be comfortable. You want to be as relaxed as possible when you're hunting prey.
Battery Life
While rechargeable AA or AAA batteries or extra batteries are recommended on hunting trips, it's important to invest in ones with great battery life. There's simply no substitute.
When you're out stalking prey, you shouldn't be worried about your walkies dying out. Aim for a purchase which gives you at least 12-13 hours of battery life. That should put your mind at ease.
Built-In NOAA Weather Channels
The weather can change quickly during the hunting season. That's why your walkies should include an alert feature for emergencies; that too from a reputable source.
It's not just important for your safety, but for stalking your prey. Most animals hide and take shelter in the event of an emergency.
You can save yourself time and effort by cutting the trip short by listening to the right weather channels.
Here, nothing's better than NOAA weather. The National Oceanographic Association of America delivers the most accurate information and relevant weather alert notifications you can hope for.
Walkie Talkies for Hunting FAQ
Here are some useful answers to burning questions asked within the hunting community. They're full of knowledge gleaned from experienced hunters. It can help you pick out the perfect walkie talkie.
Can You Hunt With Walkie Talkies?
Walkie talkies are perfectly legal to use when you are out hunting. They provide the functionality to communicate in a hostile environment.
However, you should follow all local hunting rules and regulations. There could be area bans on audio emitting devices in specific preserves.
Checking with park rangers is also recommended in case of any concerns about walkie talkie usage.
Do Walkie Talkies Work in the Woods?
Yes, they do, but you should be aware that dense foliage and hilly areas can reduce their range considerably. You should check in with NOAA weather to make sure you're not heading into a dangerous environment.
Can You Use Walkie Talkies While Hunting in Colorado?
Yes, you can use walkie talkies for hunting in Colorado. However, you have to be in the designated forest area. You also can't use any drones or aerial devices.
Can You Use Walkie Talkies in the Mountains?
Communicating at high altitudes usually reduces the maximum range of your walkie talkie. Be sure to have an emergency alarm so it can signal for help.
Final Verdict
Walkie talkies need to satisfy a few clear functions. They should ensure long range communications, great reception, weather alerts, and long battery life.
As long as those criteria are met, they can assist with the hunt, and keep your hunting crew safe in the heart of nature.
Any of the walkie talkies on this list will be great additions to your hunting gear. Our Top Choice, is of course, the Midland GXT1050VP4 as the Best Walkie Talkie for Hunters overall!
If you're interested in checking out other great walkie talkies, be sure to head over to our Best Walkie Talkie Buyer's Guide for a more comprehensive deep dive.