Identifying what the best walkie talkies for construction job sites are can be tough in a market with so many false promises and cheap items. Working on a construction job site means always having to be aware of your surroundings, as there's heavy equipment and materials moving around at all times. Safety is vital for a successful job-site environment, and one key to maintaining a safe work environment is constant communication. That is why so many small and large construction and job sites use walkie talkies to relate important information and keep all their workers safe. We've taken the guesswork out of picking your next two way radio for your construction site by reviewing some of the top durable and high-performance walkie talkies from great brands like Motorola, DeWalt, and Midland.
The Best Walkie Talkies for Construction Job Sites
We've reviewed some of the best walkie talkies for construction job sites with a focus on durability, power, and multi-level range.
DeWalt DXFRS800 – Best Walkie Talkie For Construction Job Site
The DeWalt DXFRS800 is the best walkie talkie for construction sites because of its incredible durability, multi-level range of up to 300,000 square feet, and very reasonable price. It shines in every category that matters for construction workers, from battery life to hands-free Vox communication, and we also appreciate its rugged design and yellow color scheme which makes it easy to find in a dusty environment. Its high durability, long battery life, and great multi-level range make it our favorite two way radio for construction sites and an overall great option for anyone needing a tough and powerful walkie talkie.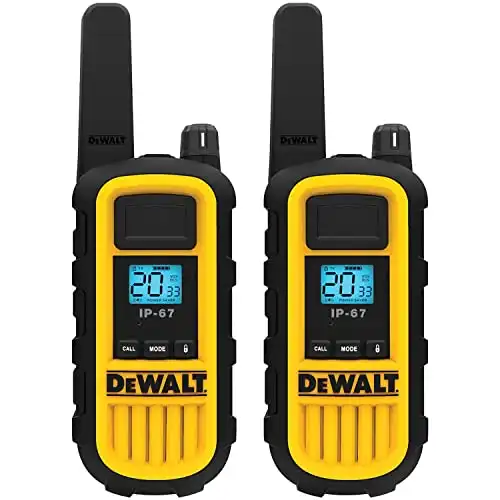 As all construction workers know, DeWalt is a great brand for power tools and other construction equipment, with consistently high quality as well as a comprehensive warranty. The DeWalt DXFRS800 meets those high standards as it was especially designed for construction sites. With up to 300,000 square feet of range fueled by 2 watts of power, you've got near the top of the market performance in terms of multi-level reach. The battery life is also fantastic, with up to 18 hours on a full charge, which means even an all-day operation can count on the DeWalt DXFRS800.
The durability of the DXFRS800 is the other main feature we loved. It's got a super tough rubber overlay which allows it to withstand up to two meters of drops without damage and still offer an easy to use design with gloves on with big buttons and an easy to turn volume knob. If you want to go hands free, you can with Vox technology and an added earpiece or headset for your walkie talkie. Ultimately, we love the overall high quality and performance of the DeWalt DXFRS800 walkie talkie and strongly recommend it as the best walkie talkie for construction sites.
Motorola RDU4100 – Best Motorola Construction Walkie Talkie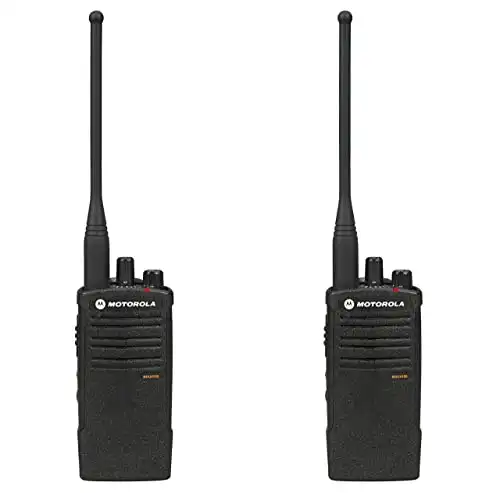 The Motorola RDU4100 Business Walkie is a great option for users who want to invest in a set of walkie talkies that will last them many years and offers the highest level of performance. The Motorola RDU4100 commands high prices, but it is still so popular because of its insane 350,000 square foot rage, 18.5 hour battery, and great durability, all of which make it one of the best walkie talkies for job sites and construction workers. It's also backed up by Motorola's generous warranty, which can relieve construction foreman and business owners of any worry about the high price tag.
Retevis RT29 – Best Cheap Construction Walkie Talkie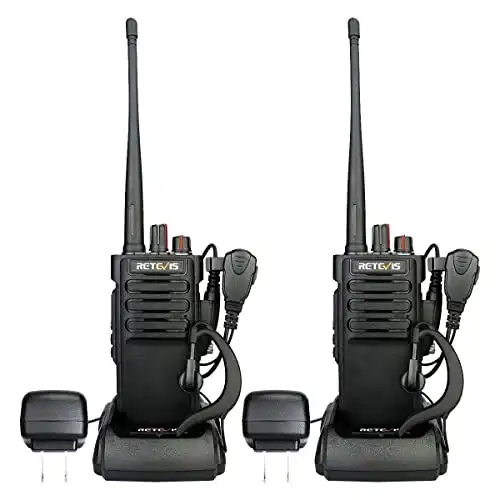 Retevis is a relatively new walkie talkie brand, having been incorporated just about a decade ago, yet it has quickly become quite popular as its two way radios are both high quality and affordable. The Retevis RT29 is a solid walkie talkie that works well for job sites and construction sites, with a durable frame, good power and battery life, and accessories which can be helpful for hands-free use. While its not the highest power or range on this list, it actually performs really well and comes at a super attractive price, which is why we ranked this as the best overall value option for construction walkie talkies.
It does stand out as having tremendous battery life, with up to 24 hours of total use time making it one of the best on the market in this price range. The RT29 is rugged and durable, with built-in resistance to dust and dirt and 2 meters of drop shock protection. It also has a microphone included which adds to the hands-free capability of the RT29. Overall, the Retevis RT29 is ideal for a crew who wants to save money or needs to buy a bunch of radios for a reasonable price.
eSynic Two-Way Radio – Best Compact Construction Walkie Talkie
The eSynic Rechargeable Walkie Talkie has a built-in antenna that can reach a range of up to three miles. It uses FRS462MHz waves which is a good choice for walkie talkies used in construction sites. That's because this frequency can pass through concrete, wood, or steel.
If you need to communicate with multiple people during your operations, this walkie talkie from eSynic will help you with that. It can accommodate up to 16 memory channels that you can calibrate by using a switch.
Some construction sites tend to continue operations during the night, and this walkie talkie is an indispensable tool to have in these situations. That's because aside from communication, eSynic also included an LED flashlight on this device for illumination when it gets dark.
You also don't have to worry about finding compatible charging adapters because this device uses a USB plug. That means you can use the same adapter you have for your smartphone to charge these walkie talkies.
The most significant advantage of using a USB plug is that you can charge your device through a PC, laptop, or even power banks. It only takes a couple of hours to charge the device fully. Thanks to its 1500 mAh battery, you can rely on this device to keep your communication lines open for up to nine hours.
The battery also powers the device's Emergency Alarm function. That means if something happens to you or someone on the construction site, they can press the Emergency Alarm button.
It will cause the LED light to keep on flashing while sounding the emergency alarm. This feature makes it easier to catch the attention of other people.
Midland BR200 – Best Small Business Construction Walkie Talkie
The Midland BR200 is specifically designed for business connectivity, such as construction site communication. It accommodates up to 16 channels and can access 56 specific frequencies. However, it can only provide up to two watts of power, just enough for smaller construction sites.
The good thing about the BR200 is that you can use it as soon as you take it out of the box. On the other hand, you can also plug it into your PC if you need additional programming for specific business operations.
If you're already using other radios on your site, you don't have to worry. The BR200 from Midland is compatible with UHF band radios, even if they're from a different manufacturer. It just means you're opting for a slightly more affordable radio when you purchase this walkie talkie.
Building upon its ease of use, you don't have to worry about finding compatible batteries for this walkie talkie to function. Midland made sure to include li-ion batteries in the package to make it easier for you. You can recharge the battery using a desktop charger that comes with the device.
It's also relatively light at only 1.3 pounds. That said, the package does not include a belt clip, so you might have to find one on your own. While the BR200 from Midland is comparatively more affordable, you need to consider that it doesn't include many of the other walkie talkies' functions.
Best Walkie Talkies for Construction Buyer's Guide
There's many important criteria when buying a walkie talkie for a construction site, but there are a few which are so important to successful communication that we've provided and analyzed them for you.
Durability
The best walkie talkies for construction sites are those that are incredibly durable, tough, and rugged. They can put up with the dust and dirt, drops, and other factors that are a daily presence on construction sites. All of the two way radios we've reviewed meet these high standards and are especially designed to meet the high expectations of construction foreman and workers alike.
Power and Range
On a construction site, the most important power and range factor is not necessarily long-distance, but rather great multi-level coverage. This refers to two way radios which can both reach a few miles across flat land, but which also can reach elevated vertical areas. This is especially important for large job sites like hotels, malls, or office buildings. Because of that, we've been sure to highlight the total multi-level square foot range of all of the walkie talkies so that you can compare each walkie talkie and pick the model which meets your needs most adequately.
Battery Life
Construction sites need constant communication, and that means having a walkie talkie which can make it through a full long work day without dying. All of the models we've selected have great battery life, but we've also highlighted the total expected battery life so that we can be sure that the one you pick is going to last through your expected work day.
Hands Free Capability
Often construction foreman and workers want to be able to use tools and equipment while communicating, which makes hands-free eVox and Vox capabilities key to a versatile walkie talkie. You can also pair your two way radio with an earpiece or headset, which we've reviewed the best of in the depth here.
Conclusion
There you have it. If you're looking for a walkie talkie for your construction project, we're certain that the DeWalt DXFRS-800 is your best option. However, finding the best device depends on what you need in your construction site.
For example, if you want to save a few extra bucks and all you need is a basic communication tool, then the Retevis RT29 will get the job done.