Cobra no longer offers the CXR925 walkie-talkie, and the Cobra ACXT645 is a great replacement.
Please read our review of this excellent radio here  
Our Cobra CXR925 review details how the Cobra CXR925 is a top of the line walkie-talkie that boasts features that are rarely found on other walkie-talkies! The sound quality is superb, the range is impressive, and they are incredibly lightweight.
Continue reading our Cobra CXR925 review if you want to know more about these superb two-way radios.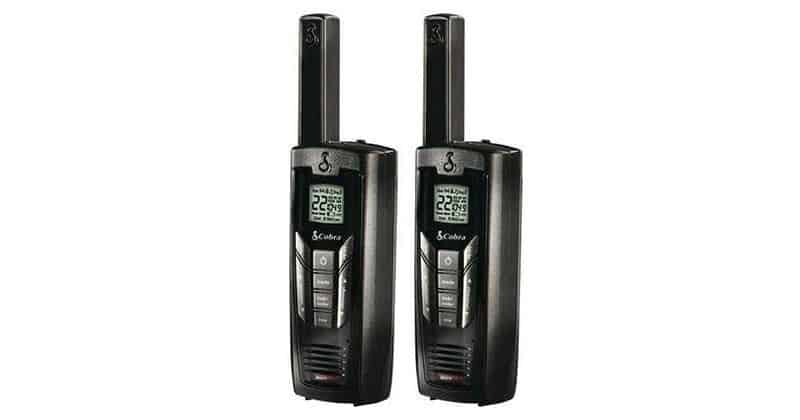 Cobra CXR925 Review
When it comes to innovation and cutting edge technology, we, as a society, are perpetually lured into buying the latest and greatest products on the market. We all want the bells and whistles that come with these products. However, we aren't always willing to embrace the hefty price tag that often comes attached to these products.
Fortunately, Cobra Electronics understand this, as their products tend to deliver all of the latest innovation, but at a price consumers can afford. The Cobra CXR925 is a radio that delivers the newest and most powerful features in the way of two-way radios but without the strain on a prospective buyer's wallet.
Product description
The Cobra CXR925 is a Micro TALK 2-way radio that allows for up to 35 miles of coverage and is teeming with features that make this radio one of the best on the market. It comes complete with 22 channels, 142 privacy codes, two lithium rechargeable batteries, weather alert features, the new high-tech and innovative Rewind-Say-Again voice recorder, VOX hands-free capabilities, and countless other options that make these radios the envy of walkie-talkie users all over the globe.
Features
– The NOAA Weather and Emergency Radio feature prepares users for storms and emergencies with the built-in government operated weather channels.
– Includes 22 GMRS Channels combined with 142 privacy codes which helps prevent interference from other radios and allows for 3124 channel combinations.
– The Rewind-Say-Again Digital Voice Recorder feature allows a user to playback the last 20 seconds of audio, save a message, and record messages to yourself.
– The coverage range spans up to 35 miles although distance can vary based on the terrain and weather conditions.
– The VOX feature allows for use without the need for pressing any buttons. Within this feature, there are five VOX sensitivity levels which allow a user to select the level to which voice will be detected.
– The Selectable Power Output feature provides versatility in choosing between high power to maximize range and low power if you need to conserve battery life.
– The Battery Saver Circuitry feature extends the life of the batteries by switching it to battery save mode when there has been a ten second lapse with no sound transm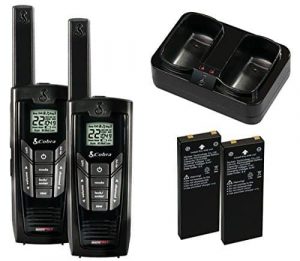 issions.
– The 10 Channel Memory feature allows users to program up to 10 channels or privacy combinations for easy retrieval of frequent callers.
– The 10 Call Tone feature allows a user to recognize the ring tone of up to ten different callers.
– The Patented VibrAlert feature provides a silent vibration alert for all incoming calls making it ideal for both noisy and quiet situations.
– The Roger Beep feature allows a user to know when a user's transmission is complete. This feature can be enabled or disabled at the user's discretion.
– The Maximum Range Extender feature allows a user to tap into a greater level of depth of range when the normal range is faltering.
– The Key Pad Lock feature enables the device to maintain security and accidental setting changes
– The Scan feature helps a user locate conversations that are in progress.
– The Auto Squelch feature automatically shuts off any weak transmissions or interference that might affect the sound quality.
Charge and power
The Cobra CXR925 radio comes with two compact, rechargeable high capacity lithium batteries that can be recharged from either a desktop charger or a wall adapter charger. Regardless of the charging mechanism, the batteries tend to grant up to 10 hours of battery life. Without question, these devices provide the maximum power allowed by law and have the highest capacity lithium ion batteries in the industry.
Technical specifications
Unlike other walkie-talkies on the market, The Cobra CXR925 is more akin to the size of a CB radio. Measuring at just over seven inches in height and almost two inches in width, these devices pack a ton of power into a small design. In addition, this product includes an LCD display that provides maximum visibility even at night.
Warranty information
All Cobra products come with a standard one year manufacturer warranty that covers all parts and labors. Because these devices are small in size, the repair work can be incredibly intricate. Repair attempts should never be performed by owners. If the devices have been tampered with or have been used in conjunction with unauthorized accessories the warranty is voided. In addition, the warranty does not include improper usage, roll-overs, crushes, or devices that have been submerged in water. It does, however, include any faulty equipment or functions that are not working properly.
Standard contents
This product, which comes in lead free packaging, includes two radios, two compact rechargeable high capacity lithium ion batteries, a two-port desktop charger, a desktop charger wall adapter that can also charge one radio through its speaker/microphone/charge jack, belt clips for securing the devices during movement, and the Cobra CXR925 user's manual.
Liked our Cobra CXR925 review? Share it with your friends! If you want to check out other great Cobra Walkie Talkies, you can find find our full Cobra Buyer's Guide here.