We first reviewed the MXT400 back in 2020 and back then we loved it. But two years and many radios have passed, so has our view changed?
Absolutely not.
There's no other way to say it – the Midland MXT 400 is still utterly impressive and astounding in its power and range.
Our updated Midland MXT400 review dives into the features and capabilities of this high-powered GMRS radio.
The Midland MXT400 40 Watt GMRS MicroMobile Two-Way radio performs well, giving you the benefits of a powerful walkie talkie as well as the convenience and utility of 8 repeater channels.
It is the most powerful GMRS radio made by Midland, and is still one of the most powerful on the market. So, if you're looking for a powerful and versatile GMRS in-car unit, it's hard to go wrong with the MXT400.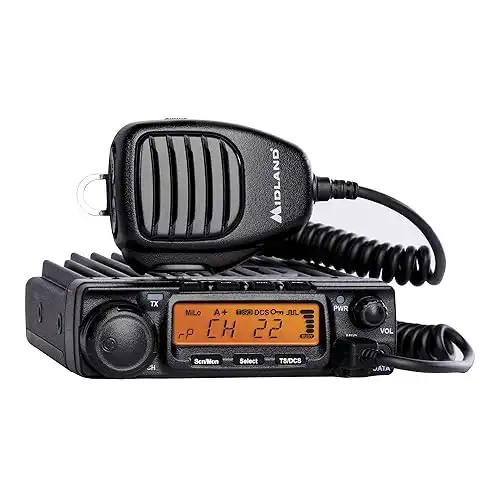 Midland MXT400 Overview
The Midland MXT400 is no ordinary GMRS radio.
With 40-watt power, 15 GMRS channels, and 8 repeater channels, you get very strong transmission options and range, with up to 60 mile range unobstructed and more regularly about 15-20 miles in most environments.
Because it comes with a detachable mount and microphone, you can use this from a vehicle or set-it up as its own base station, allowing you to create communication channels wherever life takes you.
The unit does not come with an antenna, so we've recommended some options at the end of this review.
With a clear LCD interface, setting up and using the MXT400 is a breeze. At just under four pounds, it's also easy to carry and pack for your travels.
Here are some of the best features of the MXT400:
15 GMRS Channels

8 Repeater Channels

PTT Microphone

142 Privacy Codes

Easy to use keypad

Mounting hardware

15-20 miles, up to 60 mile range
Midland MXT400 Range
Midland designed the MXT400 to be its most powerful GMRS device, and to that end it meets the bill.
Midland generally suggests that the range of the device varies from:
Obstructed: 5-15 miles

Mild Obstruction: 15-20 miles

No Obstruction: 20-60 miles
Your range is obviously going to vary depending on the power setting you choose, the location of your antenna, and the environment your working in BUT if you can't get through with the MXT400, no other radio in this class is going to get you through.
If you go with the full 40 watt power, we found that when using repeaters you could get dozens of miles even in a populated/dense area. If you choose the lower or medium power option, you'll still get a solid range in more open areas and shouldn't have an issue on open roads on fields.
Midland MXT400 Installation and Power
The Midland MXT 400 may be installed in any 12-volt negative ground system vehicle. Most current U.S. and Foreign vehicles use a negative ground system, but some older models and some newer large trucks may have a positive ground.
Please check the specifications for your vehicle before beginning the installation of your radio as installing the radio in a vehicle that does not use a negative ground will damage the equipment, and could lead to fire.
If in doubt, please consult your dealer.
The MXT400 is a 40 watt GMRS radio and can put a high load on a vehicles electrical system during transmissions, therefore we recommend that the unit be directly wired into the power system of a vehicle rather than connecting through a 12v accessory connector – although this may work in an emergency.
If you have any doubts about installing the radio, please seek assistance from your vehicle dealer.
Antenna Considerations
As mentioned earlier in our Midland MXT400 review, you will need an antenna and antenna mount before you can get talking. We wanted to find the best antenna and the best mount to enable you to get the best performance from your investment.
After much consideration, we settled on the Midland MXT Mirror Mount Antenna Kit, or the Midland Antenna Mag Mount with NMO Connector and 12 Foot Cable and the Midland 3dB Antenna with NMO Connection.
Yes, there are alternatives available, but we really couldn't fault the Midland offerings and you can be sure they're going to work straight out of the box without the need for extra adapters and connectors.
Where you locate your antenna does make a difference.
Here are seven top tips for getting the best results from your antenna installation:
Metal surfaces covered by fiberglass or vinyl may affect radio range. Avoid these locations.
Mount the antenna as high on the vehicle as possible. The higher the better.
If possible, mount the antenna in the center of whatever surface you choose.
Be sure the mounting location is clean and dry before installing the antenna.
Route the antenna cable through an accessible entry point, such as a rear door or trunk opening.
When routing the antenna cable inside the vehicle, keep the cable away from noise sources, such as the ignition system, gauges, etc.
Exercise care to prevent cable damage. Make use of existing gaskets, grommets and weather stripping to protect the cable along its route.
Midland MXT 400 Warranty and User Manual
All Midland MicroMobile MXT radios come with a 1 Year Warranty after purchase date.
The accessories which come with this bundle only have a 90 day warranty.
For full warranty information, you can check out the official Midland Warranty.
And to learn how to get the most from the Midland MXT400, you can find the full Owner's Manual here.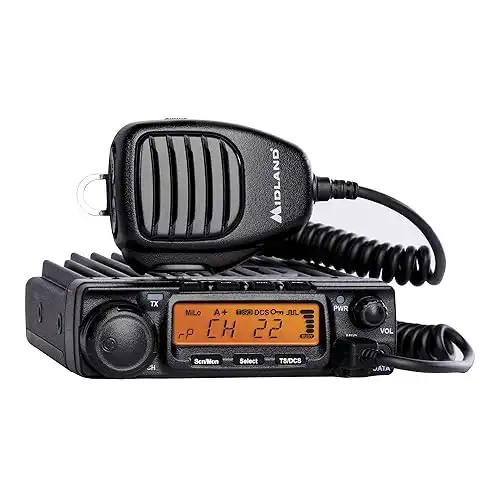 Midland MXT400 Conclusion
For users who want a dash-mounted GMRS radio unit, the Midland MXT400 certainly stands out as one of the high-end options in the space.
The MXT400 is not only the most powerful GMRS device offered by Midland, it is also one of the most powerful on the market. For off-roaders, campers, and others who expect and demand strong power and range at all times and even in mountainous areas, the the MXT400 is an excellent choice.
The Midland MXT400 has a variety of channels which offer different power options. You can operate on low, medium, or high power depending on your needs. This will vary the range from a few miles to several dozen miles.
Hopefully you've found our Midland MXT400 review helpful! We recommend it as one of the most powerful models on the market which will meet the rigorous needs of all types of customers.
If you're interested in checking out other Midland devices, you can find our full buyer's guide for Midland Walkie Talkies here.