Our Cobra CXT1045R-FLT Camo review details how this floating walkie talkie costs only a little more than comparable two-way radios, but comes with the increased security of knowing they are protected if they are dropped in water, making it worth the investment. The floating feature and waterproofing is their unique selling point, but besides that, they also come with a lot of the great features other walkie talkies have. The camo design is also very well done, and offers a great look to complement the rest of your outdoor gear. Plus, 37-mile range is hard to beat!
Continue reading our Cobra CXT1045R-FLT Camo review if you want to know more about these excellent walkie talkies!
Cobra CXT1045R-FLT Camo Review
Cobra Electronics has been a leading designer, marketer, and manufacturer of mobile communication products for over 50 years. During this 50 year span, they have led and paved the way for the launch of some of the most impressive walkie talkies on the market. Because of this, Cobra is a name that both professionals and hobbyists have grown to love and trust.
Within the last few years, Cobra has expanded its clientele base by introducing floating communication devices that have become incredibly popular among water sports enthusiasts. With the Cobra CXT1045R FLT, floating walkie talkie users who crave the serenity of being on the open water do not have to compromise their own security by being completely cut off from communication with those on land.
Cobra CXT1045R-FLT Camo Product Overview
The new Cobra Floating Walkie Talkie is the perfect communication companion for a day-long kayaking excursion through the rapids or a weekend hunting trip in the pines. Known for their safety and built-in weather alert features, these radios come pre-charged and immediately ready to use. Under optimal conditions, they can provide up to 37 miles of coverage, though like most consumer walkie talkies you should expect closer to a few miles in wooded, hilly, or otherwise. The belt clips are also very convenient, offering you the option to attach the walkies to your pants, backpack, or even on a jet ski or boat.
In addition, they come with orange rubberized grips that increase the durability of this product, but best of all is the fact that they maintain maximum performance even if they get wet. In fact, these devices are fully submersible, which means if they are accidentally dropped in water, they will float right back to the top.
Features
– The NOAA Weather Alert feature provides ten weather channels that provide up to date weather announcements regardless of the channel.
– The span of coverage includes up to 37 miles of distance.
– The extended range signal allows for 2622 channel combinations and provides an additional layer of coverage for areas where reception is weak.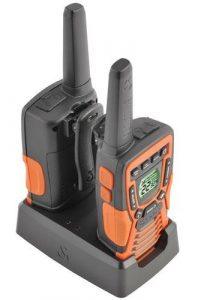 – The LED flashlight feature allows the device to function as a flashlight for dimly lit settings.
– The floating design and rubberized orange core grips make these radios easy to retrieve if they are dropped in water. They are fully water resistant as well.
– The VOX feature allows a user to communicate freely without the use of hands or push button features.
– Once enabled, the Patented VibrAlert feature provides a vibration rather than a ringtone which allows a user to be aware of an incoming call without the threat of the noise level causing an interruption.
– The Rewind-Say Again feature enables a user to replay the last twenty seconds of audio transmission.
– The Key Pad Lock feature prevents accidental setting changes and increases security since the intended user is the individual responsible for setting the pin number.
– The Scan feature allows users to locate other users within a specific channel.
Charge and power
The Cobra CXT 1045R uses NiMH rechargeable batteries that can be recharged via a USB cable or three AA batteries.  They come with 6 AA NiMH Rechargable batteries. Once fully charged, the battery life tends to last up to 10 hours. If you only use the walkie talkie occasionally, they could last for a full day or two.
Technical specifications
These radios are imported from China, one of the leading countries in walkie talkie manufacturing. The Cobra CXT1045R uses a LCD display which makes the screen easy to see regardless of the visibility situation. In addition, at two inches in height and almost eight inches in width, and only 1.5 pound weight, they are lightweight and fit perfectly in the palm of the hand. That's small and light enough for kids to use these in and around the water, and for you not to worry given their floating
Warranty information
Like many walkie talkies on the market, these radios include a one-year manufacturer warranty that covers all parts and labor. In addition, the warranty covers any and all water damage that might occur as well as any malfunction of features or accessories that are found to be faulty. The exceptions to the warranty coverage are destroyed devices or loss of the device.
Standard contents
This product includes two orange and black radios with rubberized grips, three AA rechargeable batteries, belt clips for an added element of security during movement, a USB charging cable and a user's manual.
Cobra CXT1045R-FLT Camo Walkie Talkie Summary
Overall, we were satisfied with the waterproof design and functionality of the CXT1045R-FLT. It is well thought out, and will work quite well for those seeking lake side entertainment and durability. It is definitely one of the best waterproof walkie talkies on the market!
Liked our Cobra CXT 1045R review? Share it with your friends! Also check out our full Cobra Walkie Talkie Buyer's Guide for other great Cobra products!