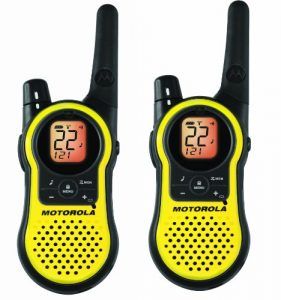 In our Motorola MH230R Review we will detail how the MH230R's advanced feature set yet simple and easy use make it one of the best walkie talkies on the market today. This is an all-around great product that is well worth the money.
Continue reading our Motorola MH230R review to learn more about these excellent walkie talkies!
Motorola MH230R Review
Motorola is a brand that has been around since walkie talkies were just beginning to come to the forefront of technological innovation during World War II. Since that time, Motorola has consistently delivered a product that users can trust to stand the test of time. Motorola is known for their sturdy design, consistent quality, and high production standards.
Soldiers relied on walkie talkies to communicate openly and survive in an unfamiliar terrain. The same could be said of walkie talkie users today. When it comes to walkie talkies, prospective buyers want a product that is reliable but affordable, which is exactly what they will find with the Motorola Talkabout MH230R.
Product description
The Motorola MH230R 23-Mile Range 22-Channel FRS/GMRS Two-Way Radio is a high-quality radio that can provide a range of up to 23 miles of coverage. In addition, it includes hands-free communication, 11 NOAA weather channels with alerts, a quiet talk filter, 10 call tones, rechargeable batteries, a battery save feature, a mini-USB charging port, and is water resistant. Motorola is one of the most respected and well-known walkie talkie brands on the market, and you know when you buy their products that you are getting high value and quality for your dollar!
Features
– The NOAA weather alert feature allows users to have the most up to date alerts regarding unpredictable or dangerous weather conditions that could drastically affect outdoor activity.
– Includes 22 GMRS Channels with 121 privacy channels allowing for over 2600 possible combinations.
– The VFD display feature, which is much like the display found on an alarm clock, allows for a clear image regardless of the setting, but it does not deplete the battery as much as that of a backlit display.
– Versatility in range allows for 26 miles of coverage from mountain to valley, 6 miles of coverage in open water, and 1 mile of coverage in a neighborhood.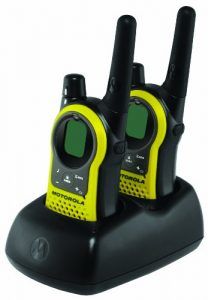 – The 10 call tone feature allows a user to recognize who is calling prior to engaging in conversation. This function is much like a personalized ringtone on a cell phone.
– The eVOX feature allows for hands-free operation making it the perfect feature for outdoor activities that require the constant use of your hands such as rock climbing, hunting, or fishing.
– The dual power feature allows for the use of rechargeable or standard "AAA" alkaline batteries.
– The battery save feature enables the batteries to be conserved while the walkie-talkies are not in use.
– A mini USB charging port allows for immediate charging. These ports are compatible with most computers and some cell phone chargers making it easy to regain charge.
–  The quiet talk feature is much like the whisper feature found on some walkie-talkies. Essentially, this feature allows users to communicate at a much lower volume, which is ideal for hunters that require immediate silence in order to spot a prey.
– These devices also include a water-resistant feature and a strong outer, plastic shell that ensures these devices are able to withstand accidental drops, falls, splashes, or rainwater. Some users have even reported the devices being dropped in the toilet or being stepped on and still functioning properly.
Motorola MH230R Talkabout Two-Way Radio (2-Pack)
10-hour alkaline or 8-hour rechargeable battery life
11 weather channels (7 NOAA) with alert features
22 channels each with 121 privacy codes for superior interference protection
Pair of two-way radios with up to 23 mile range
Check the price on Amazon
We earn a commission if you make a purchase, at no additional cost to you.
Charge and power
The Motorola MH230R is unique in the fact that it can take three AAA alkaline batteries or rechargeable batteries. Using three standard (high quality) alkaline batteries, the walkie-talkies have 10 hours of battery life. Using the rechargeable batteries, these devices have up to 8 hours of battery life.
Obviously, the rechargeable batteries are the most cost-effective option of the two, but it's still a good idea to keep an extra pack of batteries on hand just in case the outdoor adventure turns into an overnight adventure.
Technical specifications
One of the most appealing features of these radios is the fact that they fit perfectly in the palm of your hand. At eight inches in width, they are a little wider than other petite walkie-talkies, making them more suitable for an adult hand as opposed to child's hand.
The height is the standard 11 inches, and they are also lightweight. At just over a pound, these walkie-talkies are easy to maneuver and light to hold for lengthy periods of time. Because of this, they are not as prone to the slips and drops that are often found with the smaller handhelds. This is likely why customer reviews consistently rave about the sleek design and practical size of these radios.
Warranty information
These devices come standard with a one year warranty that covers parts and labors. It does not include repairs or replacement for misuses such as being submerged in water, using incompatible accessories, or accidents such as roll-overs or crushing.
This warranty is shorter than some other brands that offer a three-year warranty such as Midland; however, with a reputable brand like Motorola, the original founder of walkie-talkies, a prospective buyer can still feel confident that he is getting a product with a name he can trust. For these devices, which typically run under $50, a one year warranty is plenty to satisfy a consumer's needs.
Standard contents
This product comes with two hand-held radios, two belt clips, one dual drop-in charger, one charging adapter, two NiMH rechargeable battery packs, one user guide, and comes standard in yellow.
Liked our Motorola MH230R review? Share it with your friends! Check out our full Best Walkie Talkie guide for more recommended products!