Motorola no longer offers the MR350R walkie talkie, and the Talkabout T260 is a great replacement.
Please read our review of this awesome radio here Motorola Talkabout T260TP Review 
Our Motorola MR350R review details how these walkie-talkies are lightweight, simple to use, and reasonably priced. The amount of coverage for the low price simply is hard to beat. If you are looking for a walkie talkie that is reliable and ensures safety at a price you can afford, this is a perfect choice.
Continue reading our Motorola MR350R review if you want to know more about these excellent two-way radios.
Motorola MR350R Review
One of the chief reasons a person decides to purchase or use a walkie talkie is for safety and protection from emergency weather and situations. Staying in constant contact with another person in the immediate vicinity ensures that an avid outdoorsman is never relegated to a compromising situation involving a threat to safety. Whether it be poor weather conditions, an approaching predator, other armed hunters, or simply losing sight of the path at hand, all outdoor enthusiasts, even if they would never admit it aloud, want the peace of mind that comes from knowing help is only one push-button away should a need arise.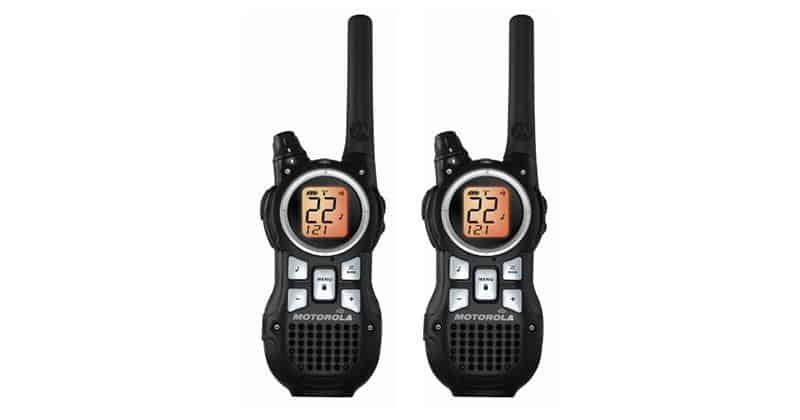 The Motorola MR350R is a product that makes good on the promise of keeping safety as its aim.
With safety features such as the built-in flashlight and the expansive coverage range of up to 35 mile, there is no question that protection is of the utmost importance to the manufacturer of this product. In fact, the devices are so trustworthy that many parents are even exploring the possibility of using these devices as a reliable and cost affordable alternative to a baby monitor.
Finding a product that is safe enough for an infant and yet rugged enough for an outdoorsman can be a daunting challenge, but the Motorola MR350R has proven time and time again to exceed the expectations of consumers.
Product description
The Motorola MR350R 35-Mile Range 22-Channel FRS/GMRS Two-Way Radio is a radio most known for its widespread coverage radius. Though relatively small in size, these radios can provide a range of up to 35 miles of coverage.
In addition, these radios come standard equipped with features that are common to most walkie-talkies such as hands-free communication, weather channels alerts, rechargeable batteries, a charging port, and other features.
But one of the most notable differences between this product and its equal is the fact that it comes with an emergency-preparedness checklist and a built-in flashlight.
Features
– The NOAA weather alert feature enables users to detect when bad weather is approaching.
– Includes 22 GMRS Channels with 121 privacy channels making it easier than ever to find an available channel.
– The built-in flashlight feature gives users an immediate light source, which comes in handy for dark evenings on the trail or emergency situations.
– The exceptional range of these devices allows for up to 35 miles of coverage under perfect circumstances. However, the typical coverage for open water is roughly six miles and the coverage in urban areas typically ranges up to two miles.
– The eVOX feature allows for hands-free operation, making it suitable for use while engaged in hands-on activities without the need for accompanying audio accessories.
– The dual power feature allows for the use of rechargeable batteries or two standard AA alkaline batteries, which can provide up to 23 hours of charge.
– A stand-up charger docking station allows both devices to charge simultaneously providing immediate battery restoration.
– These devices are also dust proof and water-resistant, which increases the longevity of this product.
Charge and power
Like several other models of Motorola walkie-talkies, the Motorola MH350R can use two types of batteries: rechargeable NiMH batteries or two standard AA batteries. The versatility of being able to use either provides a user more options. When using high-quality batteries, these devices can endure 23 straight hours of use making the battery life a true selling point to prospective buyers.
Technical specifications
The MR350R walkie talkies are very traditional in their interface and design. The classic black-hard casing of the body coupled with the size of just over twelve inches in height and the standard eight inches in width makes these devices the quintessential idea of what we think of when we think of walkie-talkies.
Warranty information
These devices come standard with a limited one year warranty, which essentially means any factory issues such as a faulty product, missing parts, or damage caused during shipping is completely covered. However, damages caused by improper usage, negligent drops, or failed tampering with the device in order to attempt a repair are not covered by the warranty in any way.
Standard contents
This product comes with two radios, two (AA) NiMH rechargeable battery packs, two belt clips, one dual drop-in charger, one charging adapter, one emergency preparedness checklist and a user's guide.
Other Resources
You know have a lot of great info on the Motorola MR350R! We have some other helpful guides and tips which can help you be an educated walkie talkie user:
Best Walkie Talkie Buyer's Guide
Official Product Guide From Motorola for the MR350 
Liked our Motorola MR350R review? Share it with your friends!