The Retevis RT22 walkie talkie and the Retevis RT21 walkie talkie are two great options for entry-level business two way radios with solid range, battery life, and overall performance. They are both fairly affordable, and have strong audio quality and some accessories which hands-free use easy. The RT21 walkie talkie is slightly larger, stronger, and a bit more expensive, while the RT22 walkie talkie is ideal for those on a budget. In our Retevis RT21 walkie talkies review and Retevis RT22 walkie talkies review we will dive into the pros and cons of both models and help you figure out which one is the best for your needs!
Retevis RT21 Walkie Talkies Review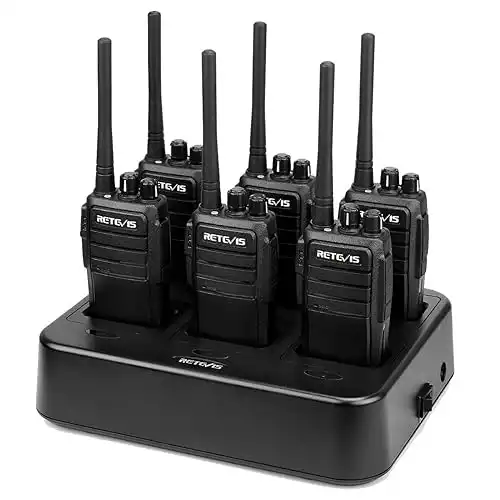 The Retevis RT21 walkie talkie is a solid and versatile option from the fast-growing Retevis brand. It has a simple yet powerful design, with strong range and up to 12 hours of battery life, It's built in antenna provides additional range and penetration, which makes it a great fit for business users if needed. It offers 16 channels to operate on and is completely license-free, which means you can immediately use it out the box without worry. The included gang charger easily and quickly charges the RT21 walkie talkie. The RT21 has a durable frame and body which can withstand moderate drop damage and inclement weather, and clocks in at 2 pounds and 10 x 8 x 2 inches. Overall, we like the RT21 as an affordable business walkie talkie option which still packs a punch.
Battery
The RT21 is powered by an 1100 mAh battery which provides up to 12 hours of battery life, though it depends on your frequency of usage. The RT21 can be fully charged in around 3 hours and you can charge all of your walkie talkies at once which is great. These stats should meet the needs of most business users and are pretty solid given the affordability of these walkie talkies. You'd have to pay a lot to get a walkie with range over 12/13 hours usually!
Range
The RT21 has a realistic range of a few miles, though that obviously depends on the environment. The included and non-detachable antenna means you get extra range and reach through walls. It's fairly sturdy and won't easily break, but it does mean you can't add a custom antenna even if you want to.
Features
The Vox hands-free sound and feature on the RT21 is usually pretty decent, but over time can run into trouble or degradation. Overall the sound quality is solid, with crisp and clear transmissions. The Retevis RT21 comes with belt clips and necklaces which means you can attach and adapt the RT21 to meet your storage needs or hands-free use cases. 
Retevis RT22 Walkie Talkies Review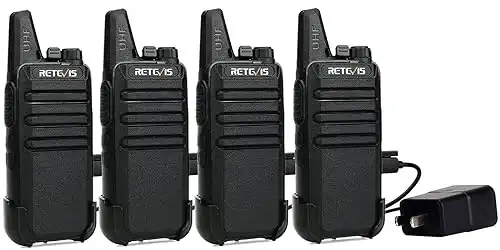 The Retevis RT22 walkie talkie is a smaller and lighter cousin of the RT21. It has a sleek black design which makes it very portable and lightweight, and its frame is about 25% smaller than the RT21. It still has solid battery life and range even though it does not come with an attached antenna. The RT22 is license-free and has up to sixteen channels for you to use. These devices are charged through a USB power cable and also come with belt clips. They're a bit cheaper than the RT21 but still deliver solid performance. They're a great option and we recommend them if you're on a budget or if you only need range around a small business or school. 
Battery
The RT22 has a slightly smaller 1000 mAh battery which offers up to 10 hours of battery life. This is still plenty to get you through a busy day or two, and you can easily charge it when needed. The RT22 fully charges in a few hours and can be plugged into the USB charger with ease. 
Range
The RT22 has a range of up to mile or two, which is ideal for the small business use cases or other scenarios we described earlier. Don't expect these to be super long range or to take them hiking, but they will definitely get the job done in and around your local area. 
Features
The body of the RT22 is smaller and lighter than the RT21 but is still decently durable. It can easily be used by children or adults. It does not have the large protruding antenna which the RT21 has, though that obviously reduces the range a little bit. The belt clips are the same and are adjustable and easy to use. We love the sound quality of the RT22 – it seems to be a bit more crisp, clear, and consistent than the RT21 at times. It also has Vox capabilities which make hands-free use possible. 
The RT22 is a great walkie talkie for business users or for those who plan to use it in a 1-2 mile area. It's tremendously affordable and it still delivers solid power and performance which we were very satisfied with. If you're looking for a low cost option that will still reliably get the job done, the Retevis RT22 walkie talkie is a great choice!
Retevis RT21 vs. RT22 Walkie Talkie – Which is Better?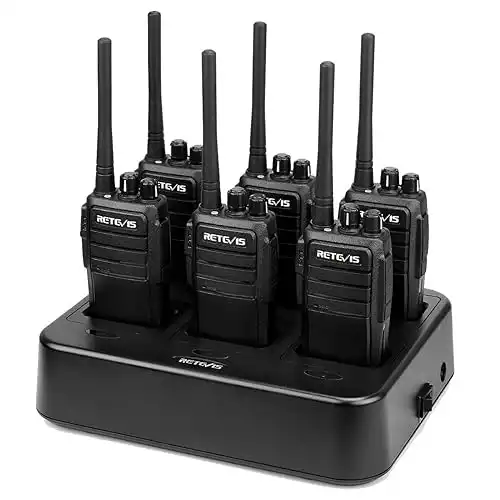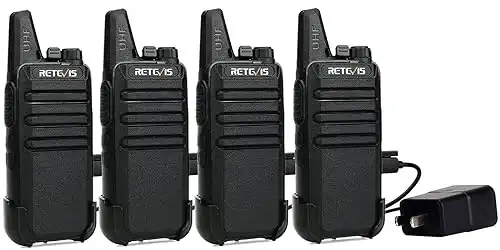 So which Retevis walkie talkie should you get, the Retevis RT21 or the RT22? Well, if overall performance and range is your main focus then you should go with the RT21. It's stronger and has a bigger battery while still being at a reasonable price. If you want to save money, or if you just need an easy to use and lightweight option with decent range and power for your small business, school, or household then the RT22 is a great option. You can't go wrong with either the RT21 or RT22 as they both perform highly and offer great value at their prices! We hope you enjoyed our Retevis RT22 walkie talkies review and our Retevis RT21 walkie talkies review, and be sure to check out our other content, like our reviews of the Retevis RT29 and RT28!