Uniden no longer offers the GMR1635 walkie-talkie, and the Uniden SX507 is a great replacement.
Please read our review of this excellent radio here Uniden SX507 Review 
Our Uniden GMR1635-2 Walkie Talkie review covers the pros and cons for this walkie-talkie. The Uniden GMR1635-2 walkie-talkies are great devices with virtually no static and a battery life that is impressive. These devices are more suitable for a shorter distance, but all in all, they are a quality and reliable product at a price you can easily afford.
Continue reading our Uniden GMR1635-2 review if you want to know more about these excellent two-way radios.
Uniden GMR1635-2 Review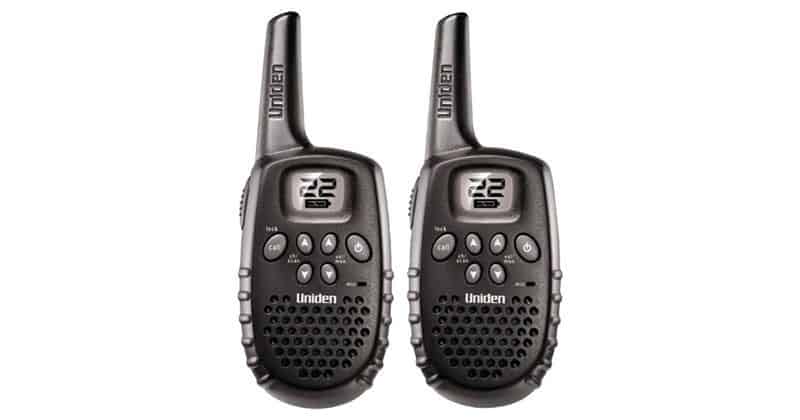 We've all seen the commercial, "Can You Hear Me Now? Can You Hear Me Now?"
This catchphrase has become commonplace in our society because we have all felt the enormous frustration of not being able to hear or be heard by someone we desperately need to communicate within the moment.
Poor or limited reception makes us want to give up on the product entirely and find something that will meet our needs. In fact, poor reception has consistently been one of the major complaints with any wireless form of communication. Whether it be a cell phone or a walkie-talkie, we all want reception and coverage we can rely on and trust, especially when we need it the most.
For the Uniden 16-Mile 22 Channel Battery FRS/GMRS Two-Way Radio clarity of sound is key. These devices, which have rave reviews regarding lack of static and pristine sound quality, are a customer favorite because they are strategically designed to prevent interference. From children rough-housing in the front yard to men hunting in the woods, all users benefit from the crisp, clear sound that few products can consistently achieve.
Product description
The Uniden 16-Mile 22 Channel Battery FRS/GMRS Two-Way Radio can communicate up to 16 miles. These devices come with 22 channels, a full channel scan, a keypad lock, and a "roger" beep tone that increases the ease of functionality. In addition, they come with a user guide, a belt clip, and included batteries that make these devices ready to use straight out of the package.
Features
– 22 channels, including 7 FRS and 15 GMRS channels that allow a user to have multiple calling combinations available.
– The radios provide a 16-mile radius of coverage in optimal conditions.
– The call tone feature allows for an audible notification when calling each other.
– The scan feature allows a user to find others in the area.
– The Roger beep feature provides an indicator for letting others know you have stopped speaking.
– The auto-squelch feature reduces interference.
– The channel scan/monitor feature allows for ease in finding available channels.
– The automatic power-saving feature extends battery life as soon as the indicator denotes a decrease in battery power.
– The keypad lock feature helps a user avoid accidentally changing settings.
Charge and power
The Uniden GMR1635-2 comes with three AAA batteries. Users have consistently described the battery life as impressive. Using high-quality batteries from a trustworthy brand, these walkie-talkies can generally withstand 24 straight hours' worth of use before replacement is necessary. In addition, they come with a battery life indicator, so a user is never taken by surprise when the batteries are completely depleted.
Technical specifications
These walkie-talkies are unique in that they are 100% recyclable and are printed with non-toxic inks. The Uniden manufacturing standards restrict the use of hazardous chemicals, which lets a buyer know that safety in use and the environment is of utmost importance. The pair of radios come in a traditional back, plastic casing and are small in size making them the perfect fit for adult or child use.
Warranty information
These devices are available in a two, four, six, eight, or ten pack. All come with a standard limited one-year warranty. Uniden products are built to last and generally require minimal replacement. However, in the event that a replacement is needed, the warranty does cover any damages that are not a result of misuse, abuse, or tampering with repairs. This includes faulty parts or pieces, incomplete packaging, or general damages. Devices that have been crushed, burned, or submerged in water are not eligible for repair or replacement.
Standard contents
This bundle comes with two radios, three AAA batteries, a reference guide, and a pair of belt clips.
Liked our Uniden GMR1635-2 review? Share it with your friends! Check out our full Walkie Talkie Buyer's Guide!