After buying a great pair of walkie talkies, many customers search for the best walkie talkie headset and earpiece to allow hands-free use of their new device. If you are looking for a way to free your hands while you are listening to alerts or communicating with your buddies during a hiking or camping trip, then what you need is a durable headset.
There are many companies that are producing high quality walkie-talkie headsets and earpieces, and you can easily find a set perfect for you, although there are certain things you need to pay attention to before you make a purchase. This guide will help you find the right headset or earpiece for your walkie-talkie.
​
​
The Best Walkie Talkie Headsets And Earpieces
If you take a tour of the market you will find abundant headsets that claim to be the best. But what you need is something which not only makes communication easy for you but is also compatible with your device. Here we cover some of the best headsets currently available on the market.
Midland AVPH3​
The Midland AVPH3 is an excellent headset if you want something that is reliable and also comfortable to wear. This headset is perfect if you need something to wear for a long period and do not want a gadget that is hard and heavy and will hurt your ears.
This easy to use headset is compatible with a lot of devices and you might even be able to use it with your other electronic devices as well.
The compact and cool design is a huge plus. The Midland AVPH3 has a great sound quality and can even be used in those areas where there is a lot of noise. The voice doesn't leak out of this headset and you can easily communicate with your fellows no matter where you are. The Midland AVPH3 is an amazing headset and will not disappoint you.
MaximalPower Surveillance Earpiece
​A great headset to watch out for is the one from MaximalPower. This listen-only headset from MaximalPower is a perfect combination of reasonable pricing and excellent performance. With its cool design and amazing sound quality, the MaximalPower headset is surprisingly inexpensive.
You can use this earpiece in noisy areas and still be able to hear everything clearly. You plug this headset into your ears and you can forget all about what's going on around you and listen only to the sound coming from the headset.
Not only is this earpiece perfect for private conversations but it also eliminates feedback which will make communication much easier for you. With its durable design and great pricing, you will not regret investing in this excellent headset by MaximalPower.
Motorola 1518
Motorola is known for producing high quality products and the Motorola 1518 headset is no exception. This headset is very reasonably priced compared to some of the other products with similar features.
The compact and slim headsets can be worn under helmets and doesn't get knocked loose easily. So you can exercise, workout or hike with this earpiece on and not worry about anything.
The Motorola 1518 is compatible with a variety of devices and allows you to have crystal clear communication and listen to alerts and news with ease. This headset has a durable design and it is not easily damaged, no matter where you take it. If you are looking for an excellent headset then you should definitely check out the Motorola 1518.
abcGooDefg Clip-Ear Earpiece
Another amazing headset which is compatible with a variety of devices is the earpiece from abcGooDefg. You can buy this headset and use it with your radio, walkie-talkie and several other devices as well.
With its excellent sound quality and durable build, once you start using the abcGooDefg headset you will start to take it with you everywhere you go. This earpiece comes with Push-To-Talk and there is a hidden microphone inside the Push-To-Talk button which allows you to easily operate the device.
The abcGooDefg is easy to wear and you can use it comfortably for hours without hurting your ears. A perfect choice for taking with you on hiking, camping, fishing and boating trips, the abcGooDefg headset is very reasonably priced and will definitely make life much easier for you with its cool features.
GoodQbuy 2 Pin PTT Earpiece Headset
For people who are looking for a headset to use with their walkie-talkies and radios, another great device to invest in is the GoodQbuy 2-pin headset. With its compact build and cool features, this device is being used by security forces around the world.
You can easily attach the headset to your shirt and use it to communicate easily and secretly with whomever you want. You can wear it comfortably under your hats and helmets and it will stay plugged in your ears no matter what you are doing.
If you are planning to buy a earpiece to use with your walkie-talkie then you should definitely check this one out. It works especially well with Kenwood products.
Buying Guide
With the variety of walkie-talkie headsets that are available on the market, choosing the right one is quite difficult. But if you are planning to purchase a walkie-talkie headset then here are some of the things you need to consider while looking for one.
​What do you plan to use it for?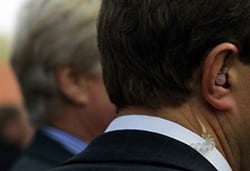 The first and the most important question you need to ask yourself is what will you use the headset or earpiece for. For example, people who are into adventure sports will benefit from tough, rugged headsets with great sound quality while people who want a headset for security and surveillance tend to buy a walkie-talkie earpiece with a compact design.
Once you have decided how you will use them, you can go on and decide the features you want for your headset or earpiece. The design, specs and noise cancellation features all depend on the circumstances under which you will use the headset.
​Is the headset compatible with your device?
​This is important to check before you buy your headset. It would be really disappointing if you bought a headset that does not work with your walkie-talkies. Make sure to carefully read the description before making a purchase!
What extra features do you need?
There are several models being sold online and you should be able to find a walkie-talkie earpiece or headset that has all the features you are interested in. There are headsets with discreet designs, are able to cancel noise, designed to be worn comfortably all day long and easy to use. So determine for yourself the features you will need and make a purchase according to that list.
Conclusion
Headsets and earpieces make life much easier if you want to free your hands while using your walkie-talkie. You can attach the device with a belt clip and connect a headset to it, so you can stay connected even when you are hiking or treading on tough terrains.
There are many models of headsets available and the models listed in this guide are all excellent choices. But before you make a purchase you should not forget to check the compatibility of the headset with you walkie-talkies so that you don't regret buying the wrong set later on.