Walkie talkies have undergone a number of major transformations in recent decades. These handy two-way radios have become smaller and include more features than ever before. This has made these devices more secure and easier to operate.
Many walkie talkie manufacturers have also begun producing walkie talkies designed for distinct groups. Today, you can find walkie talkies designed for business applications, marine applications, and even walkie talkies for kids. If you're interested in getting a walkie talkie for your child, you might be wondering where to start looking.
In this guide, we will go over some of the key features to look for in a kid-friendly walkie talkie and list 5 walkie talkies that are perfect for kids.
What Features Should a Kid Friendly Walkie Talkie Have?
Many of the features found on good walkie talkies for adults are also present on good walkie talkies for kids. However, the latter should possess some special design characteristics to make them more appealing and easier for kids to use. This includes:
Bright Colors
Many walkie talkies for kids feature bright and striking colors. Such colors often give these devices a toy-like appearance, which appeals to children. However, these colors also help the walkie talkie stand out from its surroundings.
This makes it easier to find a device your child has accidentally dropped outside. After all, a bright pink walkie talkie dropped in a park will be easy to spot from its grassy surroundings.
Easy Programming
Kids who are eager to play with walkie talkies aren't interested in spending time setting up and programming their new devices. For this reason, many kids walkie talkies have layouts that minimize the need for specialized programming. Such devices include dedicated buttons for changing channels.
Children can use these buttons to scroll through channels quickly and find the correct one to pair with other walkie talkie devices.
Waterproofing
Many modern walkie talkies feature waterproofing as a standard feature. This is especially true for walkie talkies designed for marine applications.
Kids walkie talkies should also be waterproof to enhance their durability. After all, you can never anticipate when your child may accidentally drop their device in the swimming pool or leave it in the garden before a rainstorm. So be sure to check for waterproofing on a walkie talkie for your child before going ahead and purchasing it.
Good Battery Options
Few children have the patience to wait for their walkie talkies to charge before taking them out to play. For this reason, kids walkie talkies with rechargeable batteries should have high capacities. This will reduce how often they will need to be charged.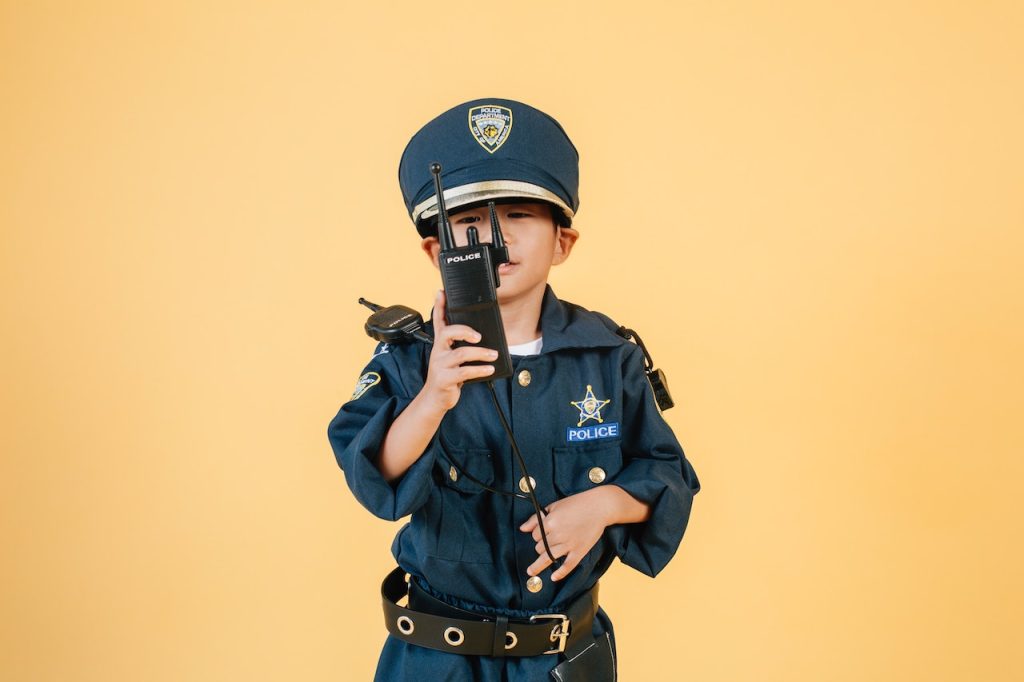 Alternatively, you can opt for kid-friendly walkie talkies with swappable batteries. This allows you to get your child's device ready for play time by simply swapping out the empty batteries for new ones.
5 Best Walkie Talkies for Kids in 2023
Wondering what the best walkie talkies for kids in 2023 are? Check out our top 5 picks below.
1.    Wishouse Wearable Walkie Talkies
Wishhouse is one of the leading brands that manufactures walkie talkies specifically for children. The Wishouse Wearable Walkie Talkies are colorful and easy to use. These devices are waterproof and even include a built-in flashlight! This makes them perfect for family camping trips. This Wishhouse Walkie Talkie range is advertised as 1 km between buildings and up to 3 km in open fields.
Each device also features a detachable lanyard, making it easy for your child to tether the device to their belt loop and reduce the likelihood of losing them.
2.    Qniglo Walkie Talkies for Kids
Qniglo is a lesser-known brand in the walkie talkie world. However, their walkie talkies for kids are optimized to be kid-friendly. On first glance, kids will notice the device's fun form factor and button layout, which gives it a cute mouse-like appearance.
This walkie talkie has only five control buttons plus a Push-To-Talk control on its side. This makes it easy for kids to operate.
The device also has a detachable wristband, so your child can always keep their walkie talkie on them while playing. As an added bonus, the device also has a built-in FM radio, so your child can listen to music on the radio with a single button-press. These walkie talkies are advertised as having a 5 km range, which makes them great for camping trips.
3.    Huaker Kids Walkie Talkies
Huaker's Kids Walkie Talkies feature a camo-style color pattern, which gives the devices a fun military-like look while retaining many kid-friendly features. These waterproof walkie talkies operate on AAA batteries and have an advertised range of 5 KM.
These walkie talkies stand out from the others on our list because they feature voice activated controls. Kids won't need to use the Push-To-Talk buttons because the setting automatically activates whenever the device's microphone detects audible speech.
The Kuaker Kids Walkie Talkies are also equipped with an active anti-interference function. This helps reduce unwanted noise and ensure clear audio signals between devices.
4.    Motorola T100 Talkabout Radio
The Motorola T100 Talkabout Radio might not feature the striking colors found on the other kid-friendly walkie talkies on our list. However, this device is still packed with many kid-friendly features.
For example, the device has only four buttons, two of which are dual purpose. The keypad lock function also prevents personalized settings from being altered. This means your child can use the device freely without worrying about flipping to an incorrect frequency.
This two-way radio has an advertised range of about 25 km, making it useful for ski trips where family members would like to communicate with each other easily.
Motorola Talkabout T100 Two-Way Radio (2-Pack)
Simple, compact and easy-to-use by the entire family, the T100 is the perfect way to stay in touch when out and about, whether at the playground, hiking in the park or enjoying a picnic
Things we liked:
Simple, easy to use walkie talkie

Up to 16-mile range

Up to 18-hour battery life

Compact size
Check the price on Amazon
We earn a commission if you make a purchase, at no additional cost to you.
5.    Sakar Paw Patrol Molded Walkie Talkie for Kids
Sakar makes many walkie talkies with licenses from different kids television show properties. This includes kids shows such as Peppa Pig and My Little Pony. Their Paw Patrol walkie talkies are among their most popular offerings.
These walkie talkies have a range of only 1000 feet and aren't waterproof. However, they have only three buttons, making them useful for children who aren't interested in programming their devices.
These walkie talkies also have flexible antennas that can stand up to heavy use. You won't need to worry about your child damaging this device by stuffing it in their pockets or backpacks. Sakar's walkie talkies are great for young children who play under their parents' watchful eye.
Learning More About Walkie Talkies For Kids
As you can see, there are plenty of excellent walkie talkies for kids available in 2023. The devices listed above are some of our favorites, so consider looking into each one to determine which is right for your child. If you would like to learn more about walkie talkies for kids, consider checking out some of our other guides on Walkie Talkie Central.