Anyone that has ever looked up walkie talkies in online marketplaces such as Amazon has likely noticed that there are dozens of brands out there. Having so many brands to pick from can leave anyone feeling overwhelmed. How do you choose a good brand when each one seems to market their devices in a similar fashion?
As walkie talkie enthusiasts, we too once knew this feeling. We have assembled a list of the best walkie talkie brands in 2023 to help you get up to speed with the companies to look out for.
Check out our list below and consider looking up the various devices these brands offer to find the best walkie talkie without license.
1.     Motorola
Motorola is considered a household name in the telecommunications world. The company has been developing both digital and analog two-way radio systems for decades and has perfected their craft over time.
The company offers a wide range of devices that are great for both commercial and recreational applications. They have models that come bundled with rechargeable AA batteries. Such batteries can be swapped out for non-rechargeable ones if you're in a hurry to get them back up and running.
Many of their devices are also IP67 certified, making the walkie talkie waterproof and dust-resistant. Motorola's devices are incredibly versatile, but some people may be disappointed to learn they don't make walkie talkies for kids like some of the other manufacturers on our list do.
2.     Wishouse
Most people haven't heard of Wishouse before. The trademark is owned by a Chinese electronics manufacturer called Shenzhen Baobeila Electronic Co Ltd. The company has been operating since only 2019, but they have carved out a great niche in the two-way radio world by manufacturing walkie talkies for kids.
You need to glimpse at Wishouse's walkie talkies only briefly to notice how kid-friendly they are. These devices have bright and vibrant colors designed to help them stand out. They also have keypad lock functions, making it easier for parents to lock the controls and prevent their child from accidentally changing them.
Many of their models also have loops for keychains and lanyards. Some even have watch-like straps to ensure kids keep their device with them at all times. If you're looking for some great kid-friendly walkie talkies, Wishouse is definitely the brand to look into.
3.     DEWALT
Walkie talkies are invaluable tools on construction sites. They help facilitate swift communications between construction managers and staff. However, these devices must be reliable to ensure activities aren't disrupted.
DEWALT is the top brand when it comes to producing construction walkie talkies. Their devices feature that signature construction equipment "yellow" color and have rubber padding along the sides and corners to minimize damage when dropped.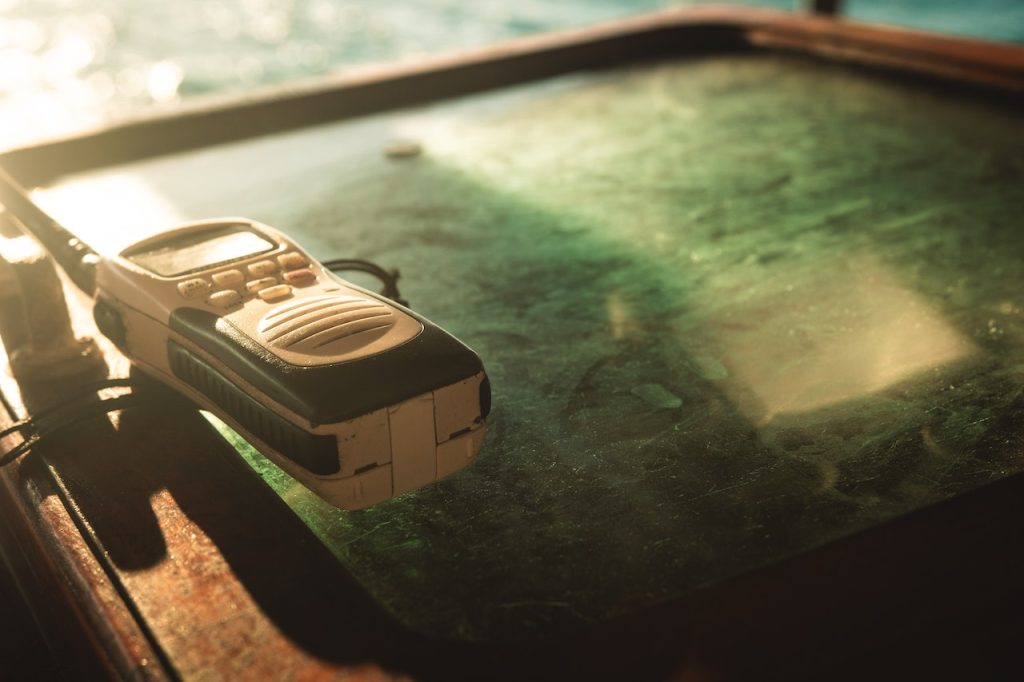 Their buttons are large and made from rugged rubber. This is to make it easy for construction workers to operate the device while wearing thick gloves. All their devices are also IP67 certified so you won't need to worry about construction site dust or water spillage ruining the device. They also possess rechargeable lithium-polymer batteries that can last up to eighteen hours on a single charge.
Any construction manager that invests in DEWALT devices for their crew can rest easy knowing that they will get the job done in any condition. This brand's devices would also function incredibly well for skiing, so DEWALT would also be our go-to choice for the best ski walkie talkie company.
4.     Topsung
Topsung is another Chinese electronics manufacturer that also produces walkie talkies. This brand stands out for the wide range of two-way radios it offers. They have walkie talkies for kids, walkie talkies for adults, and walkie talkies for marine applications.
This variety is great because it means you are likely to be able to find many devices that fit your needs. We're especially fond of their walkie talkies for adults as they feature a sporty look and numerous adjustment options. Many of their devices are also equipped with a handy power-saving feature and belt clips
We wouldn't mind taking a Topsung walkie talkie on a camping trip or hiking at any time of the year. Consider checking out Topsung's walkie talkies if you want a wide range of reliable devices to choose from.
5.     Midland
Midland is a familiar name in the business walkie talkie world. The brand is known to make many business-friendly devices with a sleek and formal look. Everyone from security guards to park rangers would feel comfortable holding and using one of these devices on the job.
The company itself has maintained a great reputation for supplying FRS, CB and GMRS radios for businesses for many decades. Midland understands what business people are looking for in walkie talkies and has integrated many key design features into their devices.
So try looking up Midland's walkie talkies if you're seeking great devices for commercial or business applications in different industries.
Learning More About the Best Walkie Talkie Brands
The walkie talkie brands mentioned above are just a few of the numerous amazing manufacturers out there. Consider looking up each one's models before setting your mind on one. If you're having trouble selecting the right walkie talkie for your needs, consider reading the other guides we have over at Walkie Talkie Central.
We test and review walkie talkies from various brands and offer honest insight into each one's strengths and weaknesses. Our guides are designed to help people with limited knowledge of walkie talkies understand all they need to know to make an informed purchase decision.