Identifying the best waterproof walkie talkies means finding devices that are designed for use by the ocean and lake, have great range and battery life, and are very durable. There are so many different types of walkie talkies that it can be hard to know where to begin when searching for the perfect one. There are many features that enhance the capabilities of various walkie talkies, but being waterproof is high on the list of most desired features.
Whether you are using the walkie talkies while camping and hiking near water or need them to communicate with friends on a beach vacation, having the best waterproof two way radio gives you one less thing to worry about while you are out having fun with friends and family. All of the models we reviewed are rechargeable waterproof walkie talkies!
With so many different waterproof walkie talkies, how do you know which one to buy? We have taken the guesswork out of it for you by reviewing the best waterproof walkie talkies for you.
The Best Waterproof Walkie Talkies Reviews
There are many amazing walkie talkies available. But if you are looking for a good waterproof walkie talkie then this guide will help you find the perfect model for you, which is not only able to last long but also has other great features.
Best Overall Waterproof Walkie Talkie – Motorola T605 H20 Review
The best overall waterproof walkie talkie is the Motorola T605 because of its IP67 waterproof, amazing durability, range, battery life, and overall high performance. At its reasonable price its the best waterproof two way radio on the market today for sure!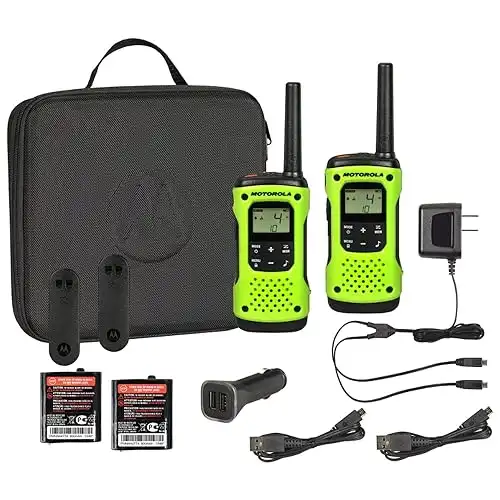 Not only does the Motorola T605 have IP67 waterproofing, it is also a floating walkie and comes in a bright green color, which means it is easy to spot if you drop it while out kayaking, boating, or fishing. You also get access to 11 NOAA Weather Channels and Alerts, hands-free Vox capacity, and a built-in flashlight which comes in handy during an emergency. You'll get solid range and plenty of battery life to get you through a day or two of full use.
Best Waterproof Walkie Talkie for Kayaking and Boating – Motorola T605 H20 Bundle Review
The Motorola T605 H20 is the best walkie talkie for kayaking and boating because of its floating technology, bright green color, and durability which makes it well-suited to endure the elements. Add on to that the sturdy carrying case, charging pack, and other accessories which come in this bundle, and the Motorola T605 bundle clearly offers a lot of value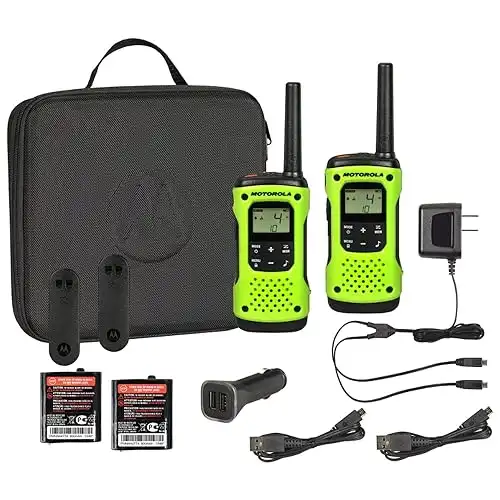 Motorola T605 Talkabout FRS/GMRS Walkie Talkie
Things we liked:
Floats and is waterproof to IP67.

Supports 22-FRS and GMRS channels for maximum flexibility.

Choose between rechargeable or AA batteries for extended talk time.

Water activated flashlight can help locate a radio that's been dropped overboard.

Handy 'Y' charging cable does away with bulky charging dock.
Things we did not like:
Waterproofing can mean the audio sounds muffled.

Some delay between pressing transmit and speaking and our voices being heard.

Price maybe an issue for some people.
Check the price on Amazon
Check the price at Walmart
We earn a commission if you make a purchase, at no additional cost to you.
The Motorola T605 H20 Bundle comes with two walkie talkies with IP67 waterproofing which can easily handle rain, waiter, and the assorted elements. With a multi-color LED flashlight, NOAA weather alerts, and a maximum range of 35 miles, you can feel comfortable knowing the T600s will perform for you when you need. This is sold as the T605 H20 bundle because of the accessories it comes with.
We love the included carry case which allows you to safely stores the two way radios when they are not in use. You also get a car charger which means you have more charging options available for your next adventure.
Best Waterproof Work Two-Way Radio – DeWalt DXFRS800
The DeWalt DXFRS800 is the best waterproof work two-way radio because of its intense durability, amazing multi-level range, and solid waterproofing. The DXFRS800 comes from the popular DeWalt brand which is a major manufacturer of heavy-duty contruction equipment and power tools.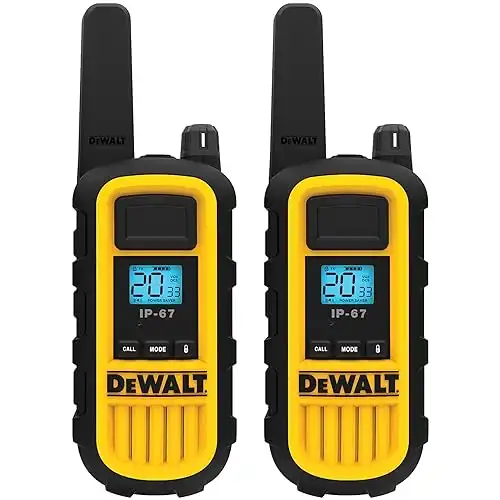 The DeWalt DXFRS800 has IP67 waterproofing and dustproofing which makes it a great fit for those wanting a walkie talkie for their outdoor work site or construction project. It can survive big drops or shock without damage, and has a tremendous range of up to 300,000 square feet. This means you can reach both up and down across your work site easily. If that's not enough for you, it is also backed up by a LIFETIME warranty. We love the DeWalt DXFRS800 as the best waterproof work radio.
Best Small Waterproof Walkie Talkie – DeWalt DXFRS220 Review
The best smaller waterproof walkie talkie is the DeWalt DXFRS220 because it packs a strong punch into a portable and lightweight design with rugged durability and water resistance.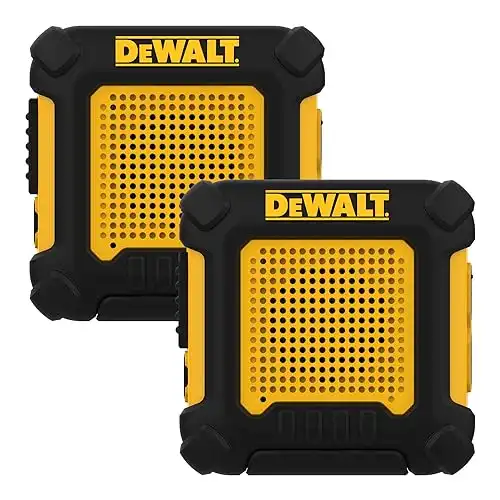 The DXFRS220 has IPX4 water resistance, which means it can survive rain and other water, but should not be dropped or submerged completely. You get up to 1000,000 square feet of range, and all day battery life which is ideal for those working outdoors. The DeWalt brand is very popular as their items, the DXFRS220 included, come with a lifetime warranty. We love how small the DXFRS220 is, and the included belt clip make it easy to attach this to your pants, shirt, or backpack for hands-free use.
Best Uniden Waterproof Walkie Talkie – Uniden SX507 Review
The Uniden SX507 is one of the longest range walkie talkies on the market, and its the best waterproof Uniden walkie talkie overall because of that range and its other strong features.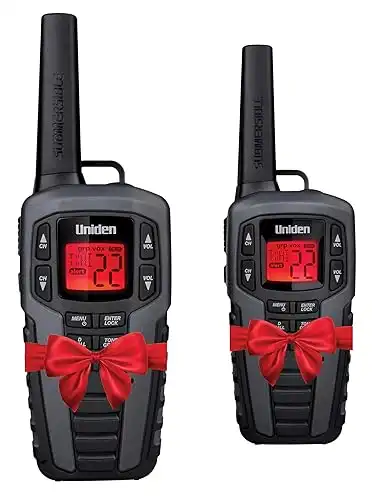 Uniden SX507-2CKHS Long Range Waterproof Floating Two-Way Radio (2-Pack)
Uniden rugged FRS radios keep you in touch whether you are out camping, shopping, biking, or caravanning on the highway. With 22-channels, there's always an open line for uninterrupted communications. And since the SX507-2CKHS operates on standard frequencies, you can easily communication with people using other models or brands.
Things we liked:
22-Channels with 142 Privacy Codes

Up to 50-mile range

Waterproof to IPX7 - can be submerged for up to 30 minutes

Powered by 3 1000mAh "AA" rechargeable batteries

drop in chargers for charging batteries
Things we did not like:
Waterproofing can mean the audio sounds muffled

very small working range approx. 1 mile
Check the price on Amazon
We earn a commission if you make a purchase, at no additional cost to you.
The SX507 advertises up to 50 mile range, and though you should expect less in most conditions with obstacles, it is still very impressive. The SX507 is fully waterproof and floats, and also comes with a variety of channels and privacy codes for secure communication. Also included in this bundle are two walkie talkie earpiece headsets which makes it easy to communicate hands-free if needed. When you add in its durability and NOAA Weather alerts, its clear why the Uniden SX507 is Uniden's best waterproof walkie talkie.
Best Cobra Waterproof Walkie Talkie – Cobra RX680 Review
The best Cobra waterproof walkie talkie is the Cobra RX680 because of its overall rugged design, quality range and battery life, and easy to use interface.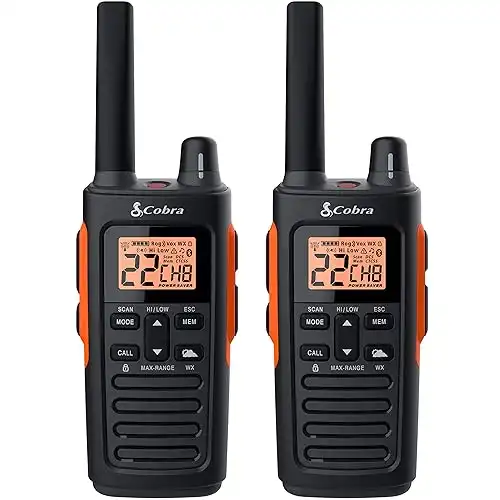 The Cobra RX680 comes with IP54 waterproofing and dust resistance, and generally feels sturdy and durable. One of its best features is its up to 18 hours of battery life, which is near the top of the market especially at this price. It also has up to 38 miles of range, though you can expect less in most difficult conditions. It also has privacy codes, hands-free Vox capability, and an easy-to-turn volume knob which makes it easy to use even in wet environments. It's one of Cobra's best walkie talkies in general, and definitely the best Cobra waterproof walkie talkie.
Best Floating Waterproof Walkie Talkie – Cobra ACXT1035R FLT Walkie Talkie Review
Another great waterproof walkie-talkie is the Cobra ACXT1035R-FLT. An excellent choice for the serious adventurers, this rugged walkie-talkie can stand up to extreme conditions and environments.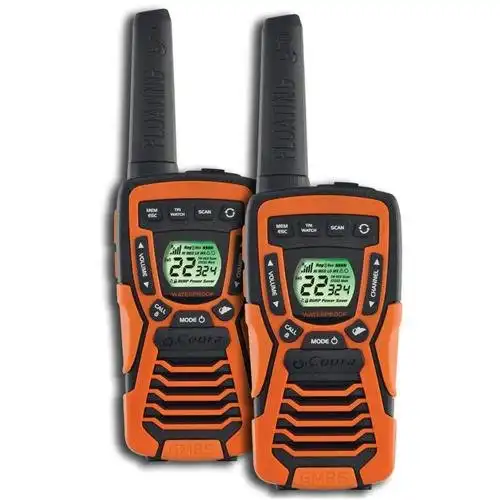 The Cobra ACXT1035R boasts an IP7 waterproof rating allowing for protection from submersion in up to one meter of water. This walkie-talkie is also designed to float when dropped into water, giving it an extra level of protective capabilities.
Offering 2,662 channel combinations and a range of 37 miles, this Cobra walkie-talkie provides extended range and interference reduction in the harshest of terrains.
As with the other radios reviewed, this walkie-talkie has NOAA alerts but offers the added security of weather alerts being sent to you automatically without the need for you to be tuned into a specific channel.
You'll never miss a call from your group again with the Rewind-Say-Again replay recording feature of the Cobra ACXT1035R-FLT! This feature automatically records the last 20 seconds of incoming radio audio, allowing you to playback and listen to the last communications from your group. Additionally, this walkie-talkie features VOX voice-activated transmission capabilities so you can communicate to others with ease.
Best Cheap Waterproof Walkie Talkie – Retevis RT49 Review
The Retevis RT49 is an affordable waterpoof walkie talkie options that meets your needs if you want something cheap and affordable because you're on a budget!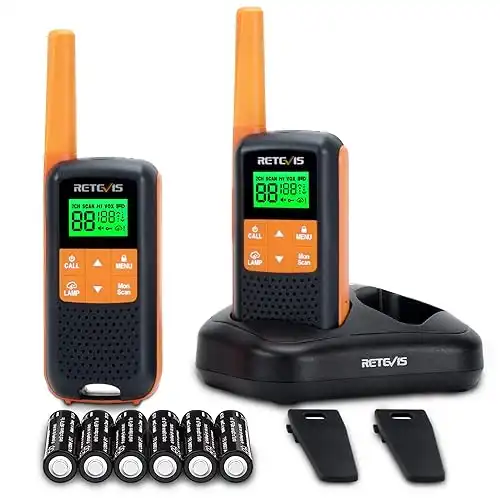 The Retevis RT49 isn't amazingly durable but it is waterproof and low-cost, with IPX4 waterproofing offering resistance to mild to moderate water exposure. If you're just planning on a trip near water, or light rain, and don't want to spend much, then the Retevis RT49 is perfect for your needs. It has NOAA Weather alerts, decent battery life and range, and is very easy to use. It can be charged with both the wall plug-in or a car charger, and also has an emergency flashlight which can be useful. Just remember that it's not completely waterproof so don't plan to use it by the lake or ocean.
Best Walkie Talkie for Boating – Cobra MR HH350
When you're out on the water, you need something better than a walkie talkie — you need a waterproof marine radio, which allows special access to marine channels and can be extremely helpful in an emergency, and most sea-faring boats carry a VHF marine radio on board by law. The best waterproof walkie talkie / marine radio for boating is the Cobra MR HH350 FLT Marine Radio.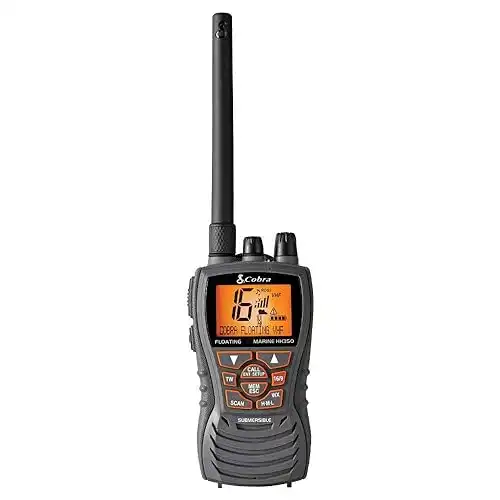 Cobra MR HH350 FLT Submersible Marine VHF Radio
US, Canada, and International marine channels.
Floating design and submersible for 30-minutes (JIS7/IPX7)
Tri-Watch feature allows Ch16 monitoring and two other channels simultaneously.
Powered by a rechargeable battery.
Check the price on Amazon
We earn a commission if you make a purchase, at no additional cost to you.
The Cobra MR HH350 is extremely well-designed and is accessible even by beginners. It has strong range fueled by its powerful antenna and 6 watts of power, and it has IPX8 status which means it can endure submersion up to 30 minutes. Its back-lit display and emergency weather NOAA alerts make it suitable for emergencies and inclement weather. Overall, its a great marine radio and is a perfect communication solution for those seeking a walkie talkie for boating, and its at a reasonable price!
Waterproof Walkie Talkie Buyer's Guide
There are many factors that you need to think about before you set out to buy the perfect waterproof walkie talkie for yourself. While there are some great waterproof walkie talkies available on the market, other features such as their range and performance also need to be considered when buying a new device.
Range
There are some great walkie talkies that allow you to communicate over a large distance. These walkie talkies are more powerful and also require some strong batteries to operate them. You should look for a walkie talkie that will cover the range you will need it for.
If you want some more in-depth information on walkie-talkie and two-way radio ranges you should definitely check out the video below:
Battery
The battery life needs to be long enough so that you can take a long trip without having to worry about charging your device. If you are fan of hiking, camping and other adventurous activities you should look for a walkie talkie that is not only waterproof but also comes with rechargeable batteries and/or long battery life.
Tough Exterior
The body of the two way radio doesn't only need to be waterproof but if you want it to last long you should look for a device that has a strong exterior that doesn't break easily. There are walkie talkies made with hard exterior body and that's what you should invest in.
Conclusion
There are many features to take into consideration when purchasing a walkie talkie with the ability to stand up to rugged outdoor environments. A wide variety of waterproof walkie talkies are available, and the market continues to evolve and expand in the technology and durability of the products offered.
All of the walkie talkies we reviewed are rated highly and can withstand exposure to rain, ocean, and water. You can't go wrong when purchasing one of these top-rated walkie talkies, and researching the different features allows you to pick the best device for your needs.