Two-way radios are a fantastic investment if you are looking for a vehicle-to-vehicle communication device.
Among the leading brands is Midland which is known for its high-quality GMRS and FRS radios. It stands out from most of its competitors by providing radios with a vast range, scanning all available GMRS and repeater channels, while including premium features such as accurate weather scanning and confidentiality (142 privacy codes).
In this article, we will be going over the key features of the three most popular radios – MXT 105, MXT 115, and MXT 400, to help you determine which is the best for your needs.
Let's get started!
More Powerful Than A Walkie Talkie
These GMRS radios can be turned into a base station of their kind. While the MicroMobile MXT 105 offers 5 watts of power, the MXT 115 boasts over 15 watts which should be more than enough for most user requirements, but if it's not, then the 40 watt MicroMobile MXT 400 it likely to deliver the coverage you need.
Range
The Midland products are well-known for their extensive coverage. While the MicroMobile MXT 105 is limited to around 4 miles, the higher-powered MXT 115 and MXT 400 can offer a range of up to 60 miles in an area with little to no obstructions.
It is pretty impressive, especially if you depend on communication provided by two-way radios. In addition to that, the MXT radios boast the 15 GMRS and 8 repeater channels that you will use for extending your range of communication.
The Midland MicroMobile MXT Range
Midland MicroMobile MXT 105
10 NOAA weather channels are included in the service. The MXT 105 is backward compatible with most existing GMRS handheld radios, so it should work fine if you already have one.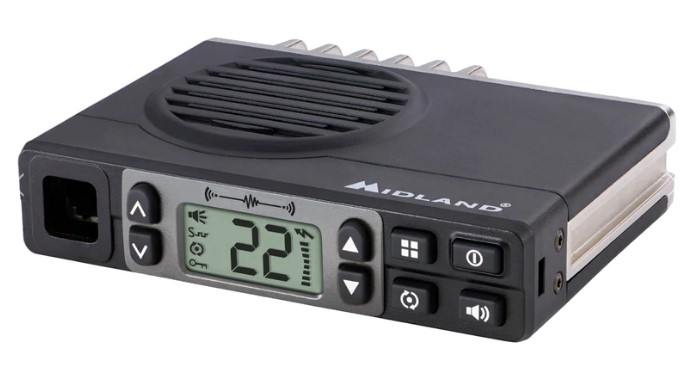 The Midland MXT 105 incorporates keypad lock, channel scan, monitor mode, and keystroke tones, which are common on many popular portable devices. It also offers digital volume control and silent mode to muffle beeps and tones when you need some peace while driving.
The MXT 105 is also quite adaptable. Because of its sleek profile, you can simply attach it anywhere in your car.
The MXT 105's innovative Display Flip function allows you to put it upside down while maintaining complete front panel functionality and the readability of its crisp, bright backlit LCD, and the removable flip-frame mount may be mounted on or beneath your dash.
Midland MicroMobile MXT 115
The Midland MicroMobile MXT115 is a two-way radio that can communicate with most other two-way GMRS radios, including portable radios.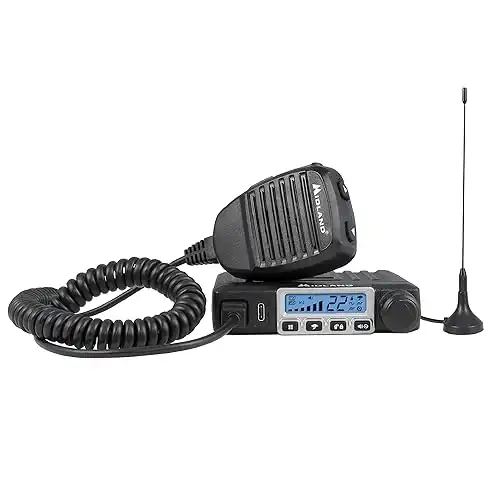 It features 15 pre-programmed channels, 8 repeater channels, and 10 NOAA weather channels.
It's really easy to assemble. Even if you're a complete beginner, you'll be able to set it up in a matter of minutes. A USB charger is located on the front of the system, which may be used to charge your phone.
It performs admirably for an out-of-the-box antenna. It comes with a 19-foot wire that will allow you to place it relatively high. With additional cable to spare, we could secure it to the top of our shed roof. You'll want to get your antenna as high as possible. The taller the antenna, the greater your transmission will be.
Not only that, but it is a beginner-friendly item that comes with a magnetic bottom for a simple setup. The maximum range this device is certified for is 50 miles when there are no barriers in the way. A range of 10-15 miles with some blockage is ideal. The range is 5-10 miles with substantial obstacles.
One of the key buttons providing instant access to the NOAA weather channels is great for weather information. There's no need to look for the weather channels because the button is right there. Once you've pressed the button, you'll be able to look for the nearest weather station.
Simply tap the call button whenever you want to reach out to someone. If you want to browse the available channels, on the other hand, you'll need to hit the monitor button. We were able to receive crystal clear communication in two miles regardless of the obstacles. The ability to alter the sound and eliminate any static noise is one of the advantages of this radio.
Midland MicroMobile MXT 400
It's a wall-mountable radio with beginner-friendly controls and a sophisticated built-in microphone, as well as an LED display to keep track of your actions.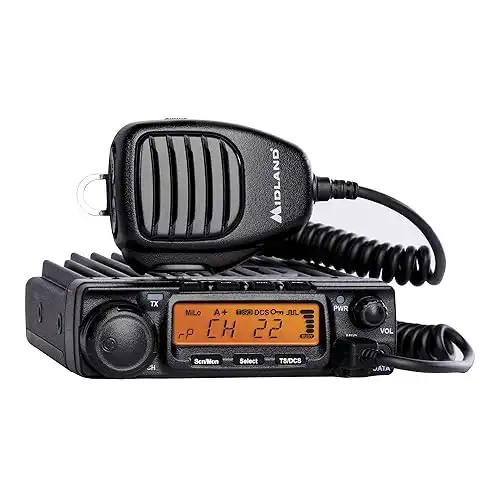 This two-way radio has a lot of range, providing city-wide coverage for communication in an emergency. When it comes to range, this product is at the top of the list. Remember that a walkie-talkie can help you communicate with friends, family, and emergency services when your cellphone fails.
You won't need to buy any other accessories because the kit contains everything. This includes the mount, a magnetically mounted antenna that is readily detachable, a microphone holder, adapters, and other items needed for the radio to function properly.
If you don't have enough room on your dashboard, you may connect the radio to the roof, put it beneath your dashboard, or hide it somewhere in the car.
The Midland MicroMobile radio has a range of 50 miles in ideal conditions. While this will decrease in rugged terrains, terrible weather, or in the presence of severe impediments, it is still a significant amount of kilometers that may be used across lengthy distances.
If you want to install your Midland MicroMobile radio in your vehicle, it comes with a 12-volt connector that can be inserted into your accessory port and used as a car charger.
If you're more tech-savvy and using the higher powered MXT 400, then you might want to consider hardwiring the power directly to the battery for a more permanent connection.
In Summary
I've been a big fan of Midland radios since I first started using their CB radios, and the MicroMobile MXT range of GMRS radios definitely impress me.
For two-way radio users working from a vehicle, the fact that the radios can be permanently installed with an external antenna to provide extended coverage, can make the difference between being able to communicate and not being able to communicate. Sure, you don't have to permanently install these radios if you need to shuffle them between vehicles, but it's a great feature.
The units are of a rugged construction, and have a sleek but functional low profile appearance.
NOAA weather alerting can be a lifesaver when working away from a home base, and for that reason alone, I would recommend the MXT MicroMobile radios over other vehicle mounted GMRS units.
Lastly, it's the high power outputs of the MXT 115 and MXT 400 that make them so much more appealing over a hand held walkie talkie for users that are predominantly based in a vehicle, or want a GMRS radio to install in a site office.
So, what didn't I like about the MXT radios? Nothing!
Wrap Up
At the end of the day, the decision is all yours and depends on your needs and budget.
If you are working with limited funds but don't want to miss out on an accurate and vehicle-friendly communication device, then the MXT 105 is a fine choice.
On the other hand, if you want to cover a much wider range (of up to 60 miles with no obstacles), you are best off investing in the Midland MXT 115 or Midland MXT 400.