Retevis, being a specialist in making radio equipment, released its RT628 model in 2018, which showcases a long-range device. The said model has a wide range of features.
This Retevis device is a cost-friendly walkie-talkie that is a great gift for your kids.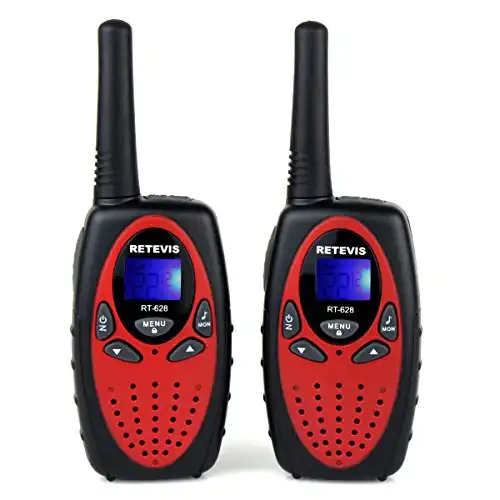 If you love hiking or camping, and your not a kid, it can even serve as a reliable communication tool on your next adventurous trip.
The RT628 has a lot to offer; besides being budget-friendly, it is a long-range, easy-to-use device that is great for communication.
The Retevis RT628 is suitable for kids and adults for crystal clear communication.
Power Source
Retevis RT628 uses 3 AA batteries, a standard, readily available battery. It also provides an option of using 3 rechargeable batteries for a reasonable standby battery time. The power source provides good in-hand time for your kids to enjoy their indoor and outdoor activities.
However, the RT628 can also use a 1000 mAh lithium-ion rechargeable battery (not included), making it more long-lasting. The batteries can be charged with a 2 in 1 USB charging cable, which is convenient to use and can easily be plugged into a phone adapter or power bank.
Range
The Retevis RT628 can transmit and receive data, and its strong antenna supports longer-range communication in open spaces. A stable signal provides crystal clear communication, depending on different obstructions, terrain, and weather conditions.
Features
Retevis RT628 is a license-free device providing 22 channels with multiple settings, allowing multichannel communication for one-to-one or one-to-multiple walkie-talkies on the same channel. It also features 99 privacy codes, from which you can select any of your choice, reducing the chances of random individuals picking up on your channel. Let's look at some of the most beneficial features:
The RT628 comes with a lock key that enables the parents to prevent their children from accidentally switching channels or changing radio settings while playing, making the communication safe and secure. In crowded places, its auto squelch system keeps unwanted noises at bay.
Moreover, VOX with a 205mm headphone jack provides a convenient hands-free experience, enabling users to use the device without hindrance. It also comes with adjustable volume keys and an upgraded speaker that reduces the background noises, delivering a crisp sound.
Besides its clear communication, the device is compact and lightweight, weighing only 3.5 ounces. It has an ergonomic design with beautifully rounded corners, making it comfortable to use and easy to hold. Despite its lightweight, the device is robust due to the high quality, durable and scratch-resistant plastic, making it a perfect choice for children who love adventures. The device looks beautiful and maintains a scratch-free look, adding to its appeal to kids.
It also features an LCD with an LED backlight, displaying battery level, channel setting, and other information, making it easy to be used in a dark environment.
Available in two colors (red and black), this device comes with a back clip which enables the device to hang on backpacks, clothes, or anywhere easily. To distinguish contacts, 10 changeable caller tones are available, which helps the user know who is contacting them in advance.
Pros
Great and crisp sound quality
AA battery non-rechargeable battery
Powerful and durable battery
Long-lasting standby battery life
FRS tuner technology
99 privacy codes
22 channels with multiple settings
Multichannel communication
Strong antenna for longer range communication
Auto squelch system for reduced noise
Lock key for secure use
VOX with 205 mm headphone jack
Adjustable volume keys
Upgraded speaker for reduced background noise
LCD with backlight
Scratch-resistant durable plastic
Easy to use device
Back clip for hanging 
Cons
Its range is limited to up to 2 miles
No flashlight included
Rechargeable lithium-ion battery not included
Device not applicable for commercial purposes
Conclusion
The Retevis RT628 is difficult to pass up or ignore because of its affordable price, pleasant design, and distinct specifications. This durable and prime quality unit can be used as a great starter device for your kids, especially if you're on a budget but need a reliable and safe product.
Although with some flaws, the overall impression of this Retevis RT628 is that it's a walkie-talkie worth purchasing.
For the price and specifications, the RT628 proves itself of great value. It might not be the best handheld device you can get, but it is undoubtedly worth the money.