When you're on the road, being able to easily communicate with others is one of the top priorities for your efficiency and your safety. Midland has dedicated themselves for years to bring you the most powerful radios they are able to give to you by law, and they have announced the most cutting edge radio to add to the collection: the MXT575.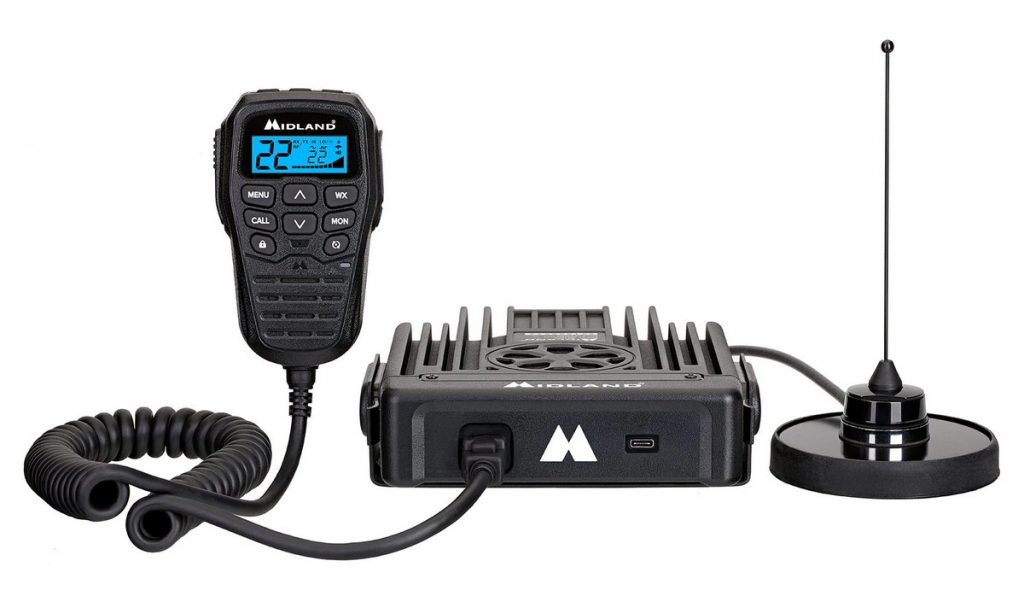 History Of The Midland MXT575 General Mobile Radio Service two-way radio unit
Midland has always been an innovator in the realms of radio; the history of radios more powerful than the traditional two-way radios was the MXT115, which boasted a power of 15 watts. Not nearly as powerful today, but almost three times the range of other handheld GMRS radios.
As the company continued to innovate, they managed to create radio systems which were more compact than ever before – making the MXT275, which, unlike many radios before it, could be placed inside vehicles with limited dashboard space.
They continued to create more and more powerful radios, absolutely humiliating Citizen's Band style radios (which have an average power rate of about 4 watts) with the MXT400, which was more than ten times that at 40 watts.
But they didn't stop at 40 watts. In fact, they went as powerful as the law permitted they go, with the MXT500 having 50 watts of power behind it – making it the most powerful GMRS radio.
That was the last radio before the MXT575, and needless to say that after a long wait (made longer by the pandemic and supply chain issues due to that), radio connoisseurs were chomping at the bit to see what the MXT575 would have to offer.
The new offering by Midlands certainly hasn't disappointed, with some very requested features in them now, such as repeater capability with split tones, NOAA weather channels support (for NOAA weather alerts) and much more!
Features Of The Midland MXT575 micromobile two way radio
There are a number of features on the MXT575 which are worth getting excited about. For one thing, it is as powerful as it is allowed to be by law at 50 watts, like the MXT575, but it also has its own features that set it apart.
One neat feature of the machine is its Fully Integrated Control handheld mic. This means that all the controls are on the microphone, and you don't need to have the radio out on your truck dashboard in order to enjoy all its features.
You can put it away and still be in control.
It also boasts being both narrow and wide band capable, which is a trait that not every Midlands radio has. The MXT275 is narrow band only, for example, but the MXT575 allows you the choice on how you want to communicate!
The MXT575 is also compatible with all GMRS and Midland FRS walkie talkies, which makes it a useful addition whether you plan on having the radio as a base station or installing it in your car.
It also includes a USB C charging port, so if you plan to use the radio alongside other devices like your walkie talkies, tablets and cell phones, then you'll be able to charge them up in no time flat.
The MXT575 comes with no less than 8 GMRS repeaters channels as well, which means that where other radios might have their communication range diminished by obstacles getting in your way, the MXT575 is going to be going strong.
In case that doesn't work, then the Midland MXT575 Micromobile is split tone repeater capable, so no matter whether what kind of radio you're talking to, the MXT575 has got you covered.
Naturally, the MXT575 is compatible with all Midland family radio service radios as well, so nothing to worry about there. On top of that, it also has no less than 15 high-powered GMRS channels, and over 140 privacy codes.
It's also a very weather savvy, with both NOAA weather channels and Scan and Alert technology which will help you stay one step ahead of the weather when you're out on the road.
For those of you out there who are more sensitive to white noise, there is also programmable squelch so that you're able to tune it to you're liking and get crystal clear sound no matter where in the country you might be.
What's The Difference Between The MXT575 And The MXT500?
So, some of you might be excited by all its newest features, but considering the proudest achievement of the MXT500, Midland's last radio, was that it had hit 50 watts, and that's the most powerful it can be by law, you might be wondering what the difference between the two is, and whether a MXT500 or an MXT575 would suit you better.
Well, there are a few differences. The first is that the MXT575 is more compact than the MXT500, with that helpful Fully Integrated Control Microphone making it very easy to store and use, as opposed to its bulkier predecessor.
The MXT500 however, can boast that its radio units are IP66 Waterproof and Dustproof, as well as being PC Programmable.
What's The Same Between The MXT575 And The MXT500?
What if there are some features you don't want to see go away? Well, aside from the 50 watts of power, the NOAA Weather technology, 15 high and low power channels, 8 repeater channels, over 140 privacy codes, compatibility between Midland FRS walkie talkies and handheld GMRS radios and the programmable squelch are all here to stay.
Both of them also come with everything you need to get the party started inside the box, with a quick release mounting bracket and remote radio unit, mounting hardware, the microphone, microphone holder and much more. Everything you need is in there.
Conclusion
Fans of Midland radios have been awaiting the newest announcement from the pioneers of radio, and so far, their newest offering in the MXT575 hasn't disappointed people, being as powerful as its predecessor, and offering all the features people love whilst also being sleeker and more compact, it really is the perfect radio.
References
Midland USA – Midland Radio Launches Highly Anticipated MXT575 (midlandusa.com)