For some people, their radio is vital. It's something that farmworkers, RV owners, and adventurers have relied on for years, allowing them to stay connected across large distances and rugged landscapes. Over the years, Midland has built a reputation for producing excellent radios. With the latest MXT500 radio, they have outdone themselves, creating the most powerful radio in the history of the MicroMobile range.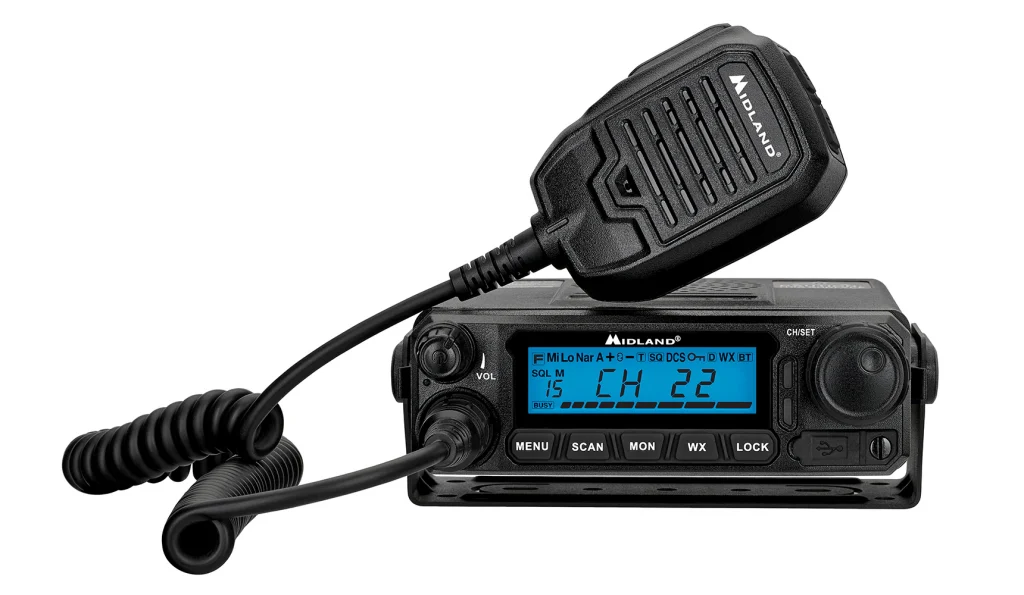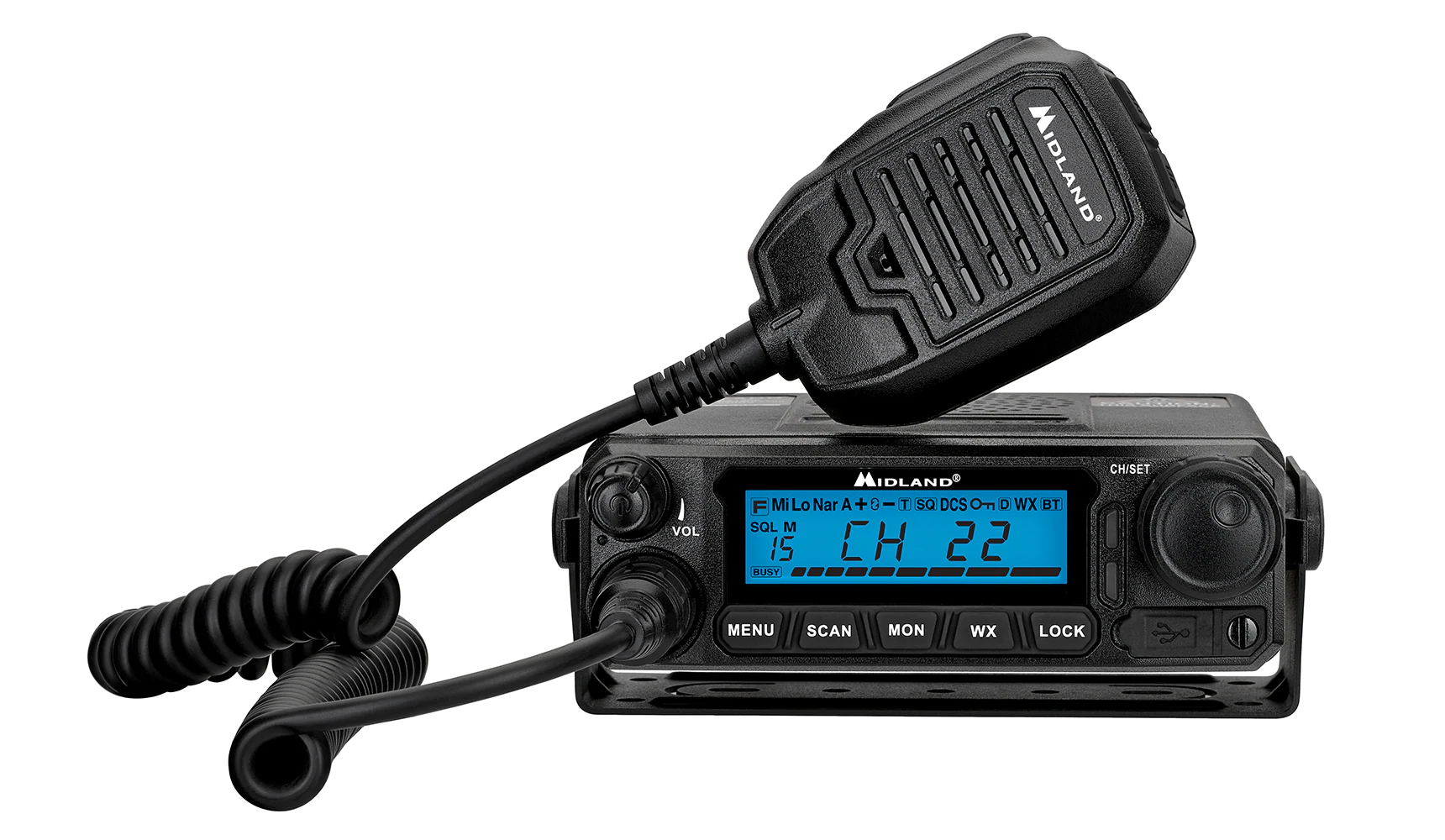 History of the MXT500
The MXT115 started this trend with a 15W radio, which is three times the range of traditional two-way radios. This was then improved with the MXT275, which was a compact radio system, ideal for putting into vehicles that don't have a lot of dashboard space. After this came the MXT400, which was 40W, allowing transmission over larger distances.
Each of these represented a significant step forward for Midland radios. However, the company was eager to keep improving. They listened to customer feedback and incorporated the latest technologies. Midland has always been driven by a desire to exceed the expectations of its customers.
Because of this, all of the previous MicroMobile models have been eclipsed by the Midland MXT500. This is the most powerful radio the company has put out to date. It has 50-watts of power, which is the maximum amount permitted under the law.
Performance of the Midland MXT500
The MXT500 offers the best performance of any radio that Midland has ever created. There are many reasons why the MXT500 holds this impressive title.
On its own, 50-watts of power is impressive. But users also can add up to eight repeater channels. This will further the range.
Because of this power, users will need to have a GRMS license before they will be able to operate this radio. Thankfully, this is fairly easy to obtain. Once you have one, it will last for ten years before it has to be renewed. The FCC website has more information about these requirements and how users can apply for a license.
 Clear communications can be maintained through the use of squelch. This will allow users to block out any unnecessary background noise. The squelch levels can be adjusted manually, for crystal-clear communications.
There are 15 radio bands to choose from, each with the ability to use at low, medium, or high power. The channel scan function makes it easy to find conversations. Depending on their needs, users will be able to choose between narrow or wide bands. This is an improvement over the previous MXT400, which was only able to transmit on narrow bands.
The MXT500 can use split tones. This makes using a receiver easier. Users will be able to transmit on one channel. Then, they will be able to configure the radio to receive on a different channel.
Even better, users will be able to keep these discussions private. The MXT500 comes with 142 privacy codes. Furthermore, they will come with blocking. This will stop unauthorized people from gaining access to the channel and hearing private conversations. 
Though the MXT500 is the latest radio offered by Midland, it will remain compatible with other radios, able to communicate with handheld radios through the GRMS and FRS frequencies. The antenna will be included with the radio.
To create even more functionality, the MXT500 is computer programmable. Using the USB-C port, users will be able to adjust the functions of the radio to better suit their needs. There is lots of support available from Midland to make this easier. They even offer software downloads, which can be easily installed.
Features of the Midland MXT500
There are several innovative features included in this radio. For example, the MXT500 has NOAA Weather Radio. This is a vital tool for those who work the land, letting them know the weather outlook. If necessary, they'll be able to seek shelter before rough weather approaches. To listen to alerts, users simply need to push the WX button, on the front of the radio.
The MXT500 is also a good choice for those who live an active life. It comes with a USB-C charger. This feature provides fast charging. It will be suitable for a wide range of devices like phones, tablets, or handheld radios. Plus, the USB-C connection will allow the long-lasting radio battery to charge quickly.
Midland takes pride in designing products that will be easy to use. The MXT500 is no exception. Users will be able to enjoy a backlit display, so it will be easy to use the radio in the dark. Users will even be able to customize the display color to better suit their preferences.
There is a silent operation mode. This will remove the tones that will occur when you are normally operating the device. It also comes with monitor mode, allowing the amplification of a weak signal. 
The good news is that users don't have to be an expert to use the MXT500. All they need to do is install the radio on the dashboard of their vehicle. Thanks to the metal mount, which is included, the set-up process will be easy. With intuitive controls, it should be set up and ready to use within a few seconds. The MXT500 menu function has been improved from previous models, to make it easier to navigate.
The MXT500 will be designed to last for a long time and built to withstand harsh environmental conditions. The mic and head units are dust and waterproof to IP66 level. This means that it will be able to survive being hit by a powerful jet of water, so there's no need to worry about leaving the mic unit in the rain. This confidence in the technology is shown by a one-year warranty.
Despite the power and advanced features offered by the MXT500, it comes at a low price. It will cost just $399.99.
Conclusion
Midland is constantly looking for ways to improve their radios, generating better performance for their users. They have achieved this with the MXT500, their most powerful radio to date. Anyone interested in learning more or purchasing the radio is encouraged to head to the Midland website.