How do you find the best compact CB radio? Today's market offers some amazing older models that have been selling off the shelves for generations as well as more modern models with innovative features.
It can take time to gain an understanding of all CB radios currently offered and then select the one that best fits your individual needs. This guide is designed to speed up the process by delivering a few honest CB radio reviews alongside valuable information that will help you find a quality compact radio in as little time as possible.
Best Compact CB Radio Reviews
Our compact CB radio reviews are designed to highlight the pros and cons for some of the leading radios on the market today. Use this information to identify the best compact CB radio for your intended use.
Uniden CMX760 Bearcat Compact CB Radio
The Uniden CMX760 is one of the most popular compact CB radios on the market today because of its great feature set yet reasonable price. The CMX760 packs a punch into its small frame, offering up to 40 channels of operation, easy mounting technology, and a bright and easy to use LCD display. The included speaker-mic is durable and offers crisp sound quality, and we also love the clear layout of the buttons on the interface. The CMX760 is powerful, small, and intuitively easy to set-up and use, and this makes it our favorite compact CB radio on the market today!
Things we liked:
Very compact
Clear display
Great audio quality
Up to 40 Channels
Good range
Things we didn't like:
External speaker for loud use
Uniden PRO505XL
Even though the Uniden PRO505XL is a compact radio that weighs just two pounds, it has an oversized display that is easy to read. It doesn't offer the 10 weather alert channels that are offered on many larger CB radios, but it does allow you to quickly tune into channel nine, which is the designated emergency alert channel for CB radios.
We were impressed with the extra speaker jacks offered on this unit. The built-in speaker isn't all that great, but you can plug in a higher-quality speaker to improve your sound quality. You can also plug in a public-address speaker if you want to turn your compact CB radio into a public announcement system.
There are also a few advanced features on this Uniden CB radio, including squelch control to keep static to a minimum. You can also check the strength of incoming transmissions, and the radio offers an indicator light for this feature.
Things we liked:
Weighs just two pounds
Instant emergency channel function
Public address system compatible
Squelch control
Easy-to-read display
Things we didn't like:
Range has its limits
Lacks scan feature
Low-quality speaker
Midland 75-822
Our Top Pick
Midland 75-822 40 Channel CB Radio
Things we liked:
We loved the form factor and how it felt using the radio.

Can operate from AA batteries or 12v vehicle supply - making it a great backup unit.

10-NOAA WX channels help keep you informed of weather risks in your area.

Decent speaker and microphone quality for size.
Things we did not like:
4-5 mile range isn't as good as other mobile CB radios.

Supplied charger can be a bit slow recharging batteries.

Supplied 'rubber duck' antenna lets down this unit - buy a proper antenna instead.
Check the price on Amazon
Check the price at Walmart
We earn a commission if you make a purchase, at no additional cost to you.
Our pick for the Best Compact CB Radio is the Midland 75-822 due to it's form factor, dual handheld/vehicle mount options and because it comes with a mobile charging adaptor and a battery pack.
The pack holds six AA batteries and gives you the option to use your radio on the go even if it isn't fully charged. The mobile charger plugs into the cigarette charger in any vehicle.
There are other CB radios that offer more impressive reception quality, but this is a feature-packed radio that weighs just over six ounces. It comes with a squelch feature to cut down on static, and the noise-limiting feature helps as well.
The scan feature allows you to automatically move through each channel, stopping for five seconds when activity is detected. And when you turn this radio off, the last channel that you listen to is saved so that you pick up where you left off for your next radio session. You can use the scan feature to sort through the channels, stopping for a few seconds when activity is detected. For fast access to your favorite channels, you can store five of them right on the radio.
Things we liked:
10 weather alert channels
Battery pack included
Mobile charger included
Favorite channel storage
Squelch control
Things we didn't like:
Compact CB Radio Buyer's Guide
While the best compact CB radios will take up much less space than other models, it should still offer the features that you need for effective functionality. What are those features? It depends on how you intend to use your radio.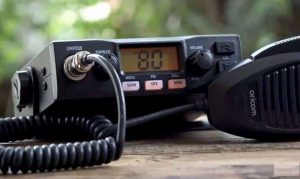 For casual use, you may look for an easy-to-use CB radio that offers the full range of 40 channels. The reception and ability to control static and background interference is also important because you want to make sure that you clearly hear all incoming transmissions.
If you're a truck driver or will otherwise use your radio for professional purposes, you may look for some advanced features like RF gain control. You may also look for a compact radio that comes with a high-quality microphone and a jack that allows you to plug in a public-announcement speaker.
Basic CB Radio Etiquette
There are some basic rules that you should follow once you start using your CB radio and start transmitting messages:
Don't play music over the radio or go off on long rants that last more than a few minutes. It's generally expected that each person will talk no more than five minutes at a time, and even that is a long time over a CB radio.
Pay attention to the timing for your transmissions. If you continually talk over other users, you will quickly become an annoyance.
Study up on CB lingo. There are a lot of terms that are used over the CB that will leave you lost and confused if you aren't up to date with the unique language. You will also get a lot more attention from other users if you can use these terms correctly.
Now that you understand compact CB radios a bit more, it's time to read our CB radio reviews and decide which radio is best for you.
Conclusion
If we had to pick the best compact CB radio on the market today, we would select the Midland 75-822. It's one of the smallest radios available and offers impressive reception and transmission sound quality.