CB radios, also known as citizens band radios, are designed for short-distance communication. They're commonly used by truck drivers, but the best CB radio is the one that fits your unique needs.
The market for short-distance radios has grown in recent years, and there are some advanced features that make communicating with your local area easier and more entertaining. It's difficult to identify the best CB radios if you aren't familiar with your options, but the CB radio reviews in this guide will help you make an educated buying decision.
Best CB Radios
Uniden Bearcat 980 40- Channel SSB CB Radio with Sideband NOAA WeatherBand,7- Color Digital Display PA/CB Switch and Noise Cancelling Mic, Wireless Mic Compatible

Galaxy DX-939F Mobile AM CB Radio with Frequency Counter & Backlit Faceplate in a Mid Size Chassis – 7.25″ Wide

Uniden PRO520XL Pro Series 40-Channel CB Radio. Compact Design. ANL Switch and PA/CB Switch. 7 Watts of Audio Output and Instant Emergency Channel 9. – Black

Cobra 29LX Professional CB Radio – Emergency Radio, Travel Essentials, NOAA Weather Channels and Emergency Alert System, Selectable 4-Color LCD, Auto-Scan and Radio Check, Black

AnyTone AT-5555N 10 Meter Radio for Truck, with SSB/FM/AM/PA Mode,High Power Output 12W AM,30W FM,SSB 30W PEP

CB Radio Reviews
Are you ready to select the best CB radio? Our reviews will give you the information needed to do just that, including the pros and cons for some of the top CB radios on the market today.
Uniden Bearcat 980
We wanted to include the Uniden Bearcat 980 in our CB radio reviews because it has several features that ensure clear reception.
Start with RF gain control, which allows the radio to filter out static caused by atmosphere interference. It continues with auto noise limiter, noise blanker and a noise-cancelling microphone.
Top Rated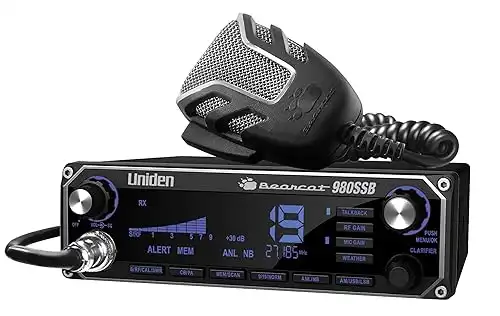 Uniden Bearcat 980SSB 40-Channel CB Radio
Things we liked:
Single side band USB/LSB

Multi-color display

Noise-cancelling microphone

RF gain control

Auto noise limiter
Things we did not like:
Build quality is mediocre

Backlighting is weak
Check the price on Amazon
We earn a commission if you make a purchase, at no additional cost to you.
You also have the option of replacing the microphone with the BC906W cordless microphone. This is an added expense, but the Bearcat is one of the more affordable CB radios. You can generally find it in the $100 range.
We were also impressed by the large display, which allows you to select between seven colors for the backlighting. Admittedly, the backlighting is a bit dim in daylight, but it is adjustable.
We also admit that the build quality isn't the best, but we still consider it one of the top rated CB radios for beginners or those with a limited budget. It offers some advanced features that boost the reception clarity above lower-quality radios, and it comes with built-in diagnostics to check your battery, antenna and other stats.
Galaxy DX-939F
If you're looking for a well-performing, beginner-friendly CB radio without going over the $200 price range, we've got something for you.
The DX-939F from Galaxy Audio is a classic-looking CB radio that's very easy to use.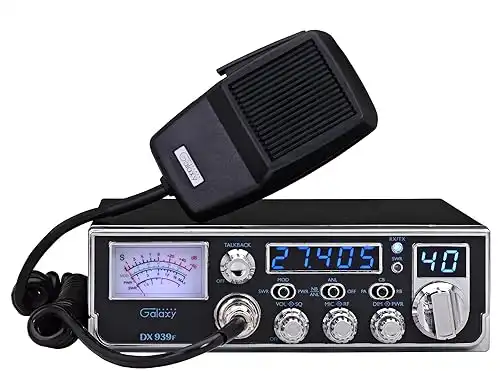 It includes a frequency counter on the left of the panel while using blue LED lights on the display. All of the display panels use backlighting to make it easier to read the numbers on the channel. Also, the black background that contrasts the LEDs further highlights the readings on the panel.
The DX-939F includes AM and PA modes. If you need to address the public and use a megaphone or external speaker, you can find multiple audio jacks at the back of the device. There is also a switch near the handheld microphone to turn the talkback on and off.
If you're not fond of calibrating your CB radio for combat and law enforcement purposes, don't worry. The DX-939F has an automatic SWR circuit, so you don't have to set up anything if you plan to use it in tactical operations.
Perhaps what we often look for in CB radios is their performance when we communicate with other radios. Fortunately, the DX-939F from Galaxy Audio has a built-in noise limiter to produce clearer and crisper sounds. Additionally, you can control the mic gain not to cause too much distortion in your message transmission.
Uniden PRO520XL
We recommend the Uniden PRO520XL model as a very good CB radio for those on a tight budget, but there are some limitations.
It's not easy to see some of the most important buttons in the dark due to a lack of backlighting, the speaker isn't the highest quality and there is no scan feature.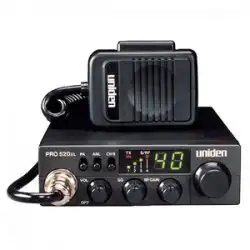 Uniden PRO520XL CB Radio
Things we liked:
Front-mounted microphone

4W audio output

Auto squelch

Instant channel 9 access
Things we did not like:
Limited range

Lacks scanning feature

Low quality speaker

No backlighting
Check the price on Amazon
We earn a commission if you make a purchase, at no additional cost to you.
The range is also unimpressive when compared to higher-priced CB radios, but this is still a good buy for beginners or those who don't have $100 or more to spend. It sells for less than $70 even at full retail price, and you can often find it for less than $50 online.
The positive features include instant connections to channel 9 for emergency broadcasts and a front-mounted microphone that allows you to turn the radio into a public address system. It's also equipped with auto squelch and noise silencing, which allows you to cut out the static for clearer reception.
Cobra 29 LX
You may consider the Cobra 29 LX one of the best CB radios due to its reasonable price, but it's the large display that first grabbed our attention. It allows you to see all radio functions without scrolling, and you can choose between four colors for the backlighting.
This radio also has an automatic scanning feature. This allows you to scan for active channels without taking your hands from the steering wheel. The radio will stop only when activity is detected. This is one feature typically lacking from radios that sell at lower prices.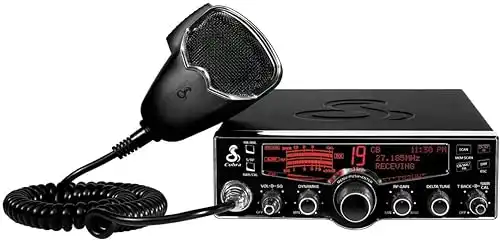 Cobra 29LX CB Radio
Things we liked:
Large multi-color display

Built-in diagnostics

Automatic scanning

Instant access to weather stations
Things we did not like:
Limited receiver range

Unimpressive build quality
Check the price on Amazon
We earn a commission if you make a purchase, at no additional cost to you.
You also have instant access to 10 NOAA weather channels, alerting you to bad weather instantly. We also like the versatility of this CB radio because you can attach a PA speaker to turn it into a public-address system.
The built-in diagnostics in this unit allow you to check your battery voltage and other system stats quickly. This is a mobile CB radio designed to keep you connected while in your vehicle.
AnyTone AT-5555N
If you're looking for a commercially available CB radio that gets the job done without too much hassle, allow us to introduce you to the AnyTone AT-5555N. Compared to the other radios on this list, AT-5555N has a larger, easy-to-read LCD panel in black and orange.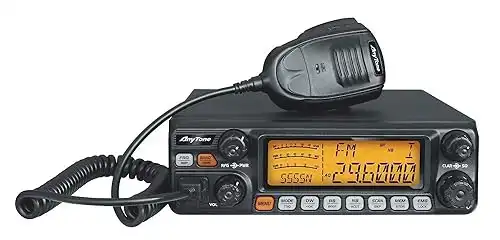 You can also adjust the power through a knob located at the front of the device. Additionally, you can switch between AM and FM by changing the frequency of the radio. However, the device does not include a PA function for transmitting messages in an external speaker.
If you need to modify the device according to your personal preferences, the AT-5555N is programmable using a PC. It also has a dual-watch function. That means you can leave one channel open for incoming calls or transmission while listening to another channel for weather or other news updates.
The AT-5555N also has an SWR circuit, so law enforcement agencies can use it in their operations. However, since it is technically a 10m ham radio, you might need to modify it first to turn it into a CB radio.
Also, turning it into a CB radio prohibits you from transmitting on air. Nonetheless, you can use it to listen to various transmissions on the 11m band.
Buying Guide
CB radios are often considered one step down from ham radios because they're less powerful, but they're all that you need for short-distance communication. They're used by truck drivers and other professionals who spend a lot of time on the highway and need to communicate with other drivers, but you can use them in many other circumstances.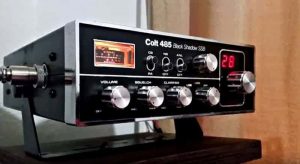 If you enjoy taking long road trips or must commute to and from work, a CB radio allows you to monitor emergency channels for advanced warning of bad weather, accidents and other potential obstacles. Many people also consider CB radios a tool for fun and entertainment.
From eavesdropping on those truck drivers to chit chatting with hams in your local area, you can easily pass hours or even days on a high-quality CB radio. There are just a few things that you need to know in order to select the best CB radio for your individual needs.
Do I Need a License to Use a CB Radio?
While licenses are required for ham radios, those rules don't apply to the use of CB radios. Citizens band radios require no registration or licensing, so they're accessible to everyone. There isn't even an age limit for the use of these radios.
How Many Channels Does a CB Radio Feature?
CB radios are generally assumed to have up to 40 channels, but the range can easily expand to hundreds of channels if you consider the sub-channels, side bands and various frequencies. While more expensive radios generally offer more channels and advanced features features such as SSB, there are some affordable CB radios that allow you to connect with hundreds of channels.
Introduction to CB Etiquette
Most people identify themselves with a handle when using a CB radio. Think of this like your screen name when communicating through an online forum. If you use your radio often enough, you will start to recognize other users in your area by their voice and their handle.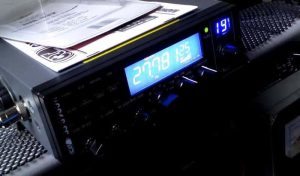 There are no assigned CB channels, so you are sharing the airwaves with everyone in your area. You don't want to talk over others or interrupt ongoing conversations, so time your communications carefully.
In general, all users are expected to talk for no more than five minutes for each transmission. Wait a minute or two before sending another message, giving other users a chance to respond.
Selecting A Top Rated CB Radio
There are two primary types of CB radios:
Mobile radios are installed into a vehicle while handheld CB radios can go wherever you go. Which of these radio types you select depends on your intended use. The CB radio reviews in this guide are all mobile units, but you can read reviews of the best handheld CB radios if you prefer a more mobile radio.
If you will use your CB radio while in your vehicle only, you may opt for a mobile unit. Handheld radios are better if you need something portable or if you want to use the radio while in your home.
Conclusion
After going through our CB radio reviews, do you have your eye on one or two units? Before you make your purchase, we want to highlight two that we consider the best CB radios available right now.
For beginners or those who don't want to spend much time installing their radios, we recommend the Galaxy DX-939F. For buyers who aren't afraid of installation and are more concerned with advanced features, we highly recommend the Uniden Bearcat as the best CB radio.