If you live or work on a farm and need a reliable two-way communication mode for you and your family or employees, you're going to want to get your hands on a good two-way radio.
Two-way radios are an excellent way of communicating over long distances with no cell or internet signal.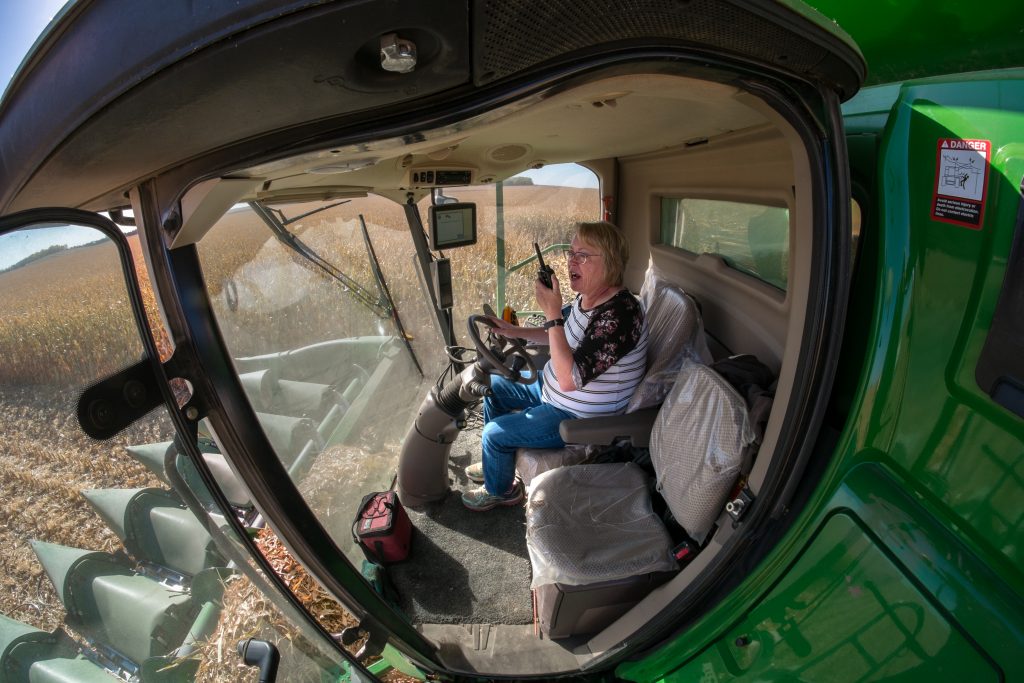 One of the best radios on the market is the Midland MXT400, which offers a wide range of features that make it perfect for lone workers and radio users.
So, if you're looking for more information about this radio and two-way radios in general, you've come to the right place.
Read on for more about the best two-way radio for the farm.
What is a Two-Way Radio, Exactly?
Two-way radios are precisely what it says on the tin – they are radios that can both receive and transmit radio waves, unlike broadcast receivers that can only receive signals. They allow individuals to keep in contact with one another using radio waves, where each user is given a radio that can send and receive audio signals.
These radio systems can be as simple as two radios connecting or as complex as an encrypted network covering an entire country. You may know these devices by their other names, walkie-talkies, sometimes called mobile radios.
Introducing the Midland MXT400 GMRS Two-Way Radio
The Midland MicroMobile MXT400 GMRS radio can transmit significantly further than traditional handheld GMRS walkie-talkie radios, which provides a significant advantage when working on large farms or in large agricultural spaces.
Midland Communications has always built great radios and this one is, by far, one of the best two-way radios on the market.
If you're in the market for a reliable two-way radio, this is definitely worthy of your consideration.
With a maximum power output of 40W, 8-times more than a handheld GMRS walkie-talkie, ranges of up to 65-miles are possible where there are no obstructions with 15-20-miles being more typical.
Another great thing about the Midland MXT400 is the rugged design and construction that can be easily mounted within a vehicle and wired into the vehicle's 12v system. This means you can confidently use the radio whilst driving around on the farm knowing that you'll never have to worry about battery life, and so long as your vehicle's engine is running, you can keep talking.
Remember, this is a 12v radio, so if your vehicle has a 24v system, you will need a step-down converter like this to reduce the voltage to the correct level otherwise the radio will be damaged.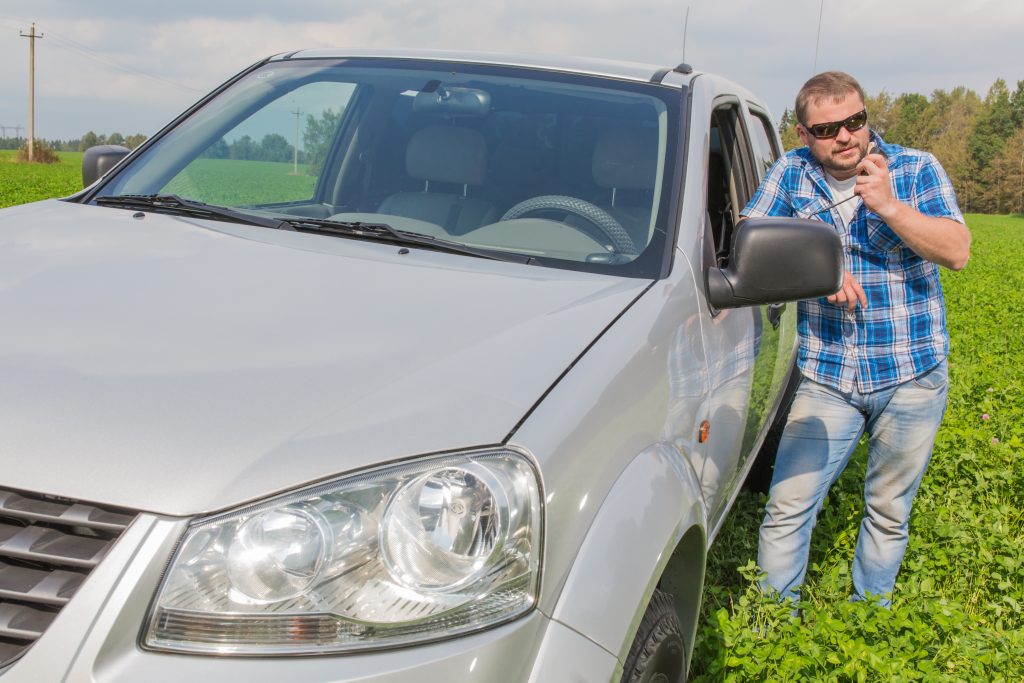 In addition to the 15-high power GMRS channels, the MXT400 boasts the extra eight GMRS repeater channels that provide an extended reception and transmission range that is difficult to beat.
The LCD display is backlit, and there's a handy USB charging port that will help you keep your other mobile devices alive. Whilst the NOAA weather alert feature will ensure you're kept up to date with the latest weather information.
Key features
Full 40W radio
5-low power (5W) and 8-high power (40W) GMRS channels with 142 privacy codes
Eight repeater channels provide an increased range of communication
65-mile range with no obstructions
15 to 20-mile range with no partial obstructions
5 to 10-mile range with major obstructions

Silent operation

NOAA weather radio
Midland MXT AG Farm Radio Bundles
In the past, Midland used to offer a useful bundle for farmers – the MXT115AG.
It contained a lower specification MXT radio and some walkie-talkies but that package is no longer available so we've put together the WalkieTalkieCentral MXT AG bundles that contain everything you need to get started.
Midland MicroMobile MXT AG Farm Starter Bundle
For starters, we recommend pairing one or more Midland MXT400VP3 radio bundles with the excellent Midland GXT1050VP4 GMRS handheld walkie-talkie as the basis for your farm communications.
The MXT400VP3 includes not only the radio but also an antenna, a mirror mount for the antenna, and a 20ft antenna cable whilst the Midland GXT1050VP4 provides two 5W walkie-talkies, rechargeable batteries, charger and belt clips.
Check the price on Amazon

We earn a commission if you make a purchase, at no additional cost to you.

Check the price on Amazon Check price on Walmart

We earn a commission if you make a purchase, at no additional cost to you.
This is a good, affordable bundle that's great for mobile use on the farm.
Midland MicroMobile MXT AG Farm Office Bundle
Maybe you'd want to install a radio in the farm office, in which case consider a MXT400 with a power supply such as the DuraComm LPX-14 desktop power supply, a GMRS base antenna and some low loss coax to interconnect the system.
Check the price on Amazon

We earn a commission if you make a purchase, at no additional cost to you.

Check the price on Amazon

We earn a commission if you make a purchase, at no additional cost to you.

Check the price on Amazon

We earn a commission if you make a purchase, at no additional cost to you.

Check the price on Amazon

We earn a commission if you make a purchase, at no additional cost to you.

Check the price on Amazon

We earn a commission if you make a purchase, at no additional cost to you.
When setting up a base station system like this, mount the antenna as high as you can on the farm office, and remember to use self-amalgamating tape to seal the coax connection at the bottom of the antenna and keep out the elements. But unlike CB radio aerials, GMRS antennas don't need to be tuned – they leave the factory ready to go – saving time and frustration when you're eager to get started.
The Good
One of the best things about this radio is its completely silent operation. This means that you won't hear any annoying feedback or static during use, which can be incredibly distracting when performing essential maintenance tasks.
It also offers NOAA weather radio service to stay updated with the latest weather reports. Knowing the weather is incredibly important when you're doing a lot of work outdoors and in rural areas, which makes this a fantastic feature for those who tend to farms all day long.
What's more, if you're working in an area that doesn't have many obstructions, you're going to make the most of the incredible 65-mile range that the MTX400 can deliver.
The not-so-good
The only real gripe with the MTX400 radio is that it's a little on the expensive side of life.
It's not going to cost you an arm or a leg, but you're going to need to be willing to fork out a good chunk of change to get your hands on this product.
However, we feel that the price is appropriate for all of the great features you receive, so it's your call.
Overall
The Midland MicroMobile MTX400 two-way radio is a fantastic option for anyone who works on large, rural pieces of land and who needs to be able to communicate over long distances.
While it's a little pricey, it offers a wide range of excellent features that are hard to pass upon.
Frequently Asked Questions
What to Know Before Purchasing a Two-Way Radio
There are a few things that you need to consider before you just go out and purchase any old two-way radio system.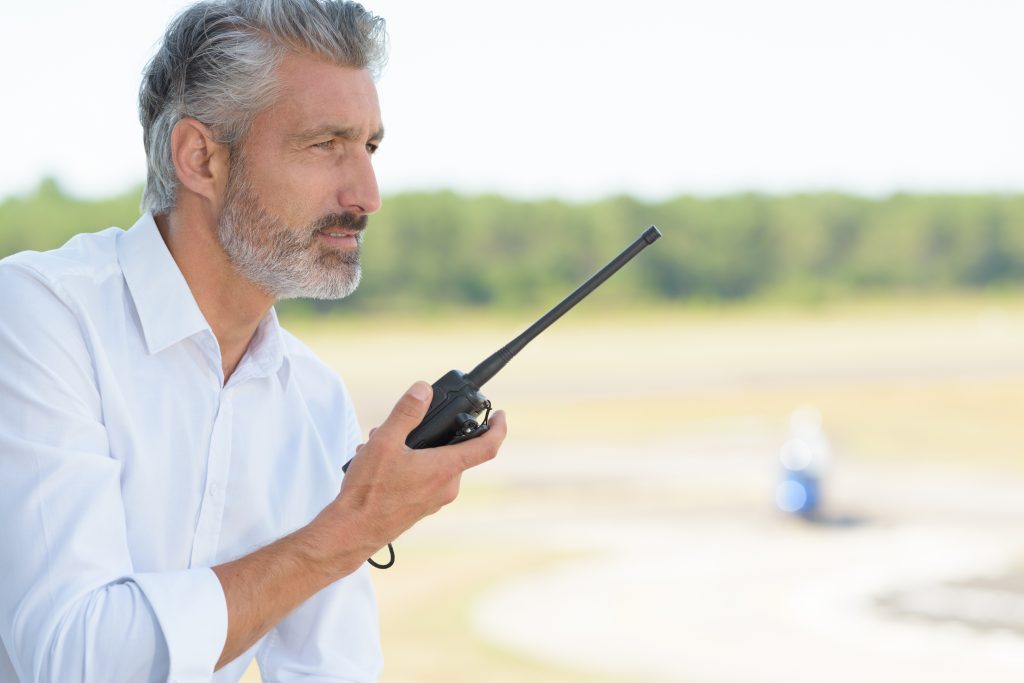 Let's take a look at some of the most significant deciding factors.
Licensing
The FCC requires users to hold a GMRS license before operating a GMRS system.
Applying for a GMRS license is easy, and unlike does not require the applicant to sit kind of test.
License holders must be 18-years or older, and once the license is received, any family or farm member, regardless of age, can operate the GMRS radios within the licensed system.
Licenses are issued for a ten-year term, and currently cost $70.
Number of handsets
When you are purchasing a portable radio set, you're going to need to consider the number of handsets that you need. A twin set might be enough for a camping trip, but if you're working on a busy farm – or just a farm that has more than two people working it – you're going to need a few more radios so that every individual can stay connected.
You might be happy to know that the price of each headset is significantly reduced when you purchase them in bulk. Many GMRS radio manufacturers offer a range of bundles to cater to the needs of every type of user, so you should be able to find headsets in bulk and as individuals.
Maximum range
One of the essential factors to consider is the range you need them to cover.
Generally speaking, the maximum range that a consumer two-way will be able to cover using the GMRS frequency is about 5-Miles on a 5W transmit power.
In urban environments, the maximum range will be quite a bit lower. But, high-quality radios should be able to provide adequate mile range for most general users. If you need anything above that, you'll want to consider something more powerful, though that will likely mean you'll need to get your hands on a license, which can be an expensive process.
Battery type
Some radios are powered using standard alkaline radio batteries, while others come with batteries that can be recharged. If you plan on using your radios for several days at a time, and will not have consistent access to a power outlet, then a model that uses regular batteries will be your best bet.
Conversely, rechargeable tractor radios are best for everyday use on a farm where you can recharge the batteries regularly. This is because the cost of replacement batteries can quickly become unmanageable, and used batteries are just bad for the environment in general.
Privacy Codes & Channels
Two-way radios such as GMRS and FRS devices have a fixed frequencies that they can transmit on.
Most of these walkie-talkies have between 8 and 16 channels, which tune the frequency on which the headsets will communicate with one another.
Additionally, there are generally several privacy codes available for use on the device.
Contrary to what the name might lead you to believe, these codes do not guarantee the privacy of your transmissions.
Instead, they allow you to talk without interference from others and their unwanted transmissions, and this can significantly help when using your radios in more populated areas.
Hands-free & VOX
Voice Activated Transmit, also known as VOX, allows you to use your two-way radios without using your hands.
This feature is excellent for folks in the farming industry who are constantly operating farm vehicles and who want wide-area communication without having to lift their hands from the wheel.
With VOX activated, the radio's microphone will always be on. When it detects the sound of your voice, it will begin transmission automatically and then cease the transmission once you're done speaking. These models also come with a socket for a throat mic or a headset.
It's important to note that not every two-way radio will have the VOX feature, so if you're looking to use your radio hands-free, be sure to look for a label indicating the presence of this your radio.
Weatherproofing
This is a significant feature to anyone who works on farmland with many acres of land between them and any kind of shelter. IF you are using your two-way radio outside for extended periods, then it's very likely that it will be exposed to conditions that are not mild, warm summer days.
The weather can turn in the blink of an eye, so it is essential to consider weatherproofing when looking for radios, especially farm radios. Most models are splashproof and can withstand some light rain, which works well if you live in a reasonably-temperate area where the rainfall is predictable.
If you don't, we strongly suggest you look for some more robust weatherproofing and perhaps even some durable waterproofing to ensure that your radio is always able to withstand the elements.
Why Use a Two-Way Radio?
There are several benefits to using a two-way radio over regular mobile phones, especially when working on large farms or agricultural areas. Let's discuss some of them.
A mode of communication during emergencies
Landlines and cell service towers may fail during a disaster or emergency, but two-way radios will continue to work when this happens.
What's more, if you are working in an area with a team of workers, each individual will be able to be in contact with each other at the same time, as opposed to having to dial different phone numbers for different colleagues.
Lightweight and durable
These radios are specially designed to be long-lasting and as lightweight as possible so that they do not become a burden when you're on the job.
And whilst most modern smartphones require some kind of protective phone case to be safe on the job site, many GMRS two-ways are built to ingress protection (IP) specifications.
This means that they are far less likely to break or crack if and when you drop them, and they will continue to function if they get wet.
They are also designed to have a significantly longer battery life than the average mobile phone. Many modern models are capable of running for 12 to 16 hours before a recharge or replacement battery is necessary.
Clear communication
Because two-way radios are designed to work without the need for a cell tower or landline, unlike cellphones, they offer a transparent mode of communication in most conditions.
Many of the latest models come with features that bolster their resistance to disturbing vibrations and wind noise while also offering clarity of voice during wet conditions and extreme temperatures.
Cost-effective
If you're looking for affordable communications on the farm, then two-way radio is the way to go. Unlike cell phones, you do not have to pay for any monthly fees, calling minutes, or service contracts and several people can share a single radio, which drastically reduces costs by avoiding the need to issue one radio per person.
Ease of use
Finally, and perhaps most importantly, it is simple that radios are easy to use.
They feature touch-button talk communication, and with VOX models, you don't even have to push a button to transmit your voice.
This creates a straightforward means of communication that is easy to understand.
Final Thoughts
Living and working on a farm allows you to have the best of both worlds when it comes to working and living, but to do so safely and effectively, having a two-way radio is a must for you, your family, and your employees.
We hope we have covered all of the information you need to make the best purchasing decision for your farm communications, and hope that you will be able to make a choice based on this.