How do you select the best handheld CB radio for your intended use? As the market becomes more cluttered, you have more options but also a bit more confusion.
We know how hard it is to select one radio that meets all of your expectations, so we created this guide to help you make an informed decision. Whether this is your first radio or you're upgrading to a radio with more features, our CB radio reviews will help you identify the right model for your current needs.
Handheld CB Radio Reviews
Cobra HH 38 WX ST
The Cobra HH 38 WX ST is one of the more expensive radios to make into our handheld CB radio reviews, but it has a range of features that justify the price tag. If you aren't overly concerned with budget or you want maximum functionality from your radio, you may consider this unit an excellent handheld CB radio for your needs.
You can monitor two channels at once with this radio, and the scan feature allows you to quickly find channels with activity. There are 40 channel options, and you have access to 10 national weather channels that give around-the-clock warning about incoming storms.
We were impressed with the sound quality of this radio, mostly due to the noise reduction feature. The backlit display is also quite impressive because it's easier to read in the dark than many competing handheld CB radios.
Things we liked:
Dual channel watch
Scan feature
Built-in microphone
10 national weather channel
Soundtracker noise reduction
Things we didn't like:
Uniden PRO401HH
The Uniden PRO401HH is a more simplistic handheld CB radio, but we appreciate that it gives you the option of setting it to high or low. The high setting gives you maximum range, and the low setting allows you to conserve battery power.
Each of these settings solve problems that often come up with single-setting CB radios. There are times when you may want to save your battery because you don't need an extended range, and then there are circumstances that may demand a wider range to pick up more frequencies.
If you don't need an extended range and you want to keep your radio simple and easy to use, this is a top rated handheld CB radio for you. It weighs just over one pound and has a slim design that makes it one of the most portable handheld units out there today.
The big downside to this radio is the limited range, but that isn't a problem for some users. If you want to keep it simple and are okay with a 50-yard limit, then we do highly recommend this Uniden CB radio.
Things we liked:
High and low setting
Slim, simplistic design
Things we didn't like:
Range limited to about 50 yards
Midland 75-822
Our Top Pick
Midland 75-822 40 Channel CB Radio
Things we liked:
We loved the form factor and how it felt using the radio.

Can operate from AA batteries or 12v vehicle supply - making it a great backup unit.

10-NOAA WX channels help keep you informed of weather risks in your area.

Decent speaker and microphone quality for size.
Things we did not like:
4-5 mile range isn't as good as other mobile CB radios.

Supplied charger can be a bit slow recharging batteries.

Supplied 'rubber duck' antenna lets down this unit - buy a proper antenna instead.
Check the price on Amazon
Check the price at Walmart
We earn a commission if you make a purchase, at no additional cost to you.
Our pick for the Best Portable CB Radio is the Midland 75-822 due to it's form factor, dual handheld/vehicle mount options and because it comes with a mobile charging adaptor and a battery pack.
The pack holds six AA batteries and gives you the option to use your radio on the go even if it isn't fully charged. The mobile charger plugs into the cigarette charger in any vehicle.
While the reception quality isn't impeccable with this portable CB radio, we were impressed with some of the advanced features offered. For instance, it's equipped with squelch control and a noise limiter to cut out the static and improve clarity of incoming transmissions.
The scan feature allows you to automatically move through each channel, stopping for five seconds when activity is detected. The last-channel memory feature ensures that the radio tunes into your last active channel each time that you turn your radio on.
You can also store up to five of your favorite channels for fast access later. The radio also tunes automatically into weather channels, ensuring that you never miss a storm coming your way.
Midland 75-785
We put the Midland 75-785 sleek model in the running for the best handheld CB radio because it has a modern look and gives you two options for power. It comes with a mobile charger that connects into the cigarette lighter port of any vehicle, or you can use AA batteries.
If you choose to power the radio with batteries, you can use any standard batteries or rechargeable nickel cadmium batteries. You can recharge the nickel batteries in the radio without taking them out of your unit. This is a convenient feature that some competing handheld CB radios still lack.
We did detect more static and interference than we expected, but this is still a solid portable CB radio with some advanced features. For instance, it does have squelch control and a noise-limiting feature.
This radio also has a built-in electrostat microphone that should help cut down on the static and interference that does impact the reception. The radio weighs just one pound and has a slim design that makes it easier to carry by hand or in an oversized pocket.
Things we liked:
Mobile charging adaptor included
Battery or mobile power options
Squelch control and noise limiter
Slim design
Things we didn't like:
More background noise than usual
Narrow range
Handheld CB Radio Buyer's Guide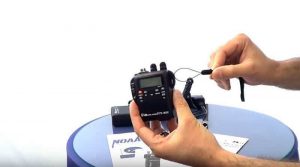 Do you have questions about selecting the best handheld CB radio? The model that you select will depend on a variety of factors, including:
Budget – Pricing for CB radios starts well under $100 and can go beyond $400. It's important to know your maximum spending limit before you start comparing products.
Intended use – Will you connect your handheld CB radio to your belt loop or carry it around by hand? Do you want to use it primarily in your home, or will you take it away from home? The features that you need will depend on how and where you want to use the radio.
Technical knowledge – Some of the best handheld CB radios are loaded with features, and it may take some time to learn how to use them if you don't already have some technical knowledge. Other radios are rather simple to use, so they're suitable for beginners or those uninterested in advanced functionality.
We will touch on all of these variances in our CB radio reviews, guiding you toward the models that are best for your personal needs. Note that all of the radios featured in this guide are portable, handheld units. If you're interested in installing your CB radio into your vehicle, look at our guide for the best CB radios.
Handheld CB Radio Channels
If you've ever used a ham radio, you will notice that channels are treated a bit differently on CB radios. While ham radio channels are designated to specific entities, most CB radio channels are open to everyone without designation. One exception is channel nine, which is reserved for emergency broadcasts.
This means that you're sharing the airwaves with every other CB radio user in your immediate area. You never know what conversations you will find on any channel, and that's part of the fun.
Most of the best handheld CB radios will go up to 40 channels, but there are more options than that when you get into sub channels, side bands and all available frequencies. You can stick to the basic channels or learn to explore the deeper channels available to CB users.
Components of a Handheld CB Radio
While mobile CB radios have a box that mounts into a vehicle and an attached microphone, handheld radios are single units. They're designed for portability, but some are larger and heavier than others.
Selecting A Handheld CB Radio
While you may want to look at price tags first, spend some time looking at each of our CB radio reviews. This will give you a good idea of the features and designs now represented on the handheld CB market.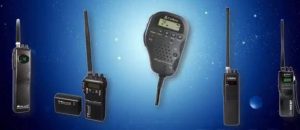 You can then start to narrow your options down to models that have the features most compatible with your personal needs. Also keep in mind that some of the more expensive handheld CB radios are often marked down online, so you can get some of the best units at lower prices if you shop wisely.
Best Handheld CB Radios Conclusion
If we had to pick one handheld CB radio that we consider the best for every user, we would have to go with the Uniden PRO401HH. While it is quite expensive, it's loaded with features and has a sleek, modern design that many users find attractive.