Are you ready to turn your vehicle into a mobile station that allows you to connect with truck drivers and other hams on the road? This is easier and more affordable than you may imagine, and it all starts with selecting the best mobile ham radio for your personal needs.
The market for mobile ham radios is quite cluttered, and some radios are far more impressive than others. It's difficult to find the best mobile ham radio for the money when you can't try each option out personally, so we created this guide to introduce you to our top picks for best mobile ham radios in 2020!
Best Mobile Ham Radios for Cars
We have reviewed a long list of mobile transceivers, but there are only five that we would consider naming the best mobile ham radio. We understand that the best radio for you is likely different from the best radio for someone else, so we're including radios with a variety of features and price tags.
TYT TH-9800
The TYT TH-9800 quad-band mobile radio gives you full access to UHF and VHF frequencies along with four amateur radio bands. It offers wide-receiver coverage and allows you to save more than 800 of your favorite channels for one-touch tuning.
We're impressed that this mobile ham radio sells for less than $300 at full price yet comes with cross-band repeat. This feature allows you to piggyback off transmissions from more powerful radios in your area in order to increase your mobile station's reach.
Since tall antennas are sometimes an inconvenience when driving in parking garages and through other low structures, we're happy to see that the antenna included with the TYT TH-9800 folds down easily. It's also quite durable and transmits well, so you may not feel that urge to replace it with a higher-quality antenna.
We think that this is an excellent mobile ham radio for the money if you want a system that is easy to use. While programming with a cable isn't efficient with this radio, it is easy to program manually. Since it doesn't come with a programming cable, manual processing will also save you some money.
Things we liked:
Simple manual programming
Durable antenna
Cross-band repeat
Space to program 800+ channels
50 watts of power
Things we didn't like:
Average quality speaker
Manual is difficult to follow
Does not include antenna mount
Yaesu FTM-7250DR
If you're searching for a powerful radio that is easy to use, you may consider the Yaesu FTM-7250DR a top mobile ham radio for your needs. It's easy to program, and buttons on the front of the console allow you to quickly select between features, power settings and stored channels. There are five power options, including 50 watts of power operating at 144 MHz and 40 watts of power at 430 MHz.
The lower power settings are ideal if you don't need to reach a significant distance and don't want to use too much power.
The Yaesu FTM-7250DR is a dual-band mobile ham radio that allows you to pick up weather alerts, FM stations, AM aircraft bands, public safety channels and a wide range of additional bands. This extended capability and the power offered make this mobile radio more than worth the mid-market price range.
Things we liked:
Over 100 miles of communication
Durable and sturdy design
Easy to update via computer
Integrated GPS functions
Things we didn't like:
Poorly written instructions
Flimsy volume knobs
Kenwood Original TM-V71A
The Kenwood TM-V71A Mobile Transceiver is a great amateur-friendly ham radio. It has many great features, including its ARRL TravelPlus compatibility if you live in the United States.Another impressive upgrade is the high RF output, offering up to 50W of RF power for both VHF and UHF. Using RF, you can alternate between high, mid, and low outputs depending on your preference.
With the dual reception component, you can get two signals on both VHF and UHF bands. This feature means you can access local and call channels or repeater and local channels on the same band.
The programmable memory is bound to be one of your favorite features. As you scroll through the customization options, you can craft independent profiles to save onto the radio. Then, when you want to switch functions, simply push a button to recall your preferred profile for each situation.
Users can easily customize the frequency range and display as well as alternate between five VFO frequencies. You'll also find 1,000 multifunction memory channels that assist with frequency step, receiving frequencies, and tone frequency. When you find specific channels, simply identify them using eight alphanumeric characters to find them in the future quickly.
If you intend to mount your new ham radio in your vehicle, you'll appreciate the invertible panel. You can quickly detach the front of the unit to either mount the transceiver right side up or upside down. This feature allows you to find the ideal installation method to prevent speaker obstructions.
Things we liked:
Easy-to-use crossband repeating
Doesn't attract interference
User-friendly programming
Incredible durable build
Things we didn't like:
Requires software for programming
Lacks remote control
BTECH MINI UV-25X4
If you're interested in finding a great mobile ham radio for your money, put the BTECH MINI UV-25X4 at the top of your list. It's one of the most affordable mobile ham radios that doesn't lack in features. In fact, it delivers some of the crispest, clearest sound quality that we have found to date.
We do want to note that this radio comes only with the transceiver box and the handheld mic. You will need to select a compatible antenna to complete your mobile station.
The BTECH MINI UV-25X4 is a tri-band mobile radio that weighs just over two pounds, and it's much smaller than other radios. If you don't have much room in your vehicle but don't want to compromise on sound quality and frequency allowance, this is probably the best mobile ham radio for your needs.
While many mobile radios now come with poorly written user guides, the manual included with this radio is quite impressive. The radio is also easier to install than larger mobile transceivers, so you may get it up and running faster than you would a competing unit.
Things we liked:
Compact and lightweight
Audio output is impressive
Affordable price range
Things we didn't like:
Overly sensitive frequency range
Antenna not included
AnyTone AT-778UV
This mobile radio is straightforward to use and adapts to the user's everyday needs. It is a dual-band VHF-UHF transceiver that also features 25W/15W/5W capabilities with DTMF. There's no doubt you will appreciate the full-color TFT LCD screen, which is easy to read in all lighting conditions. Another exciting feature of the device is that it is rotatable once installed. Regardless of where you're sitting, you can quickly adjust its positioning to have a clear view of the screen. As for frequency, this device offers between 136 and 174 MHz via VHF and 400-480 MHz in UHF.
If you want to make any additional changes and customizations, you'll need to download the programming software. With this, users can sort through over 200 channels with this narrow-band compliant device.
What's more, the lighted keypad mic also makes it fantastic for making adjustments in complete darkness. Another added benefit is that the device boasts a DC power cable and built-in cooling fan to manage temperatures.
When in use, you can quickly switch between group calls, single calls, or selective calls. For emergencies, be sure to engage the emergency call system.
Things we liked:
Phenomenal color screen
Powerful design
Ideal for compact installations
Loud and clear transmissions
Things we didn't like:
Complex interface

Hard-to-access software
Mobile Ham Radio Buying Guide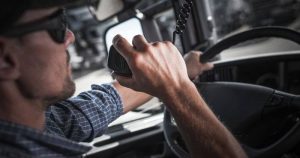 Investing in a good mobile ham radio will allow you to turn your vehicle into a ham shack. This allows you to communicate with commercial truckers and other drivers with radios on the highway. You may also use your mobile station to talk to other hams in your local area, just as you would from a home base station.


Handheld vs Mobile Ham Radios
Mobile ham radios often give you a more substantial reach than you would have with a handheld ham radio. This comes partially from the added power that you receive when connecting your radio into your vehicle. You can also attach a larger antenna to your vehicle to substantially increase the power and range over the small antennas on handheld devices.
While handheld ham radios often have 5 watts of power, a mobile ham radio can easily have 50 watts of power or more.
Mobile Ham Radio Frequencies
The best mobile ham radios operate with VHF and UHF frequencies. A dual-band mobile ham radio allows you to connect with repeaters in your local area to significantly increase the reach of your transceiver.
You may also select a radio with HF mobile bands, which will allow you to communicate with other hams located much further away. These radios are often called "all-band, all-mode" transceivers, and you can expect to pay more due to the extended reach.
Establishing Your Mobile Ham Station
There is an installation process required for the creation of a mobile station. The exact installation process will depend on a variety of factors, including which mobile ham radio you select and the type of antenna that you want to attach.
If you don't know how to install a ham radio into your vehicle, consider hiring a professional to do it for you. There are also guides on many blogs and websites that will help you connect all components of your system quickly and affordably.
Is A Mobile Ham Radio Right For You?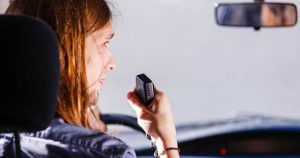 Many new hams select mobile transceivers because they want to take their radios on the go while increasing their reach beyond what is offered with most handheld transceivers. This comes with the limitation that you can only use your radio setup when you're in your vehicle.
If your primary goal is to communicate with others while on road trips or when driving in your local area, then you're likely a good candidate for a mobile ham station. Look at our mobile ham radio reviews to find a mobile ham radio for your personal needs.
Conclusion
If we had to decide purely on price point and features, we would select the BTECH MINI UV-25X4 as the best mobile ham radio for the money. It's compact, easy to use and offers tri-band functionality for a reasonable price.
Overall, our choice for the best mobile ham radio is the TYT TH-9800. The price is reasonable, it comes with a durable antenna and it's a high-quality dual-band mobile ham radio.