Selecting the best portable ham radio is a bit like choosing one salad off an extensive menu. Your taste buds will lead you to believe that one salad is the best while each of your dining partners may select a different salad and each declare theirs the best.
The market for ham radios is growing due to consumer demand, and selecting just one can feel much like staring at that menu loaded with salad options. The goal is to pick the best radio for your personal needs, and this guide will deliver the information that you need to make a smart buying decision.
Best Portable Ham Radio
Portable Ham Radio Reviews
Are you ready to learn about our top five portable ham radio picks? We understand that every buyer has different needs and probably a firm budget, so we include a variety of handheld ham radios from reputable brands. We'll introduce you to the features of each radio while telling you what we like and don't like about each option.
BaoFeng UV-82HP Ham Radio
If you're getting tired of walkie talkies dying on you while you're in the middle of your trip, say hello to BaoFeng's UV-82HP portable ham radio. It has a tri-power setting, so you can choose between high, mid, or low power. It also allows you to save the device's battery power during emergencies.
If you need to communicate with two channels, the UV-82HP ham radio will help you with that. You just need to set up the channels on Frequency A and Frequency B. By pushing the button up, you will transmit your message to the first frequency, and pushing it down will transmit it to the second frequency.
There will be times when you need to receive updates about the weather or other news. If you're not using the device to communicate, you can use it as an FM radio too. Thanks to the built-in receiver, you can access the radio while leaving one channel open to receive transmissions or calls.
In addition to the tri-power settings, the UV-82HP has an 1800 mAh battery for extended life. It's also rather easy to listen to calls because this device reduces the background noise of incoming transmissions.
Lastly, you can use this ham radio for emergencies because of its built-in alarm system and flashlight. It also comes with a belt clip, so you don't have to hold it in your hands all the time.
Things we liked:
Tri-power setting

Dual transmission option

Multi-functional

Reduces background noise

High-capacity battery
Things we didn't like:
TYT MD-380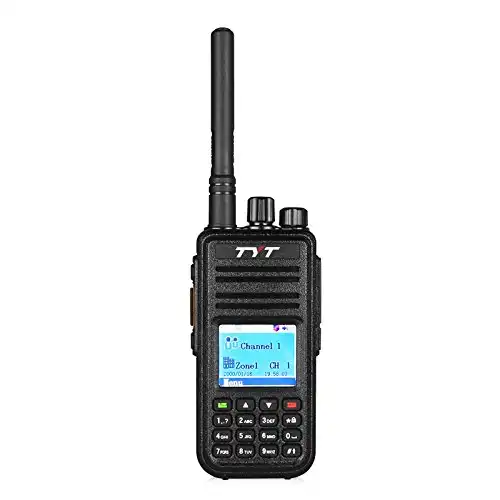 Often selling for around $100 at full price, the TYT MD-380 is the most affordable portable ham radio to make our list. It comes with all accessories that you will need to use the radio, including:
Belt clip
AC charger
2000 mAh Battery
Antenna
USB programming cable
You can expect to invest more time setting this radio up than you would some others because the programming options include contacts, color codes, groups, zones and many other features.
The TYT MD-380 is a Digital Mobile Radio, which is otherwise known as DMR. It gives you access to all bands available through Motorola's Tier I and II service. Tier I is a single channel with limited reach, and tier II is a larger network that allows you to connect to repeaters in your local area.
Every metropolitan area varies when it comes to available repeaters, so you may want to determine what is available in your area before investing in this type of portable ham radio.
Things we liked:
DMR radio features TDMA technology
Compatible with Motorola TRBO (Tiers I and II only)
Things we didn't like:
Programming is extensive and somewhat complicated
Documentation is less than desirable
Yaesu FT-70DR
Since we're talking about portability, we decided to include the FT-70DR from Yaesu in the roster of the best portable ham radios. It's one of the most compact radios we have at only 4.5 inches tall and three inches wide.
Despite its size, this ham radio can reach up to 5W of power, which is more than enough to cover a wide range of frequencies. However, the package does not include the battery that you need for this device. You may want to invest in a high-capacity battery to keep up with its power demands.
Another thing worth noting about this radio is its speakers. Delivering up to 700mW of output, you will be surprised at how loud the sound it produces compared to its size. It also has C4FM, which means you don't have to worry about the background and static noise too much.
Yaesu also remembered to include their latest technology on the FT-70DR: the Automatic Mode Select function. This feature allows the device to determine whether the incoming transmission or signal is analog or digital. The device would then switch the receiver accordingly.
If you need to transmit a message, you will notice an LED indicator on the device's front. It will tell you whether you're on analog or digital mode.
Things we liked:
Compact

5W power

Loud speakers

Automatic Mode Select Function
Things we didn't like:
Battery not included

No other emergency tools included

No VOX function
TIDRADIO UV-5R Ham Radio
The next one on our list is the UV-5R ham radio from TIDRADIO. One of the first things you'll love about this device is that it has a VOX function. That means you can keep your lines open and talk over the radio without pressing anything, leaving your hands free for other tasks.
It has one of the strongest batteries we have on this list at 3800 mAh. Hence, you can rely on the UV-5R to help you communicate with other devices for up to five days. This is particularly important in emergencies as you don't want your ham radio to die early on before rescuers reach you.
While the default antenna is great for local communication lines, TIDRADIO made sure to include extra high-gain antennas in the UV-5R package. By switching to this, you can significantly expand the range of transmission without compromising the signal quality.
If you ever need to fix bugs and add new function updates to your device, the UV-5R includes a programming cable. You can connect it to a personal computer to download and install updates. On the other hand, programming is relatively easier because you can also use the keypads for manual programming.
This ham radio is a great tool for emergencies because it also has a built-in flashlight for illumination at night. If you're still unsatisfied with the device after everything we've said here, you can rest easy. TIDRADIO offers a 60-day no-reason return policy on this device.
Things we liked:
VOX function

Extended battery life

High-gain antenna

Quick programming

Built-in flashlight

60-day return policy
Things we didn't like:
Retevis RT5
We have another one on our list that has a tri-power setting. The Retevis RT5 allows you to switch to high, mid, and low power settings to save your battery. However, its battery life is not as long as the other ones on this list, at only 1400 mAh.
If you're using other radios in your operations that are not from Retevis, you don't have to worry. The RT5 is a dual-band radio, and it can communicate with most dual-band frequencies despite having a different manufacturer.
This radio also boasts a 0 to 9 level squelch. That means you will have a clearer reception line from other devices because it significantly reduces the interference from other radio frequencies.
Talking over the radio is also relatively easier because of its VOX function. You have the option to leave the line open without having to press a button when speaking. This function allows you to use your hands for other purposes without disrupting the line of communication.
It's a great tool to have in emergencies because of its Emergency Alarm button. If you ever get lost or in need of rescue, simply press this button, and the radio will flash its LED lights while sounding the built-in alarm to catch other people's attention.
Things we liked:
Tri-power setting

Wide compatibility

Noise reduction

VOX function

Emergency Alarm button
Things we didn't like:
Buying Guide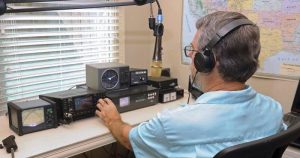 There are portable ham base stations that you can set up in many parks or public spaces, and then there are handheld ham radios that you can use at any time without a base setup.
The handheld transceivers are becoming more powerful by the year, and some now contain advanced features that are comparable to what you might get with a larger unit that requires a stationary setting.
Why Choose a Portable Ham Radio?
There are many reasons that you may select a handheld radio over one that is light enough to take away from home but requires you to setup in one area:
Handheld transceivers are always ready for use. Keep the battery charged, and you're ready for on-the-fly action.
The antennas are built into the unit. You can even purchase more powerful antennas to extend the reach of your transmissions.
Some handheld units are loaded with emergency stations that will keep you up to date when the weather gets bad, a natural disaster occurs or another tragedy takes place.
The best handheld ham radios can connect to repeaters, extending the range of your device. This is a convenient way to connect with other hams further away without losing the mobility that a handheld radio offers.
Do You Need a Ham Shack?
Have you heard about hams setting up their "shack?" This term refers to a home, room, garage, vehicle or another location where a stationary radio is based. This can apply to some portable ham radios if you purchase a larger unit that is mounted into your vehicle for on-the-go use or set up in one spot away from home.
If you're interested in maximizing mobility with your ham radio, the best option is a handheld unit that doesn't require a stationary shack. You will get more use out of a transceiver that clips to your belt and goes anywhere that you go.
Do You Need a License?
While there are no restrictions on who can buy a ham radio, you are legally required to secure a license if you're using a transceiver with a frequency beyond 30 MHz. The technician license is the entry-level option.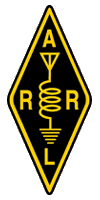 According to the National Association for Amateur Radio, you must pass a 35-question exam to secure this license. You will then have legal clearance to use your radio on all UHF and VHF frequencies as well as limited access to HF frequencies. This is adequate for most hams using handheld transceivers, and you may not need a license at all.
Final Thoughts
Selecting a top quality portable ham radio may seem difficult right now, but our portable ham radio reviews will help you make a smart decision. No radio is perfect for everyone, so we highlighted five options that we would use ourselves or recommend to our loved ones.
Conclusion
If you have the budget for the BaoFeng UV-82HP and will use the ham radio for emergencies, then we highly recommend that you select that portable ham radio. It's loaded with advanced features and lots of different functions. You even have an option to switch to low-power settings to save your battery.
If you don't need these features or simply cannot afford to spend hundreds of dollars, then our top pick for the best portable ham radio is the Yaesu FT-70DR. It delivers more bang for your buck with some advanced features, and you can drop it in water without fear of damage.