The best VHF marine radios are those that are priced reasonably, easy to use, and dependable in an emergency, If you're a die-hard boating enthusiast, you will know how unpredictable and dangerous the weather can be. The sun-filled sky can suddenly turn into a dark, menacing one, and calm waters can instantly become the most treacherous with colossal, building-sized waves. The last thing you want is to be stuck in a disastrous situation at sea, with no efficient means of signaling for help.
A VHF marine radio is crucial for large ships and smaller, seagoing boats. Its primary functions are to activate rescue efforts, and to enable communication with harbors and marinas. If the need for an immediate rescue arises, and let's hope it never does, these devices can send out distress signals with a single button. They can also receive weather radio broadcasts when and where they are available.
That said, it's quite clear to see how one of these radios can very well save your life. Therefore, only the best will do. This article will provide you with information on the best VHF marine radios on the market, so that you are guaranteed ultimate levels of safety and security while sailing out into the deep blue sea. So, let's get started.
Best VHF Marine Radio Reviews
In this section we review the best rated marine radios listed in the comparison table of the previous section. With the help of these VHF marine radio reviews you should be able to find the best marine radio for the money and for your needs.
Uniden MHS75 Marine Radio
Our number one choice is the the Uniden MHS75 Handheld Submersible 2-Way 5W VHF Marine Radio which is jam-packed with hi-tech features.
The advanced memory channel scan feature keeps you informed of any updates and new information by automatically scanning your programmed channels.
In addition to that, it has Dual, Triple and Quad Watch operation modes. This makes it possible to monitor two coast guard distress channels, and one regular marine channel. This way you have every inch of water over a large radius covered.
The fact that the Uniden MHS75 is compact makes moving and carrying a breeze, and this is with the battery, which goes for 12 hours before recharge. Another plus is the large, high resolution LCD screen which is so clear, you can read it while taking a dip.
Let's talk about durability, because the MHS75 is an impressively resilient marine radio. It is built to withstand endless heavy-duty use, and includes an extra-strong SMA flexible rubber antenna belt clip for ultimate mobility.
It is also rated JIS8/IPX8 submersible. What is this you ask? Well, this cutting-edge radio takes waterproof to another level, by being able to last up to half an hour in water 5 feet deep. All the Uniden MHS75 needs is fins, and it will be joining a school of fish in no time.
Uniden UM385 Marine Radio
The Uniden UM385 is another fantastic Uniden marine radio that certainly earns a spot on this list. It successfully combines ground-breaking technology with a top-quality design.
Having full Class D DSC capabilities ensures substantially clearer communication, and enhances the transceiver's performance. Unwanted interference is eliminated, therefore you only receive clear, understandable transmissions which is essential. Accompanying this, is the S.A.M.E. emergency alerts that keep you constantly updated on emergency and weather information while venturing out.
This fixed-mount, 2-way radio features a short chassis design for flexible installation and a rubber grip microphone for additional comfort. Being JIS4/CFR46 Waterproof means that this radio can withstand the severest wet conditions. Splashes and drips have no effect, and its efficiency is never hampered as a result. It is also equipped with full dot matrix and a backlit keypad display, making it simple to use.
Safety and security is provided by way of the distress button and Position Send Request that makes emergency calls as simple as a single button-pressing procedure. If this is ever put into use, GPS data will enable rescuers to locate your precise location. Furthermore, DSC (Digital Selective Calling) allows you to send and receive information between you and other boats in the area.
The Uniden UM385 covers all USA, international and Canadian marine channels, thanks to its 25 Watt transmitting power, which offers unmatched signal reach. This wonder of a device utilizes memory channel scan, so you can allocate names to all marine channels for reference.
Cobra MR F45-D
Ingenuity at its best, the Cobra MR F45-D allows you to head out into the ocean with full confidence and peace-of-mind. It sports a Class D DSC (Digital Selective Calling) which allows you to send a distress signal with the touch of a button, and share information with other boats and stations. The state-of-the art noise-cancelling microphone provides for clear and audible transmissions, while the selectable 1 or 25 Watt output is perfect for short or long-range communication. No matter where you are in the ocean, or how far away you are from shore, assistance will always find you when needed.
The weather alert system has dual mode features which monitor two channels simultaneously. Additionally, it has 10 NOAA weather channels with GPS capability and also is waterproof. In fact, you can leave it for 30 minutes under one meter deep water and it will still be as effective as ever. It weighs under 3 pounds, making it very convenient to carry and position on your boat.
The Cobra Electronics MR F45-D is compliant with the latest FCC specifications for Class-D radios and has a 3 year warranty, though it will be accompanying you for much longer than that. With an array of extra features, usually reserved for more pricey VHF radio units, the MR F45-D is a truly superb marine radio that has been custom-made with your well-being in mind.
Icom M330G
The Icom M330G is a fixed VHF Radio option which we wanted to add in here for diversity of options. It works well and offers great range and clarity. You will instill this onto your vessel along with the GPS antenna, which you can situate near the radio or atop your boat. it offers a large and easy-to-use LCD screen with soft key menu operation. With 25/1 Watt power, and IPX7 waterproofing, you should feel confident using the IcomM330G out at sea.
Cobra MRHH125
The Cobra MRHH125 is an inventive waterproof marine radio with enough ground-breaking features to keep you safe and alert for lengthy trips out at sea.
Its weather alert with distinct tone and visual alarm effectively notifies you of any nasty weather nearby. Instant channel 16 and channel 9 access is available for emergency situations that may arise, as well as all 10 NOAA channels for hazards and weather updates.
Extra self-assurance comes by way of its battery saver circuitry that extends the life of the batteries by automatically switching to battery saver mode within 10 seconds if there are no transmissions.
One major advantage of the Cobra MRHH125 is that it is handheld, thus compact and lightweight by default. This makes for the utmost accessibility and ease of use. The keys and buttons have a lock function that eliminates the accidental changing of settings.
Its hi-tech, noise cancelling microphone successfully blocks background noise, allowing clear-cut and distinct transmissions. To top it off its backlit LCD and keypad which allow it to be used in low-light conditions and to turn off automatically for battery power conservation.
The radio also comes with a nifty wrist strap, a durable spring-loaded belt clip, a 12V power cord and 5 rechargeable NiMH batteries.
Rounding off its unparalleled supremacy is its access to all U.S., Canadian, and international channels, making the Cobra MRHH125 one of the most dynamic and ingeniously designed marine radios available on the market today.
Best Marine VHF Radios Buyer's Guide
The broad scope of extra features found on these life-saving devices can be overwhelming for the unacquainted. For your convenience, here are the main things to take into consideration when looking for the best VHF marine radio.
Digital Selective Calling
A marine band radio is required to have standard DSC, or Digital Selective Calling. In fact since 1999 all radios, except for handheld VHF radios, are required by law to have this operating mode. This will send an automated digital distress signal with your boat or ship positions, as well as your identity, to other crafts and rescue agencies that are within VHF range.
Check out the video below for some more information on DSC.
GPS
GPS is an essential feature for a marine radio. It enables you to broadcast your precise location, allowing for easy search and rescue retrieval during times of emergency. Not all marine two-way radios have this option, so ensure that yours does.
Automatic Weather Alerts
It is imperative for marine radios to have automatic weather alerts, like National Oceanic and Atmospheric Administration (NOAA) and Specific Area Message Encoding (SAME). This is vital and not to be compromised. Keep in mind that in the event of a catastrophe, it is important that your radio is easy to control and operates efficiently.
Waterproof And Durable
Pick a heavy-duty radio that is both tough, and waterproof. There is always the chance that your radio may fall into deep waters. Luckily, today's advanced technology provides for enhanced waterproof capabilities. Some marine radios can last under water for lengthy periods of time, while still being in full working order when recovered. Don't settle for a simple splash-proof radio.
Strobe Lighting
One of the biggest developments of recent years has been buoyancy technology. If you drop the radio in the ocean by accident, you can retrieve it thanks to phenomenal strobe lighting. This hi-tech breakthrough enables you to locate your radio, even while underwater.
ATIS Compatible
If you are planning on sailing to another continent, make sure your radio set corresponds with ATIS. It should also have dual or tri watch for scanning between channels whilst monitoring channel 16. Moreover, a customizable scan function is recommended to monitor all the channels you need to without missing a call.
For a detailed explanation on ATIS check out this video:
Necessary Accessories
In addition to the radio, there are many important items that are needed while out at sea. Most marine radios come with these, but double-check just to make sure. These include; batteries, belt clips and antennas. And if you're a serious user or semi-commercial user, you may want to see if the radio comes with headsets, cases and speaker microphones.
Warranty
For your peace of mind, make sure the dealer and manufacturer can back up their claims in terms of quality. Those that have good technical support and warranties are also advisable. Most manufacturers offer a 3 year warranty at the very least, so verify this before purchase.
Types Of VHF Marine Radios
There are two types of marine VHF radios that are both equally efficient, but cater for specific requirements. Here is a brief overview of their advantages and capabilities. You simply need to choose which one is better suited for you.
Handheld VHF Marine Radio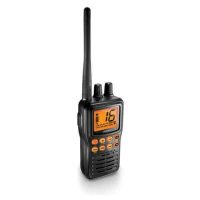 Handheld VHF radios are commonly used as an emergency back-up for fixed radios, as personal radios for crew or use in tenders because they are portable. Handheld marine radios are also compact and small, thus offering a major advantages over larger ones. Handheld radios are often the optimal choice for smaller boats that lack their own battery source.
Due to their smaller size, handheld VHF marine radios only have a maximum transmit power output of around 3 to 5 watts. Their range will most likely be restricted to about 5 miles. A good Lithium Ion battery can provide longer battery life. Many have active noise cancelling technology for loud environments, such as on a motor cruiser.
Fixed Mount VHF Marine Radio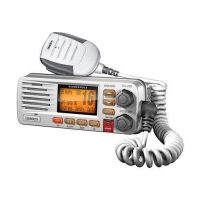 Fixed mount VHF marine radios provide a significantly larger range than handheld radios. This is mainly because of their extra power capabilities. Transmitting on 25 watts, which is the legal limit, will maximize your range anywhere from 5 to 30 miles.
Further benefits of a fixed-mount marine radio are their ease-of-use in choppy sea conditions, and the numerous options when it comes to antennas. These VHF marine radio antennas come in a wide range of variations, such as straight mount, swivel mount, ratchet mount and rail mount.
With fixed mount radios you can even set up dual stations and navigate using GPS. Dual station is one of the popular features on fixed-mount systems, and allows you to install a microphone in another room inside your boat. Furthermore, you can operate dual stations from the helm radio. Fixed-mount VHF radios also have DSC calling capability, allowing you to alert other boats, ships and shore stations with a simple press of a button.
Brands
While there are various companies that produce great vhf marine radios, some brands have established their reputation for producing the best marine radios. If you are looking to buy the best vhf marine radio then you should definitely check out the following brands.
Uniden Marine Radios

Uniden has long been regarded as a leader in the realm of consumer electronic products. Their products are sold throughout North, Central and South America, securing its established international presence. You can read our full best Uniden Marine Radios guide for more information.
When it comes to VHF marine radios, Uniden outshines the rest. Consumers have cited their wide range of technologically advanced features as a reason for opting to go with them. Their radios are capable of using all U.S., International and Canadian marine channels, as well as 10 weather channels. They are use-friendly and remain well-powered, with rechargeable batteries that have a life cycle of 12 hours on a single charge.
Uniden marine radios are also compact and lightweight, ensuring ease-of-movement. Their exceptional level of quality and durability has been proven time and time again. The resilient casing, specifically designed for heavy-duty use is virtually indestructible. An Uniden marine radio will last you a lifetime.
Additional features prominent on their marine radios, are CD screen displays and SMA Flexible Rubber Antennas. Also, they have powerful VHF receivers with high/low power settings and accurate GPS receivers. The Uniden brand is, to this day, synonymous with supreme quality and high standards, making it undoubtedly one of the most trusted and steadfast brands in the industry.
Recommended Uniden Radios
Standard Horizon Marine Radios

With roots going back half a century, Standard Horizon has been providing the most outstanding marine electronics to boat devotees around the world. They won Best Choice on practical-sailor.com in 2015, and since they have continued to up their game. You can check out our full Best Standard Horizon Marine Radio buyer's guide for more information!
Standard Horizon marine radios have multi-band and DSC capabilities, and advanced features, such as full dot matrix display with channel names, position requests and position reports. With new units being released constantly, consumers can always anticipate amazing new and improved features.
Current features of Standar Horizon radios include; GPS position loggers, NOAA weather channels with weather alerts, programmable memory and priority scan and dual and tri-watch scan functions. Another one of its remarkable features is the water activated SOS strobe lights, which enables the radios to turn on and flash SOS, even if dropped in the water or while the radio is turned off.
Standard Horizon is always on the move, and constantly upgrading its features. Their team of skilled engineers use imagination and creativity to produce the most innovative electronic marine devices. This, together with next-generation ingenuity, make them a formidable force in the industry and one that takes on completion with ease.
Recommended Standard Horizon Radios
ICOM Marine Radios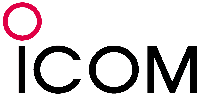 For over 40 years ICOM has been manufacturing marine VHF radios that remain at the top of the marine electronics industry. This is for good reason, as they have sustained unmatched standards of enhanced VHF radio performance, productivity and efficiency. You can check out our full Best ICOM Marine Radios buyer's guide for more info!
ICOM's handheld marine radios feature Class D DSC capabilities, in addition to all the basic VHF functions. Receiver sensitivity is renowned and top-rated, while selectivity carries a specification of greater than 70dB. Icom marine radios allow you to send and receive distress signals to all ships and boats in the area in times of emergency. They also sport a stylish and modern design that is extremely durable and able to withstand the most severe weather conditions.
A marine device with an ICOM logo goes a long way, and the name is renowned the world over for the production of award-winning marine radios for a wide range of vessels. The ICOM brand is one of integrity and performance, and their reputation is as prominent and renowned today as it was 40 years ago.
Recommended ICOM Radios
Cobra Marine Radios

Cobra is a one of the foremost brands for navigational product design and marketing in the United States, Canada, Europe and the rest of the world. Among its wide range of products are hi-tech radar detectors, innovative navigation systems and exclusive two-way radios. You can check out our full in-depth Best Cobra Marine Radios reviews for more information.
A floating design and orange core makes retrieving a Cobra marine radio easy, even if dropped overboard. The ergonomic and compact design makes them easy to hold and intuitive to operate. The radios also include key features, like noise-canceling microphones that block background noise for clear communication, NOAA weather radio for multi-channel coverage and top-notch weather alert systems.
Cobra marine radios have reliable distress call buttons to use in case of emergencies, and come with detailed user manuals on how to operate them. An added valuable extra is the locking desktop charger feature with AC/DC adapters, that can handle your VHF radio communication easily and without interruption.
Cobra continues its already 50 year old trend by developing first-rate marine products, suitable for recreational and professional boaters. After all this time, its radios are still durable, high-quality and, most importantly, very affordable pieces of marine equipment. With Cobra, you simply can't go wrong.
Recommended Cobra Radios
Lowrance Marine Radios

Established in 1957, Lowrance marine radios provide a convenient way of communication with limitless capabilities. They can transmit their own signals thanks to the internally generated GPS position with emergency signal. At the press of a button, you can to send your location, via GPS coordinates, to anyone else who has a Link-2. Lowrance marine VHF radios include irreplaceable microphones, six efficient quick keys for reliable helm operation, and a built-in speaker which delivers flawless audio quality.
In terms of sturdiness, Lowrance radios will last you for years, without any malfunctions or wear-and-tear. They are built out of durable, tough materials that provide both interior and exterior protection.
Another benefit of Lowrance marine radios that must be mentioned are the amount of high-end features and accessories that these radios come with. These include; five watts of broadcasting power, an IPX7 waterproof rating, easy-grip rubber-molded covers for secure handling and extra-large rotary knob interfaces, allowing for swift channel changing.
Lowrance has always been aiming towards the new frontier in marine device innovation and value. The results are evident in its many accomplishments, and its creativity offers a fresh, updated twist in a market flooded with competitors.
Recommended Lowrance Radios
Best Marine VHF Radios Review Summary
There you have it folks! Pearls of information on the best VHF marine radios out there today. Supreme radios that would even make Popeye give up his spinach just to get hold of one.
On a serious note though, this article has given you an ample amount of knowledge and info to make sure you are safe and confident on the water at all times. Don't take any chances, it's just not worth it. Go out and get yourself one of these marine radios, and always stay alert, connected and safe. Happy sailing guys!