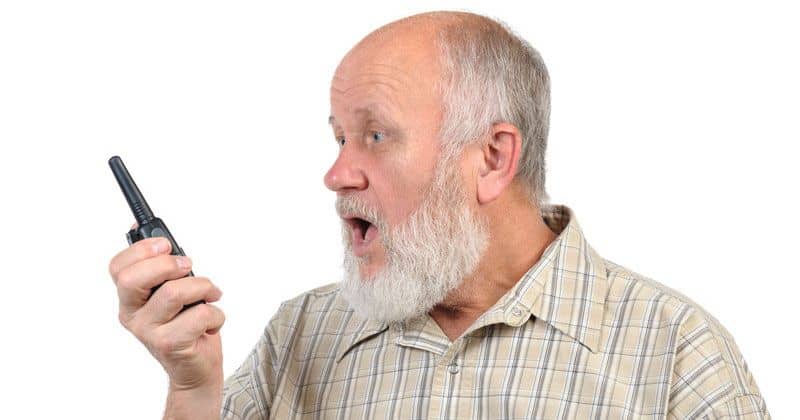 We review the best walkie talkie for seniors and elderly folks in this article, with a focus on finding options which are affordable, easy to use, and perfect for elderly folks to communicate. Seniors can benefit greatly from walkie-talkie systems. This is especially true if the seniors struggle with dementia or mobility issues. Seniors often require special attention from their children and caretakers. They must be able to communicate quickly and effortlessly to let people know they need assistance. Walkie talkies offer an easy communication solution for seniors and elderly folks who want to be safe and talk with those around them.
Best Walkie Talkie for Seniors and Elderly
Walkie-talkie devices can come in handy especially for seniors who struggle with the technology of cell phones. You can use the following products and tips for buying the best walkie talkie for seniors and elderly.
CallToU Caregiver Walkie Talkie for Seniors
The CallToU Caregiver Walkie Talkie for Seniors
 is our number one option for seniors looking for an easy communication method. This product is specially designed with very easy to use buttons, clear and crisp communication, and great range of up to 4 miles. You can use these to communicate with your family, children, caregivers, and friends. This also comes with a neck strap which makes it easy for you to take your walkie talkie with you on-the-go. This is definitely the best walkie talkie for seniors to communicate with those around them!
Motorola T100
Motorola Talkabout T100 Two-Way Radio (2-Pack)
Simple, compact and easy-to-use by the entire family, the T100 is the perfect way to stay in touch when out and about, whether at the playground, hiking in the park or enjoying a picnic
Things we liked:
Simple, easy to use walkie talkie

Up to 16-mile range

Up to 18-hour battery life

Compact size
Check the price on Amazon
We earn a commission if you make a purchase, at no additional cost to you.
The Motorola T100 Talkabout Radio 2 Pack
 is a great and affordable option for seniors. With consistent sound quality and a simple layout, seniors of all abilities can easily use these to communicate with friends and family. With over 18 hours of battery life, one-button talk, and compatibility with all Walkie Talkies, these are a great option!
These are a reliable option for folks communicating around the senior center, home, or park!
GOCOM Walkie Talkie 
The GOCOM Walkie Talkie radios are lightweight, simple to use, have large buttons and are reasonably priced. The amount of coverage for the low price simply cannot be beaten. This is the perfect choice if you are looking for a walkie-talkie that is reliable and ensures safety at a price you can afford. Another bonus is that these come with batteries AND headsets, which are great for those older folks who do not hear well.
Cobra Electronics ACXT 145
The Cobra Electronics ACXT 145 is a good fit for elderly because of its ease of use, excellent battery life, fast recharge capability and the large buttons. It delivers very good quality and reliability at an affordable price. It is simple and straight forward, which makes it a great choice for elderly folks who just want an easy way to communicate with their loved ones.
One Button Walkie Talkie For Elderly
Sometimes even a walkie talkie can be complicated for seniors to use. Another great options for seniors is the one button walkie talkie CallToU Caregiver Walkie Talkie Neckplace Pager, which comes from the same brand as our top recommended pure walkie talkie. This device fits comfortably around your neck, and offers easy communication and no worry of having to carry or hold your device. This is a reliable and simple option which many seniors benefit greatly from.
Other Great Technology for Seniors and Elderly
Walkie talkies are not the only devices which can help seniors live safer, happier, and healthier lives. We have compiled some of the best technology, from radios to monitors to alarm clocks, for seniors to enhance their lives!
Best Simple AM / FM Radio for Seniors
This I-Box AM / FM Radio is perfect for seniors who want an easy to use radio to listen to AM and FM channels. With a nice wood design, this radio has over 15 hours of play back and just a few buttons. You can also plug your headphones into the headphone jack for better sound quality, and you can store up to 20 of your favorite stations for easy access!
Best Alarm Clock with Large Numbers for Seniors
Many seniors want an alarm clock which is straight forward to use and easy to see. With 3″ illuminated LED digits this DreamSky Digital Alarm Clock is the perfect choice, as it offers a large button, strong sound, and is powered by your outlet with 2-AAA batteries to keep time in case of a power outage. Furthermore, it has a snooze feature so that you can still enjoy a couple extra minutes of sleep when you need to!
Best Digital Day Calendar Clock (Dementia Clock) with Reminders
Sometimes, whether it's through memory loss or illness, a loved one may become confused with the time of day and day of week, which can be distressing for carers, family and friends. Worse, it can mean that a senior forgets to take important medication which makes the situation worse – something I know only too well from personal experience. This easy to read calendar clock, with extra large day/date and time clock, also has 3-medication reminders and 5-custom alarms which can help memory loss elderly to take medicines more regularly.
Things to consider for the best walkie talkie for seniors and elderly
The remainder of this article will discuss some aspects you should consider when you are looking for a walkie-talkie for seniors and elderly.
Easy to use radio for seniors
Seniors may not want an advanced walkie talkie with lots of features and capabilities. They want a simple and easy to use radio / walkie talkie for communication in their home or nursing home so they can feel safe and accessible at all times.
Big button radio for seniors
Elderly often struggle with dexterity. Their fingers may be sore from arthritis or similar conditions. They need a walkie-talkie system that has large buttons. Larger buttons make communication so much easier for seniors with disabilities. They'll be able to press the buttons and reach out to you whether you're inside or outside.
The comfort of your voice will help the senior feel better while they navigate their daily lives. Make sure to find a walkie-talkie with buttons large enough to be used by seniors. They will appreciate how simple communication can be when they need to get your attention from another part of the house.
Reliability
A senior's walkie-talkie must be reliable to help them in their daily lives. This means you must find a walkie-talkie that can take a bit of a beating. Don't buy a system that will break the first time it is dropped or pushed off a table.
You must also find a walkie-talkie device that can hold a lot of battery power. Seniors may forget to charge the walkie-talkie or change the batteries. The walkie-talkie must be ready to go when they need it. Search for the most reliable system you can find for the seniors in your life.
Reception and clarity
The walkie-talkie must deliver good sound quality when you speak into the microphone. People with good hearing can have trouble with walkie-talkies at times. Elderly often have a lot of trouble hearing in their daily lives.
You must find the system that allows them to hear the messages as clearly as possible. These will be the most helpful walkie-talkie systems for the seniors. Try a few different systems before you commit to buying them. You might be surprised how many different styles of walkie-talkies are on the market today.
Other resources
If you are interested in more useful tips and gadgets for elderly I can definitely recommend this article.
If you want to read more about walkie talkies you can read our Best Walkie Talkie Guide.