Midland has been in business for more than 50 years, during which the Kansas-based company has pioneered the development of two-way radio technology. It currently offers weather alert radios, mobile and base stations, and some of the highest-rated CB radio equipment available. One sought-after product offered by Midland is the 1001LWX 40-channel mobile CB radio.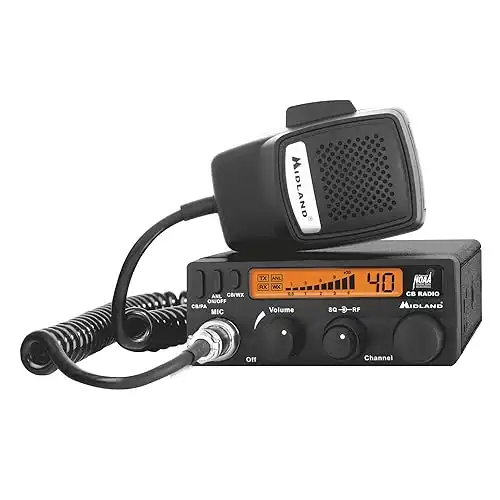 Here is an even smaller unit than Cobra's CB 18WXSTII. The manufacturer advertises the radio as a professional 40-channel device. To what extent this description applies, we will examine it in the following review. For this purpose, we will go into the scope of delivery, the range, power supply, and functionalities of the device, among other things.
Power Source
Although the description says the unit requires two AA batteries, the power supply for the Midland CB radio is provided differently, as you can hardwire the radio. No batteries are needed to power it, unlike portable radios such as the Midland G18, which has a rechargeable battery.
The Midland 1001LWX is a two-way radio and has a good transmitting power of four watts.
Range
The range and sensitivity of the Midland 1001LWX are pretty decent, with the maximum range specified as 26.965MHz to 27.405MHz. How far the device transmits depends on the antenna, the antenna placement, antenna height, signal strength, as well as how you tune it. For better performance in terms of range, you can get a high-quality antenna with an SWR meter for tuning it up to the maximum range.
Features
Starting with the appearance, the mobile radio is quite sleek and modern-looking. With the bright LCD, you will have no problem reading information on the screen. An LCD meter shows you all the receiver and transmitting signal strength.
The Midland 1001LWX is a basic compact package comprising around 40 complete CB channels. From this particular CB radio, you will have 4 watts of power output to give you the greatest range this device can provide.
At first glance, it looks like the front has a ton of buttons, and that's because it's true. You will have the CB / PA volume control switch to let you use it as a PA system (when paired with PA speakers). You will have RF gain to adjust the receive sensitivity, control the squelch and the on/off button. There are no fancy LCD screens but rather a basic LED signal strength indicator. On the screen, bars indicate the strength of reception.
The microphone extension is the perfect accompaniment to this small portable CB radio. One of the cheapest units in its range, it is ideal if you want a beginner-style citizen band radio.
The radio has a microphone connector with four pins and can be used with other mics, making the radio easy to use. Although it's not in any way close to the best models on the market, the quality of the transmitted sound is good, and the sound reception is equally impressive, thanks to the modulation.
The radio has a digital tuner with 40 channels. This comes with a lot of benefits. First, scanning for active channels is fast and easy. Also, you can easily lock into channels you prefer.
Few radios have PA options, RF gains, and weather bands within this price range. The radio has a couple of weather channels that provide weather alerts, one of which is the NOAA weather channel which you can use to stay up to date with information on hazardous weather.
The weather channel automatically searches and connects you to a strong weather channel around your location. When it finds a strong channel, it hooks or locks into it.
Weather channels are ideal for planning movements and taking the proper measures to avoid being caught in adverse or hazardous weather conditions.
CB radios like this are one of the oldest electronic devices used in motor vehicles. Today, they are still used by countless drivers from all walks of life, from law enforcement, paramedics, firefighters, truck drivers, and many more.
Things We Liked
Has weather channels that provide weather alerts
Doesn't require batteries (hardwired)
You can adjust the sensitivity range
Includes an automatic noise limiter
Easy and quick to install
Things We Didn't Like
No fancy bells and whistles
Poor weather and traffic radio
Conclusion
This CB radio is what you can buy as a regular consumer on the internet.
There's nothing fancy about it, and looking at the price it's sold for, it's a good-quality radio, considering you have up to 40 channels, including an NOAA weather channel.
It's not the best CB radio, but it is highly rated for its functionality, price, and convenience.