There are so many different walkie talkies that are available on the market, but how do you know which one will be best for your specific needs? If you want something that can really be put to the test in whatever your outdoor adventures are, the military grade walkie talkies can be the best option for you. Made for military and outdoor survivalist needs, the military grade walkie talkies will be durable enough to withstand whatever you put it through. This article will take a look at some of the best options for military grade walkie talkies for you to consider.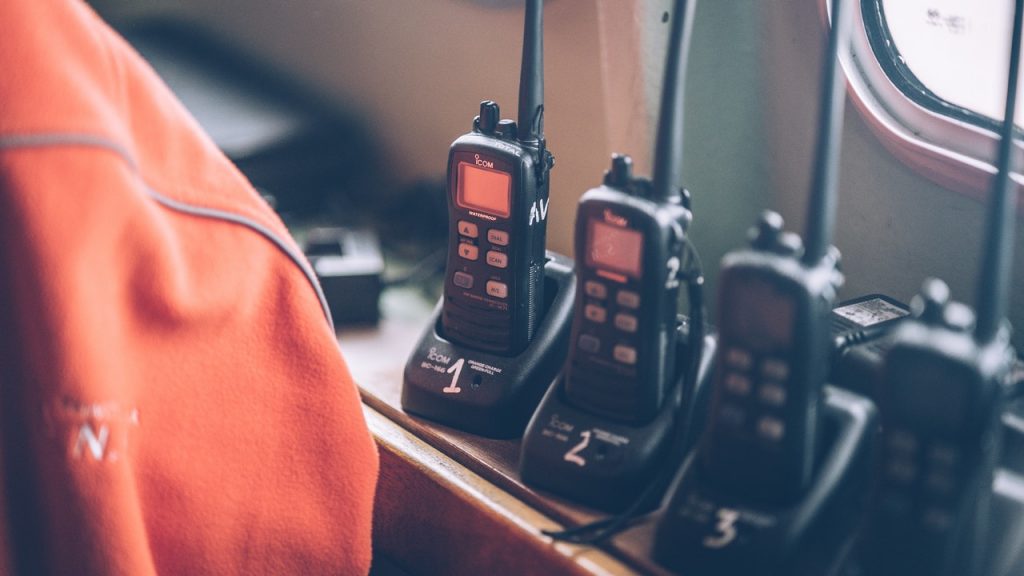 Top Choices for Military Grade Walkie Talkies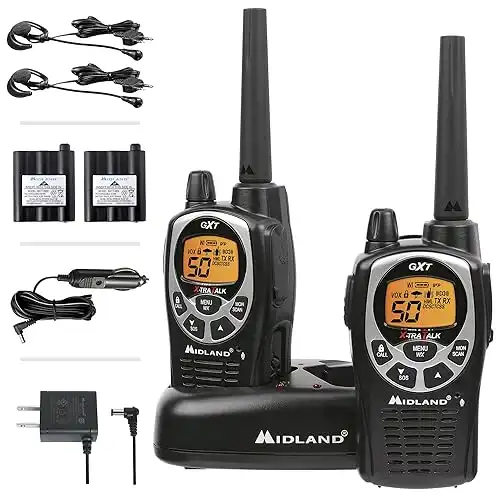 Midland GXT1000VP4 Long Range FRS/GMRS Walkie Talkie
Things we liked:
Supports 22-FRS and GMRS channels for maximum flexibility.

Choose between rechargeable or AA batteries for extended talk time.

Exceptional audio quality.

Built in weather alert feature keeps you safe by notifying of changing weather conditions.

Rugged construction means these radios can handle the toughest conditions.
Things we did not like:
Use of GMRS channels requires an FCC license.

Real world range of 1 - 1.5 miles in normal situations.

Headset could be uncomfortable with extended usage.

A weatherproof rather than waterproof radio.
Check the price on Amazon
Check price on Walmart
We earn a commission if you make a purchase, at no additional cost to you.
These two-way radios offer 50 general mobile radio service (GMRS) channels, which includes channel scan so that you can check for activity on the channels that you are trying to use. Much like other options from Midland, you also get NOAA Weather Scan feature typically offered by this brand, as well as Alert Technology. What this means is that you will get updated on any potentially severe weather if it comes into your area.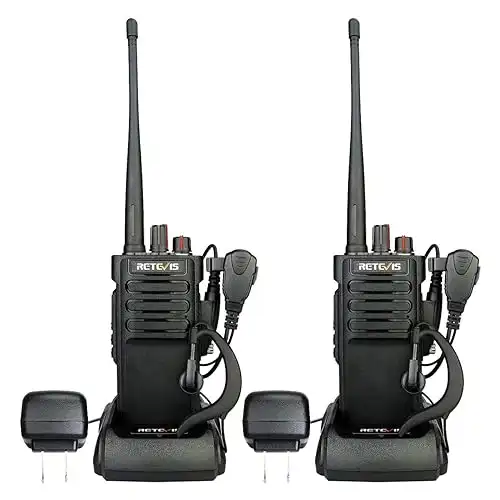 This option has up to 22 hours of battery life per charge, which can sometimes be more than enough for a hiking trip. These radios have built-in flashlights, which can be useful for communicating at night. The Retevis is a durable walkie talkie that you can absolutely count on for whatever weather conditions you may encounter on your outdoor adventure.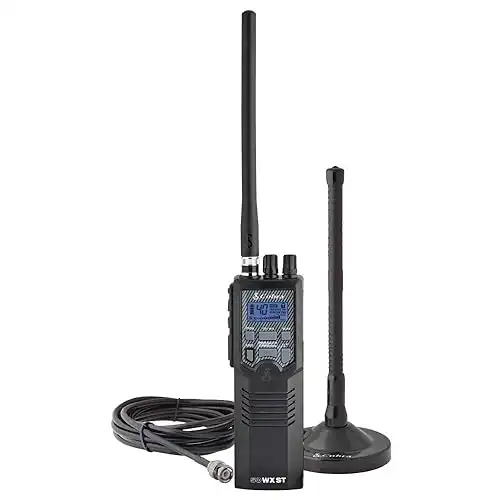 Known for its simplicity, this Cobra model walkie talkie has some of the longest range available for these types of walkie talkies. There are plenty of things to love about this walkie talkie. For one thing, you get access to up to 10 national weather channels, ensuring that you are safe even when you're out on your outdoor adventure. It also has 40 channels and the ability to save you a lot of battery life, meaning that your battery will have charge when you need it the most.
Choosing the Best Military Grade Walkie Talkie
These top choices for military grade walkie talkies are all great choices, but how do you select which one is the best one for you? This section will take a look at some of the different considerations when you select these types of walkie talkies.
Channels
Having a wide variety of options for channels can really make a difference in your experience with your walkie talkie. Interference is a major issue that can negatively affect how well your walkie talkie functions. Being able to switch through the channels to find something that works for you can be exactly what you need.
Battery Life
Battery life is also a major consideration when selecting walkie talkies. The whole point of having a walkie talkie is to have something on you should an emergency arise. If your walkie talkie doesn't have much of a battery life, you may not have the ability to contact anyone in case something does happen. Be sure that you get something with a solid battery life, as well as options to charge the battery on the go in case you need it.
Range
You never know how far away you may end up from the rest of the group. In these cases, it can be a good idea for you to keep range in mind whenever you are selecting a walkie talkie. Just remember that range is a basic average of how far communications can be from each other in the most ideal of situations. You may not always be in those ideal situations, so you want something more powerful to compensate for that.
Durability
Military grade walkie talkies are great options because they offer durability. When you are an outdoor adventure, you need a reliable walkie talkie that can withstand quite the beating. That's exactly what you get with a military grade walkie talkie. Since these options were made for extreme situations, you are more likely to have your walkie talkie survive any major issues.
Features
Finally, you want to make sure that you get an option that has all of the features that you need as well as some features that you want. You need to prioritize what you really need, as this can help you save money on this purchase. Some features to consider include VOX/hands-free, alarm system, amazing voice quality, and water-resistant/weather-resistant casings.
Conclusion
Military grade walkie talkies stand out as some of the most durable and reliable options on the market. The options listed in this article each are great options that you can consider for your needs. These can vary significantly in prices, so it's important that you know what your priorities are so that you can buy the right walkie talkie for your needs.