The Motorola CLP1010e is a two-way radio that is mainly used for on-site communication in an office building. It's the perfect option to have on you if you're looking for something that's compact, lightweight, easy to use, and convenient to carry. There's nothing complex about this, so you will have a great time making use of this for your regular business use.
It's the perfect solution to those bulkier versions as you'll be able to carry it around with ease. They are specially designed for use in hospitals, restaurants, retail businesses, and similar industries. That's mostly because there is such fast-paced work going on here that it's essential to be in contact at all times with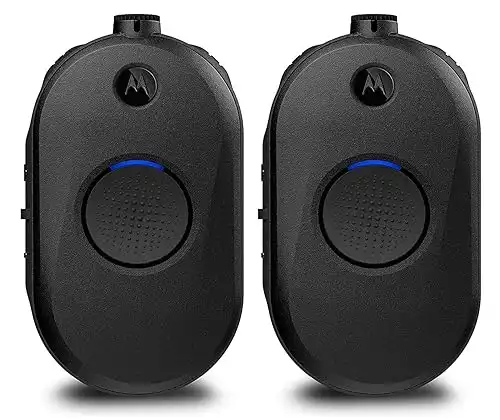 your team. This review will help you figure out the details about this on-site, two-way radio to see if it will suit your needs and preferences.
Power Source
The Motorola CLP1010e is quite convenient when it comes to charging as it comes with a rechargeable battery pack. You don't have to worry about complex charging or power supply solutions for this convenient device. All you have to do is recharge the battery pack, and you're good to go.
The rechargeable lithium-ion battery can last you up to 12 to 18 hours of battery life. This is pretty good when it comes to business radio devices. You won't have to charge them every day, but if your use is excessive, a daily recharge could be necessary, which may be inconvenient for your needs.
Range
If you're looking for a great option in terms of offering a wide range, then this one is here to give you a range of up to 100,000 sq. ft. You can also see this in terms of floors. For instance, this business radio offers exceptional coverage for up to 10 floors of your building. It's a pretty convenient option to have on you when you need constant contact with people in the office building.
Features
One of the more prominent features of this business radio is its portability and convenience. Its small and convenient use makes it one of the most effective radios to have onboard while you're working. You won't have to worry about anything as it covers a wide range and comes with a 2-earpiece audio solution.
Along with this, you'll find that the radios themselves give you access to about 99 UHF business frequencies so that you can stay in contact at all times. It's renowned for its flexible business-exclusive frequencies as they're all relevant to your needs. Along with this, you'll find that you can easily make customizations in your radio settings by connecting it to your PC. It's simple and not difficult to do at all.
The business radio has a very high battery life as it's made using lithium-ion. These rechargeable batteries allow you as much as 18 hours of continuous use in a day. That's more than enough for business needs.
Another thing to note is that it offers a smart status glow using a color that allows you to know about active channels, radio transmit and receive, battery status, and more. Overall, it's a very easy-to-use radio that you'll have a good time getting used to.
Based on the nature of the work of the people who use this product, the radio also comes with extra protection, such as antimicrobial protection. This prevents the formation or growth of mold and germs on the top of the radio. These radios are affordable and allow you to make great use of them.
Overall, the business radio is here to improve communication between staff and employer, and it has been effective at ensuring that there's less distortion when it comes to this. It's removing the trouble of extra bulky radios and bringing portability and ease of use.
Things We Liked
Easy to use, even with no prior experience
Small and portable – can be taken anywhere with you
Business-exclusive channels
Great range of use
High-capacity Li-ion battery in use
Things We Didn't Like
Restricted area use limits usability
Conclusion
In conclusion, the Motorola CLP1010e is surely one of the best things out there when you're looking for a business radio for use. While the location restriction is present, the radio offers a lot of convenience into the everyday lives of employees and employers. It bridges the communication gap between the two parties and allows them to be more productive.
Not only this, but the device itself is quite effective as it offers you a range of exceptional features that allow you to make the best use of it. This two-way radio is widely used in many businesses, and so it proves to be a good solution for yours as well. It's highly rated when it comes to durability and will ensure that it adds value to your business operations.