How do you find the best home police scanner in today's competitive market? Whether this is your first police scanner or you're upgrading an older model, our guide will help you find the scanner that best fits your personal needs.
Adding a police scanner for home use to any residential or office setting will keep you in touch with the world around you. There are a lot of quality scanners on the market today, and our goal is to help you quickly find the one that will meet or exceed your expectations.
Best Home Police Scanner Product Reviews
Selecting a police scanner for home use is different from shopping for mobile or portable police scanners. Keep reading to learn about three of the best home police scanners available today.
Whistler TRX-2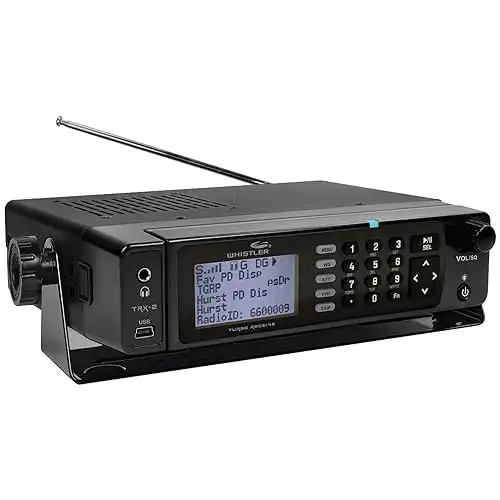 The Whistler TRX-2 is the most expensive police scanner for home use that we recommend, but it offers some features that make it more than worth the price tag for many users. Let's start with the fact that it's much easier and faster to program than other leading police scanners.
The Whistler TRX-2 is a zip-code based police scanner, which means that it uses your current zip code as the center of your radius. This makes it easier to connect with frequencies that are strong in your local area, but it also makes programming the scanner faster and less complicated.
This Whistler police scanner comes with a favorites list, which allows you to store some of your favorite channels for fast tuning. It also features a dedicated button for connecting to weather alerts, and you may find the calendar and clock useful.
If you're concerned about seeing the screen of your scanner in low light, note that this scanner does come with backlighting. It's also a compact design that is easy to move from room to room of your home if needed.
Things we liked:
Big screen is easy to see
Fast and easy to program by zip code
Pre-loaded with microSD card for U.S. and Canada
Online updates available
Backlighting on screen
Things we didn't like:
Price is prohibitive for some users
Software is sometimes buggy
Uniden BC355N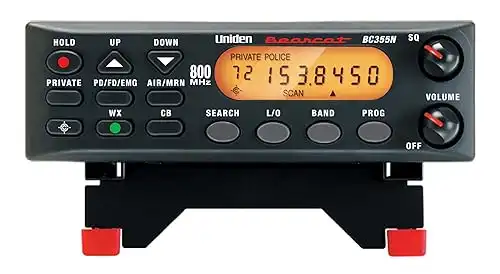 We routinely recommend the Uniden BC355N model as a top rated home police scanner, but it's also an effective mobile police scanner. This may save you some money if you want to invest in home and mobile or portable scanners.
The Uniden BC355N is also one of the more affordable police scanners that we recommend. It sells for less than $100 even if you have to pay full price, but keep in mind that the appearance isn't as sophisticated as the higher-priced models that we include in our home police scanner reviews.
While you can't expect a lot of advanced features on an entry-level police scanner, there are some options on this model that are worth mentioning. For instance, it comes with close call RF capture so that you can easily connect with transmissions sent out from local transceivers.
This is also a great home scanner if you want to quickly connect to your local police, fire and emergency response stations. This is the primary intended use for this affordable home scanner, and you can hit one button to find those channels quickly.
Things we liked:
Screen backlighting
Scans 100 channels per second
Emergency bands are pre-programmed
Lockout feature
Also functions as mobile scanner
Things we didn't like:
Limited reception
Cheap looking design
Uniden HomePatrol II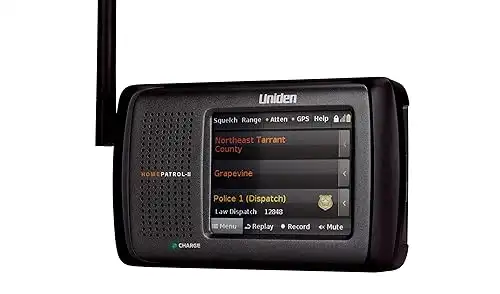 We consider the Uniden HomePatrol II one of the best home police scanners, but it's also quite versatile. You can connect it into your vehicle, turning it into a mobile police scanner. Since it weighs only two pounds, it's also light enough to move from room to room of your home easily.
While the Uniden HomePatrol II sells for more than $400 at full price, it's one of the best scanners when you consider the number of frequencies that it can pick up. It will allow you access to analog and digital channels, and it's compatible with some Motorola systems.
You may also appreciate that this home scanner comes with a touch screen. This makes it more intuitive, especially if you're accustomed to using advanced smartphones and other electronics.
If there is one thing that limits this police scanner for home use, it's the antenna. It's rather short and low quality, and that impacts your reach. The good news is that you can easily purchase a higher-quality antenna for instant improvement.
Things we liked:
Modern touch screen
Record feature
Instant replay feature
Connects with analog, phase I and phase II signals
Things we didn't like:
You May Also Like:
What is the Best Polic Scanner for Home Use?
Home police scanners are designed to sit in one place within your home or potentially your office. That doesn't mean that you can't move them from room to room or even connect them into your vehicle if you have the right power adapters. Some are lighter and easier to transport than others, so keep that in mind if you don't want to keep it in one stationary location.
Selecting a good home police scanner is often difficult, especially if this is the first scanner that you've purchased. This brief guide is quick to read and will help you make a smart buying decision based on your personal needs and intended use.
How Much Do Police Scanners Cost?
When you consider all police scanners on the market today, prices tend to range from less than $100 to well over $500. There are many cheap home police scanners on the market, but you can expect to spend at least $100 for a high-quality model with reasonable reach and clear reception.
Even if you have a limited budget, we encourage you to look at the home scanners that we recommend in our product reviews section. This will give you an idea of the advanced features available today even if you cannot afford those models right now. You may want to upgrade your entry-level scanner in the future, and it's important to understand the limitations of your current scanner.
Do You Really Need Advanced Features?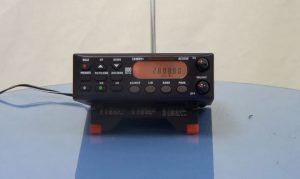 This is a personal question that every user will answer differently. Think carefully about how you intend to use your scanner today and what you may want to do with the scanner in the future. You want your scanner to last as long as possible.
If you only want to listen to your local fire, police and EMT stations, then you may not use many of the advanced features that come with higher-priced police scanners for home use. If you're into this as a hobby or want to expand your reach beyond your local emergency services, then you can save a lot of time by investing in a more advanced scanner.
Selecting a Police Scanner for Home Use
Are you getting excited to select the best home police scanner for your individual needs? You now understand how you intend to use the scanner, and you have a good idea of your maximum budget. You're ready to consider the features of each product covered in our honest police scanner reviews.
When selecting a scanner, think about the features that you will actually use now or in the future. If you don't think that you need to scan thousands of channels, it's still wise to invest in a scanner that will cover more channels than you think that you need. It's better to have too much room than to outgrow your scanner quickly.
Conclusion
If we had to recommend just one police scanner for home use, we would point to the Whistler TRX-2. While it is one of your most expensive options, it's also the easiest to use. The advanced features will also make your scanning experience more enjoyable.
If you're working with a more limited budget, consider the Uniden BC355N. While it is affordable, it ranks as the best home police scanner for those interested in listening mainly to local emergency transmissions and weather alerts.