If you have been searching for the ultimate walkie talkie for a loved one this holiday season, then you've come to the right place!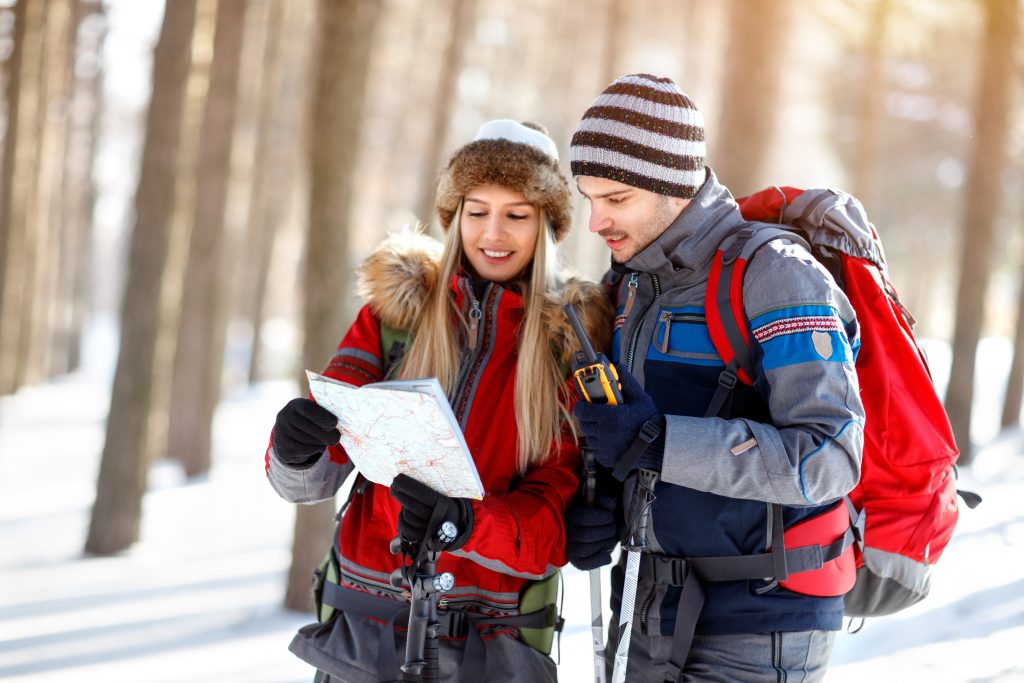 We know that the holiday season can be extremely stressful for some people. That's why we prepared the ultimate walkie talkie buyers guide! With the help of this guide, buying walkie talkies and gifts for your loved ones just got a whole lot easier.
Rushing around, researching, and buying gifts in the holidays is stressful enough without having to compare the best walkie talkies against one another. We know there are a million different types of walkies talkies. Where do you start? To make it a little easier, we will break it down into four main categories of walkies talkies.
We'll focus on buyers looking for waterproof walkie talkies for outdoor water activities such as fishing, boating, diving, swimming, rafting, and kayaking. Next, we have walkies talkies for family and outdoor activities such as road trips and camping. If you love hiking and camping, rock climbing, or skiing, we're also going to cover walkie talkies that are weatherproof and include NOAA weather alerts. Finally, we'll checkout walkie talkies for young children and adults that are easy to use and are designed specifically for children.
We have a dedicated team that's focused on finding you the best value-for-money walkie talkies that are reliable, affordable, and great value for money. After all, when you need the walkie talkie to work, you want something reliable. So we also focus on manufacturers and companies that offer great warranties, returns, and aftersales service and communication.
So, if you are looking for a high-quality walkie talkie, then you have come to the right place! Because if it's one thing that we know a lot about its premium walkie talkies at affordable prices.
For walkie talkies that are waterproof, look no further than these great picks
When it comes to any activities in or around water, you need to make sure that your electrical equipment, such as walkie talkies, is waterproof. In this section of the article, we'll take a closer look at three of the best waterproof walkie talkies that you can buy this holiday season.
Cobra microTALK RX680
The Cobra microTALK RX680 features great long-range signals with a range of up 38 miles in the right weather conditions. Along with the extended range, you also get 60-channels with 121 privacy codes giving 2662 channel combinations to help you minimize any unwanted interference.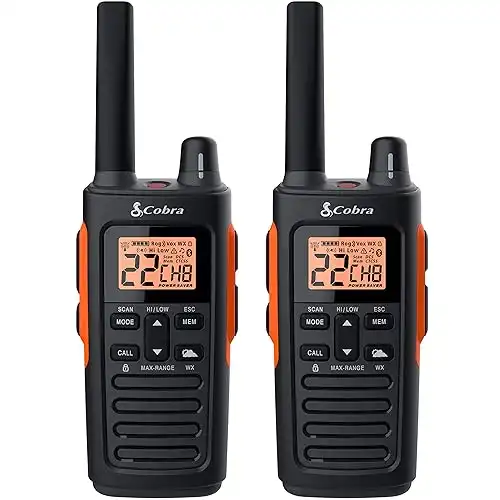 The hard case of the microTALK RX680 is designed to be both dustproof and waterproof. In addition, it's designed to meet the IP54 waterproof and dustproof standards, so you know that your walkie talkie won't fail in rugged conditions.
The microTALK RX680 also features NOAA weather and alerts. The last thing that anyone wants is to be caught outdoors in rough weather unprepared. The built-in NOAA radio receiver means that you'll receive an alert during any weather emergency, and you'll never be caught unaware out in the open.
If you're worried about how long the batteries will last, then don't be! The device features 18 hours of run time, and the rechargeable batteries can be easily charged via the micro-USB charging port.
The Cobra microTALK RX680 includes voice-activated transmission (VOX). VOX detects your voice and transmits without the need to press any buttons, which makes it ideal for when you need your hands for other activities and still want to send a message.
Motorola Talkabout T605 H2O
If you have been searching for a greater starter pack, then the Talkabout T605 contains everything that you need to get started with walkie talkies! You can count on the T605 to keep you connected with friends and family on both land and sea.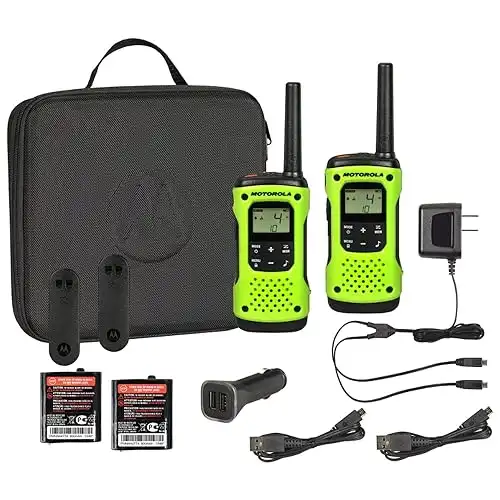 Motorola T605 Talkabout FRS/GMRS Walkie Talkie
Things we liked:
Floats and is waterproof to IP67.

Supports 22-FRS and GMRS channels for maximum flexibility.

Choose between rechargeable or AA batteries for extended talk time.

Water activated flashlight can help locate a radio that's been dropped overboard.

Handy 'Y' charging cable does away with bulky charging dock.
Things we did not like:
Waterproofing can mean the audio sounds muffled.

Some delay between pressing transmit and speaking and our voices being heard.

Price maybe an issue for some people.
Check the price on Amazon
Check the price at Walmart
We earn a commission if you make a purchase, at no additional cost to you.
The unit meets the IP67 standard and withstands constant submersion of up to 1m for 30 minutes, and repels even the heaviest rain and storms.
Featuring an advanced built-in flashlight with both red and white LEDs, you'll never be caught out in the dark without a light again, and it includes over 11 different weather channels and NOAA weather alerts.
The device includes 23 FRS channels, each of which has 121 privacy codes. So you'll never be short of private and secure options. Another great feature of the T605 is that you can communicate with other walkie talkies, regardless of brand, if you're on the same channel and within range.
Depending on where you are, you can experience up to 35 miles of range. However, the range can be reduced over open water to 6 miles and in residential neighborhoods to 2 miles. The Talkabout T605 bundle also includes all the accessories that you'll need for your new walkie talkies.
Uniden SX507-2CKHS
If you have been searching for a walkie talkie with great range, then the Uniden SX507 with its reported 50-mile range is a great choice. However, it's important to note that range can be affected by obstructions such as hills, buildings, and other obstructions so real world range is likely to be considerably less.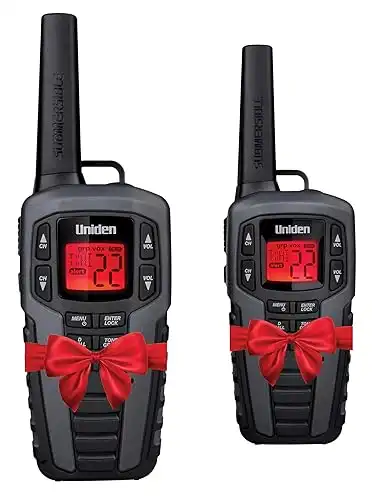 Still, the SX507 features 22 channels with 142 different privacy codes so that you never have to worry about finding somewhere quiet to talk. It operates on standard industry frequencies so that if you and a friend are on the same channel, you can still chat even with different brand walkie talkies.
Specifications of the device include JiS7 ratings, which means that it can be submerged in up to three feet of water for up to 30-minutes. As a bonus, the device floats, which means that you won't have to go far to get it if it falls into the water!
The Uniden SX507 receives all NOAA Weather alerts so that you'll always be one step ahead of any bad weather. Featuring 14 hours of battery life and rechargeable batteries, this two-way radio is a great addition for any water enthusiast.
These walkie talkie picks are great for families that want to keep in touch
There are so many fun activities that you can do outdoors with your family in the holiday season. Having a reliable way to communicate with your family only makes activities even better and safer. If you're on a road trip with friends or family, or just camping at the lake, then the following walkie talkies are a great investment.
Motorola Talkabout T200
The Motorola T200 Talkabout Radio is waterproof and meets IP67 standards, and is a great choice for staying connected on both sea and land. It is waterproof up to 1mt for up to 30 minutes and will easily repel the heaviest rain.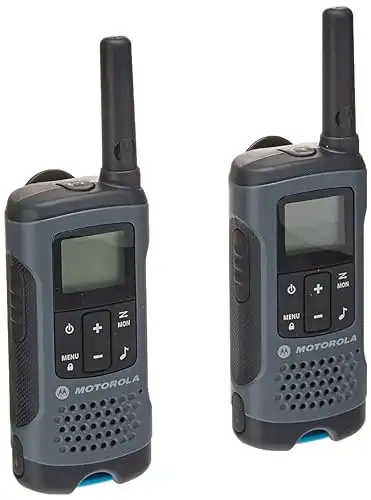 There's nothing worse than being caught in the dark without a torch or flashlight handy, but don't worry because the Motorola T200 Talkabout Radio makes that issue a thing of the past! It includes both a red and white LED flashlight built-in. So if the power goes out, you'll be 100% ready to deal with it.
If you're worried about the weather changing and being caught unaware, then don't be! The Motorola T200 Talkabout Radio features NOAA radio alerts, so you'll know the second that the weather changes.
Along with 23 channels, the Motorola T200 Talkabout Radio also includes 121 different privacy codes so that you'll always have somewhere that you can chat with your friends or family. The Motorola T200 Talkabout Radio is also compatible with other radios if you are using the same frequency and within range.
Midland LXT500VP3
If you need a great walkie talkie for a camping trip, road trip, or family adventure, then the Midland – LXT500VP3 makes a great choice. They include 22 FRS (Family Radio Service) channels, along with a scan function for checking activity on other channels.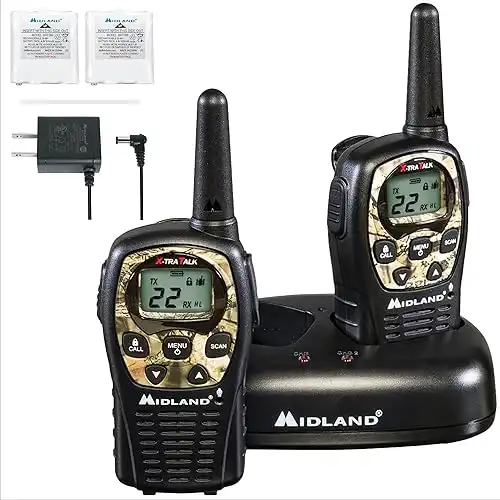 The 24-mile range of the Midland – LXT500VP3 makes them great for road trips or just getting out on adventures around the campsite. An advantage of the Midland – LXT500VP3 is that you have dual power options. You can choose to use the included rechargeable batteries, or if you are away from power for an extended amount of time, you can use 4 AAA alkaline batteries.
The Midland – LXT500VP3 features a keypad lock, so you don't have to worry about accidentally pressing any buttons while you're traveling or having fun. In addition, you can choose between a silent operation or utilizing the included keystroke tone function.
Included in the pack are two radios, rechargeable battery packs, a desktop charger, AC wall adapters, belt clips, and an instruction manual.
GOCOM G200 Family Radio Service (FRS) Walkie Talkie
The GOCOM G200 walkie talkies include a bold LCD face that increases visibility even during low-light situations. Included with the GOCOM G200 are earbud-style earpieces with built-in microphones for easy hands-free operation, belt clips, USB chargers, and rechargeable batteries.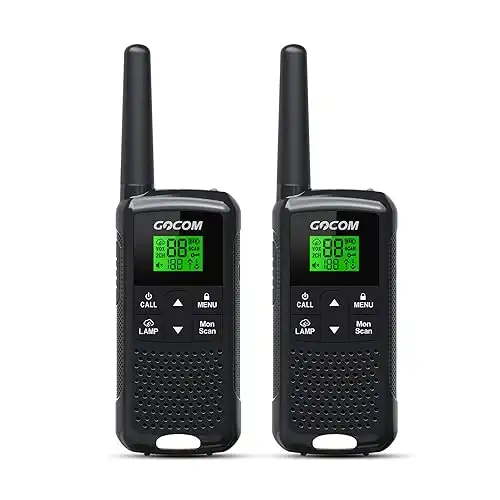 They include 22 FRS channels along with 121 different privacy codes that give you 2262 channel combinations. So you'll never struggle to find somewhere quiet to talk!
The GOCOM G200 includes access to the weather channels with up to 10 different weather channels available, so you know exactly what the weather is doing, and you won't get caught unaware.
There is no license needed when you use the GOCOM G200, and they include a 0-9 level squelch function for crystal clear sound clarity. If you want a hands-free operation, the GOCOM G200 also includes voice activation for easy hands-free communication and a built-in LED flashlight.
Walkie talkies for people who love the outdoors
If you love outdoor activities such as skiing, snowboarding, hiking, camping, hunting, and much more, then a great walkie talkie is important. In the following section, we'll look at three of the best walkie talkies for any serious outdoor adventurer.
Midland GXT1050VP4
If you love the outdoors, walkie talkies that are durable and high-quality are a must, and the Midland GXT1050VP4 is a great option. In addition, the GXT1050VP4 includes 22 General Mobile Radio Service (GMRS) channels, and 28 FRS channels – making it compatible with other FRS/GMRS two-way radios. It also includes a scan option to make checking out activity easier.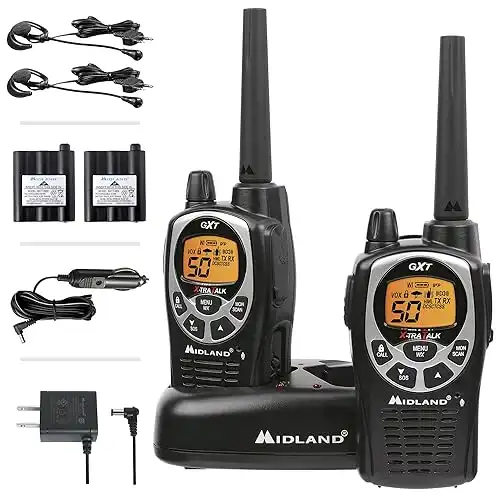 The JIS4 waterproof protection is great for keeping your walkie talkie working during light rain or if it gets splashed by water.
Along with splash protection, the device also features an impressive 36-mile range in open areas and voice and sound activation for hands-free operation.
With 142 privacy codes and 3,124 different channel options, you'll never have a problem finding somewhere quiet to chat. The GXT1050VP4 Channel also includes NOAA weather scans and alerts so that you don't get caught unaware by bad weather or sudden weather changes.
Motorola Talkabout T460
If you're looking for an affordable walkie talkie that's great for outdoor activities, then the Motorola Talkabout T460 is a great option. The T460 pack includes two radios, two micro-USB wall charging cables, two rechargeable batteries, belt clips for both radios, and an instruction manual.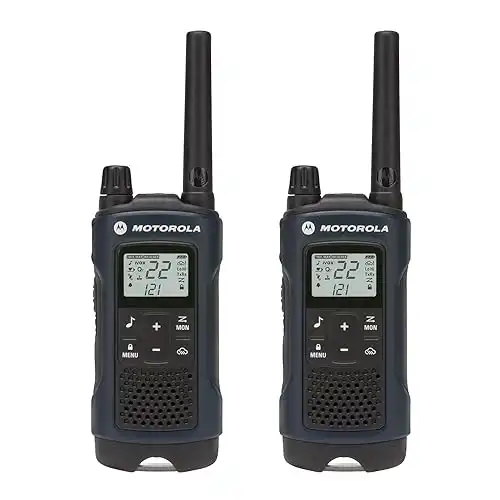 The Talkabout T460 includes the 22 FRS radio channels, and can be operated with either the included rechargeable batteries or replaceable batteries if you're away from home for an extended period.
Don't worry about getting caught out without a flashlight, either. The Talkabout T460 includes a built-in flashlight, so you'll never get caught in the dark without a light again. You also have access to all-weather channels and 24/7 weather alerts.
Uniden SX327-2CKHS
The Uniden SX327-2CKHS will keep you in touch even when you're out and about with friends and family enjoying the outdoors. Biking, hiking, camping, road trips, or just caravanning with friends and family, the SX327 is a great choice!
The device includes the 22 standard FRS channel, so you have many options when it comes to talking to friends and family, even if they have a different brand walkie talkie.
You can also take advantage of hundreds of privacy codes so that only you and those you want to talk to can hear your conversations. The Uniden SX327-2CKHS offers up to 32 miles of direct communications in the best conditions and makes a great choice for family events or if you're hanging out with friends.
Walkie Talkies specially designed for Children and Young Adults
If you have been searching for the ultimate gift for your adventurous child, then we have three of the best walkie talkies on the market right here! Your children will enjoy hours and hours of fun and entertainment with these great walkie talkies.
Retevis RT-602 Walkie Talkie for Kids
There is nothing better for kids than the Retevis RT-602 walkie talkie for kids! This high-quality walkie talkie includes a charger and rechargeable batteries so that your walkie talkie is always ready to go.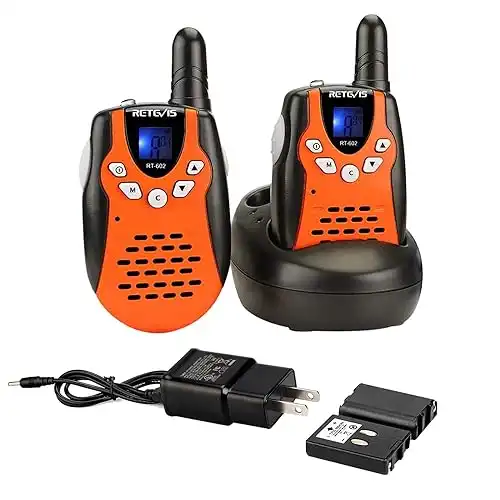 Along with two radios, the bundle also includes belt clips so that your child can easily attach the radio to a belt or pants. Along with a backlit LCD, the Retevis RT-602 also includes a flashlight.
These durable FRS walkie talkies are great for children and will provide hours of fun and entertainment this holiday season!
Motorola Talkabout T114
If you have been searching for a durable and practical walkie talkie for your children, then the Motorola Talkabout T114 is a great choice! The Motorola Talkabout T114 features the 22 FRS channels and is 100% license-free, so your children can talk and play for hours with no worries at all.
The Motorola Talkabout T114 includes personalization stickers so that your child can make their walkie talkie their own. Along with the durable construction, the Motorola Talkabout T114 also includes a low battery warning, and the batteries are easy to replace.
Together with the 16 miles range, your children are going to have hours of fun!
Midland X-TALKER
The Midland X-TALKER is a great choice if you're looking to buy your child a walkie talkie this holiday season. The X-TALKER are license-free and feature the 22 different FRS channels and an activity scan function.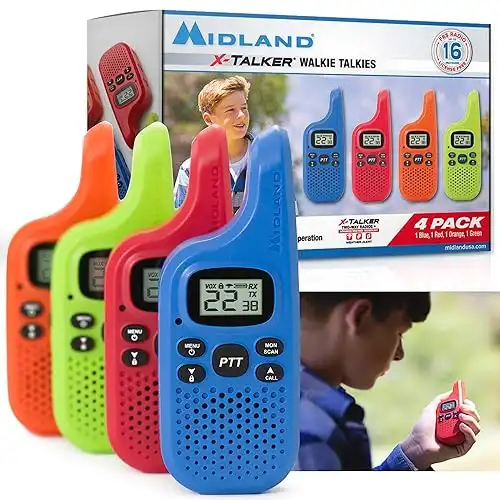 These walkie talkies are extremely kid-friendly and designed to be tough and durable. In addition, they feature a push-to-talk button in the center of the radio rather than the side of the device. There are also 38 different privacy codes so that that your children can talk privately without other people listening in.
Also included with the X-TALKER is the Midland easy-to-use eVOX voice-activated talking system for hands-free operation that your children will love!
Walkie Talkie Holiday Buyers Guide – Conclusion
Hopefully, now you have a much clearer idea of what walkie talkie you should buy. The goal of this article was to create a comprehensive walkie talkie guide that made buying holiday gifts much easier.
If you have any questions about any of the walkie talkies that we have listed or would like to learn more about them, then please don't hesitate to contact us directly. Our friendly and professional team is only too happy to assist you.