Many people want to know in what states are police scanners illegal to avoid punishment. Everyone wants an edge, and police scanners can give you that edge! However, before you get a police scanner you should know whether or not they are legal in your area. They won't be able to give you the edge you need if you get in trouble for having it, and paying fines, getting arrested, or facing other punishment is not worth it!
Many people may think that a police scanner should be legal. They say "it's only fair to let the public hear what police are saying through the scanner." Here at walkietalkiecentral.com we agree! However, there are restrictions in certain areas of the United States.
In What States Are Police Scanners Illegal?
Some states ban police scanners outright, others ban police scanner use while driving, and many ban police scanner use during the commission of a crime. The states with some form of restriction on police scanners are:
Florida
Indiana
Kentucky
Minnesota
New York
California
Michigan
Oklahoma
Nebraska
New Jersey
Rhode Island
South Dakota
Vermont
Virginia
West Virginia
Is Using A Police Scanner While Driving Legal?
There are the five states that restrict using police scanners while driving: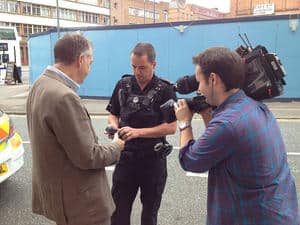 Florida
Indiana
Kentucky
Minnesota
New York
Essentially, you are not allowed to use a police scanner while driving in these states. The reason for this law is to keep people on the road from driving recklessly. Many people on the road use police scanners to know the position of police. Once they know the position of the police, they know where they will be able to speed and commit other crimes while driving. Thus, legislators in these states decided it was better to ban the use of these scanners while driving, thinking that there was no reason for citizens to have them.
Is Police Radio Scanner App Legal?
While police radio scanner apps are not generally illegal, they do have restrictions. The states which can the use of a police radio scanner also apply those laws to police scanner apps, so you need to be careful about when and where you use any police radio device. If you are interested in learning more about mobile police scanner applications for iPhone or Android, you can check out our Best Police Scanner Apps guide.
Is Using A Police Scanner During A Crime Legal?
There are also several states that prohibit the use of police scanners to advance a crime:
California
Michigan
Oklahoma
Nebraska
New Jersey
Rhode Island
South Dakota
Vermont
Virginia
West Virginia
What this means is that in these states is that if you use a police scanner to monitor the police while committing a crime, you will get an additional charge on top of the initial crime. The consequences depend on the state, and they range greatly. That said, I am sure most of you are not committing crimes and thus have nothing to worry about.
Are Police Scanners Illegal?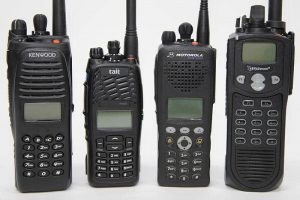 The good news is that most places allow you to listen to a police scanner in your home without penalty. Some cities, like Los Angeles, do require a permit. Look into local laws to ensure that you don't find yourself unknowingly committing a crime, but, in general, you are allowed to listen freely. To find more state-by-state information, you can check out this useful guide for more info.
Police scanners are generally open to the public to bridge the gap between the police and civilians. Plus, people listening to police scanners will be able to protect themselves from potential danger.
While police are allowed to withhold information during an investigation, everything said on a police scanner is fair game. We have a right to know what is happening around us, and police scanners are a great tool for that.
If you are looking for the best police scanner to use legally in your state, look no further, we have you covered! Our comprehensive guides details the best police scanners with strong features, crisp sound, and at an affordable price:
If you found this article useful, then you might also find these helpful;